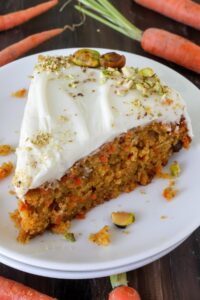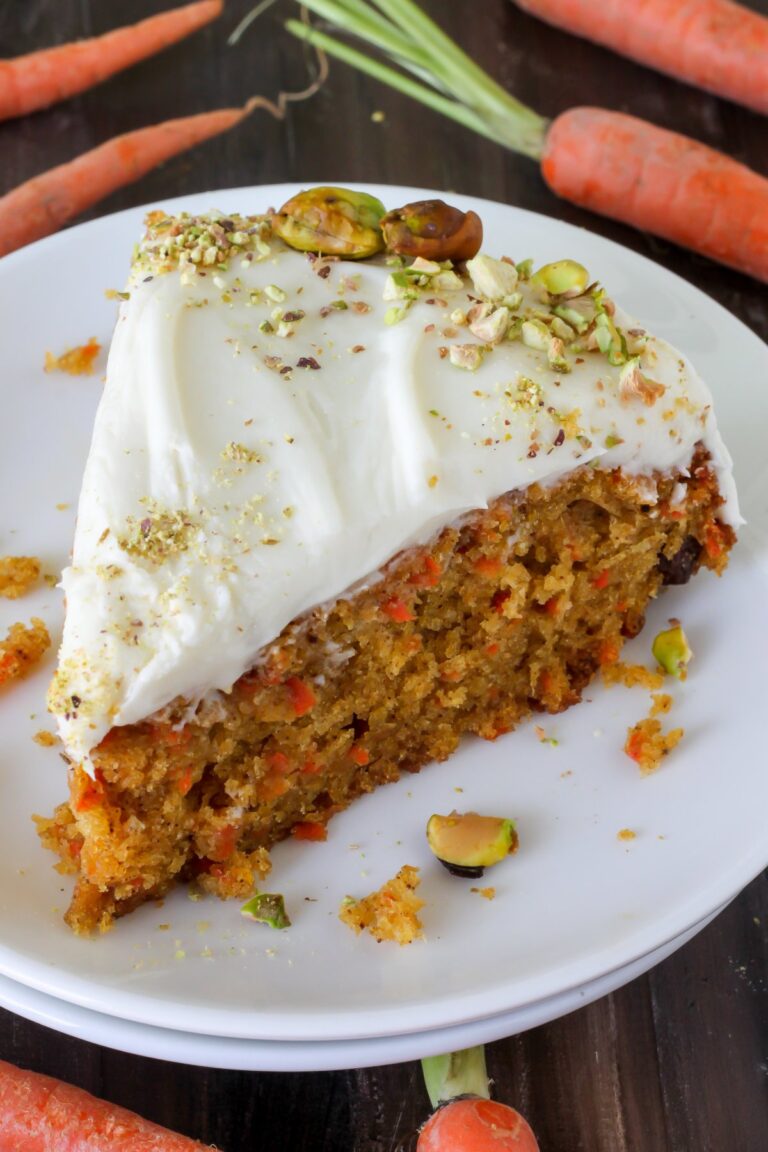 Pumpkin Carrot Cake with Cream Cheese Frosting
Yield 8 slices of cake
My favorite carrot cake - made with pumpkin! After one bite you'll want to add pumpkin to your carrot cake recipe every time. Silky cream cheese frosting and chopped pistachios finish off this delicious cake!
Ingredients
For the Cake:
2 large eggs, at room temperature
3/4 cup granulated sugar
1/2 cup canola, vegetable, or coconut oil (I used melted coconut oil because I love the slight flavor it adds to the overall cake)
1/2 cup pumpkin puree (not pumpkin pie filling)
1/4 cup light brown sugar, packed
1/4 cup buttermilk
1 teaspoon pure vanilla extract
2 teaspoons ground cinnamon
1 teaspoon pumpkin pie spice
1/2 teaspoon ground cloves
1/2 teaspoon all-spice
1/2 teaspoon ground nutmeg
1 1/4 cups all-purpose flour
1 teaspoon baking powder
1/2 teaspoon baking soda
1/4 teaspoon salt
1 1/2 cups coarsely grated carrots
1/2 cup raisins, optional
1/2 cup diced nuts, optional (I used pistachios with great results)
For the Cream Cheese Frosting:
6 oz cream cheese, VERY soft
1/4 cup unsalted butter, VERY soft
1 tablespoon vanilla pure extract
2 cups confectioners' sugar, sifted
Instructions
Preheat oven to 350 degrees (F). Generously grease a 9" springform pan; set aside.
In a large bowl combine the eggs, granulated sugar, oil, pumpkin, brown sugar, buttermilk, vanilla, and spices; beat well to combine. Add the flour, baking powder, baking soda, and salt to the wet mixture; stir until just combined. Batter will be on the thicker side but resist the urge to over mix! Add in the carrots, raisins, and nuts; gently fold together until incorporated.
Pour the batter into the prepared pan and smooth the top with a spatula. Bake cake for 42-50 minutes, or until the top is golden brown and set, and a toothpick inserted in the center of the cake comes out clean. Allow the cake to cool for 20 minutes in the pan, then transfer it to a wire rack to cool completely.
While the cake is cooling, make your frosting!
In the bowl of a stand-mixer fitted with the paddle attachment, or in a large bowl using an electric handheld mixer, beat the cream cheese, butter, and vanilla on medium-high speed until completely smooth; about 2 minutes. Reduce the speed to low and gradually add the sifted confectioners' sugar. Once all of the sugar has been added beat on high-speed for 1-2 minutes. Once the cake has completely cooled, spread the frosting over the cake, decorate with additional nuts, if desired, then slice and serve! Store this cake in the fridge, covered, for up to 4 days. Not that I think it'll last that long ;)
Notes
This recipe is exerted, with permission, from Averie Sunshine's cookbook: Cooking with Pumpkin (Recipes that go beyond the pie). The recipe is written in my own words. This post is not being compensated in any way or form, and all words and opinions are, as always, my own.
Courses Dessert
Cuisine Cake
Amount Per Serving
% Daily Value
Recipe by Baker by Nature at https://bakerbynature.com/pumpkin-carrot-cake-with-cream-cheese-frosting/