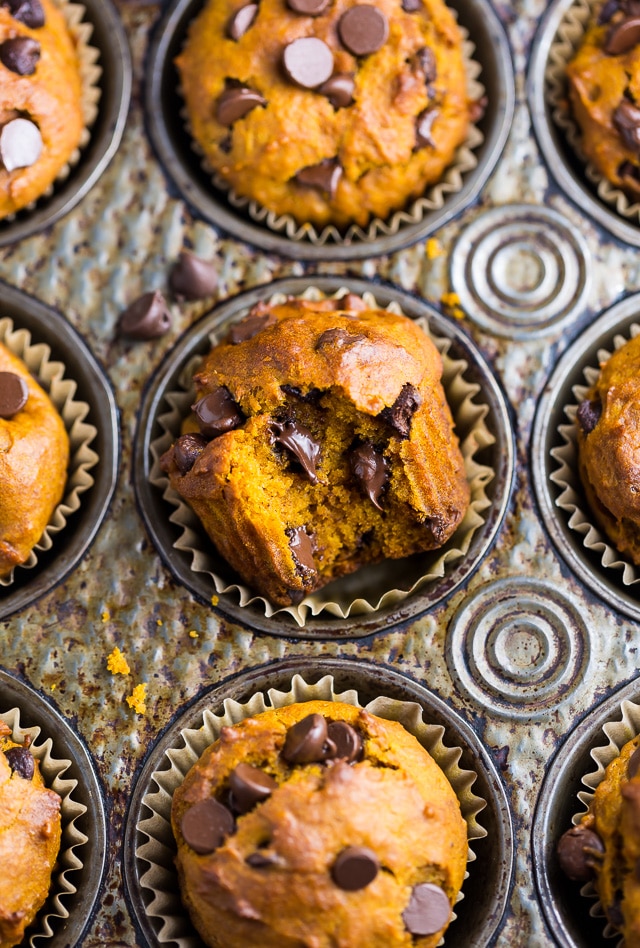 Pumpkin Chocolate Chip Muffins and Bread
Yield 12 muffins & 1 loaf of bread
An easy recipe for Pumpkin Chocolate Chip Muffins and Bread!
Ingredients
Ingredients:
3 cups all-purpose flour
1 teaspoon ground ginger
1 teaspoon ground cloves
3 teaspoon ground cinnamon
1 teaspoon ground nutmeg
1 teaspoon baking soda
1 teaspoon baking powder
1/2 teaspoon salt
3/4 cup Stevia In The Raw® Bakers Bag
3/4 cup dark brown sugar, packed
1 cup vegetable oil
3 large eggs, at room temperature
2 teaspoons vanilla extract
(1) 16-ounce can 100% pure pumpkin
2 tablespoons unsulphured molasses
1/4 cup fresh squeezed orange juice
1 and 1/2 cups semi-sweet chocolate chips
Instructions
Instructions:
Preheat oven to 400° (F). Line a 12 cup muffin tin with paper liners and set aside. Spray an 8x4 inch loaf pan with non-stick baking spray and set aside. 
In a large bowl combine the flour, spices, baking soda, baking powder, and salt; set aside until needed.
In a separate large bowl combine the Stevia In The Raw® Bakers Bag, brown sugar, and oil; whisk well to combine. Beat in the eggs, one at a time, beating well after each addition. Add in the vanilla, pumpkin, molasses, and orange juice and beat until combined. Using a rubber spatula, fold in the flour mixture, stirring just until combined. Fold in chocolate chips.
Fill the muffin cups up first, filling each mold 3/4 of the way full. Scrape remaining batter into prepared loaf pan.
Bake the muffins first, for 18 to 22 minutes, or until the tops are golden and a cake tester inserted in the center comes out clean. Allow muffins to cool in the pan for at least 10 minutes before transferring to a serving platter.
Place the pumpkin loaf in the oven and bake for 20 minutes, then reduce the heat to 350° (F) and continue baking for another 35 to 40 minutes, or until the top is shiny and a cake tester inserted in the center comes out clean. Cool pumpkin loaf in the pan completely before transferring it to a cutting board and slicing.
Courses Snack, Breakfast
Cuisine Baking
Recipe by Baker by Nature at https://bakerbynature.com/pumpkin-chocolate-chip-muffins-bread/