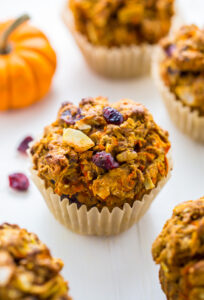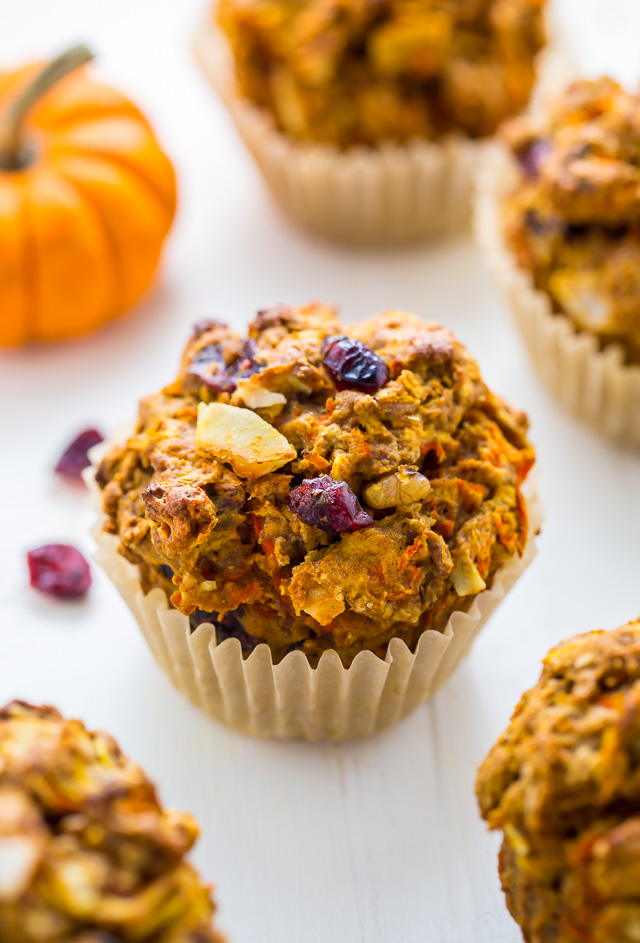 Pumpkin Morning Glory Muffins
Yield 1 dozen muffins
Healthy and hearty, these Pumpkin Morning Glory Muffins make the perfect Fall breakfast!
Ingredients
1 and 1/2 cups whole wheat flour
1/2 cup all-purpose flour
3/4 cup light brown sugar, packed
1 tablespoon baking powder
2 teaspoons baking soda
2 teaspoons pumpkin spice
1/2 teaspoon cinnamon
1/2 teaspoon salt
3/4 cup pumpkin puree (not pumpkin pie filling)
1/4 cup unsweetened apple sauce
1/2 cup coconut oil, melted
1 large apple, shredded
1 tablespoon vanilla extract
2 cups grated carrot (about 3 medium)
1/2 cup dried cranberries
1/2 cup flaked coconut
1/2 cup pecans, chopped
Instructions
Line a 12 mold muffin tin with paper liners, set aside. Preheat oven to 400 degrees (F).
In medium bowl add the flours, brown sugar, baking powder, baking soda, pumpkin spice, cinnamon, and salt; whisk well to combine, set aside. In a large bowl add the pumpkin, applesauce, coconut oil, grated apple, vanilla, and carrots; whisk to combine. Fold the dry ingredients into the wet mixture and stir until just combined. Fold in the cranberries, coconut and pecans; stir until just combined. Divide batter evenly among prepared muffin cups.
Bake for 24 to 28 minutes minutes, or until a toothpick inserted in the center comes out clean (or with just a few crumbs attached). Cool muffins in the pan for 10 minutes before transferring them to a wire rack. Serve warm, at room temperature, or chilled.
Courses Breakfast
Cuisine American
Amount Per Serving
% Daily Value
Recipe by Baker by Nature at https://bakerbynature.com/pumpkin-morning-glory-muffins/