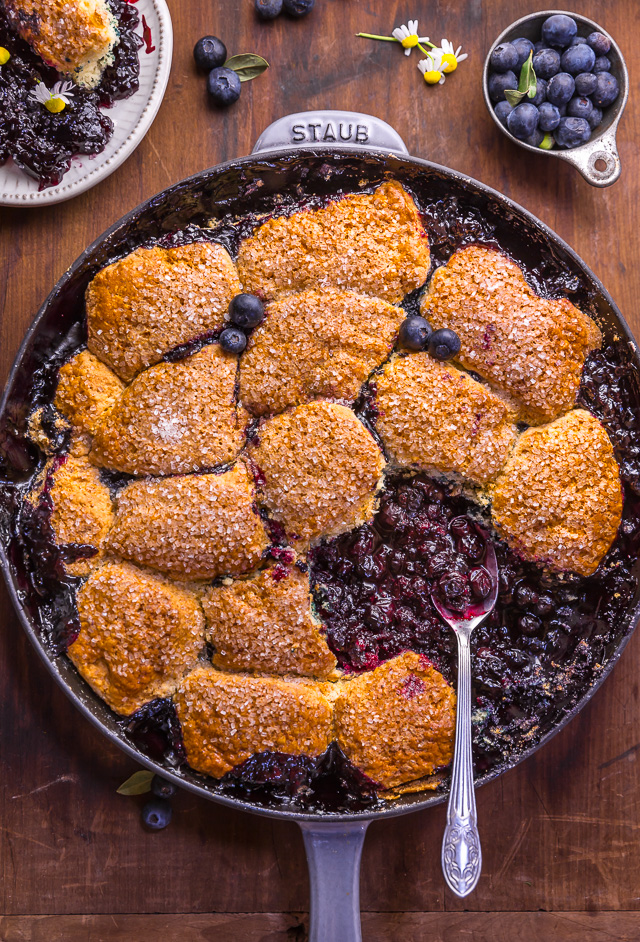 Quick and Easy Blueberry Cobbler
Yield 8 to 10 servings
Quick and Easy Blueberry Cobbler recipe! Featuring the juiciest blueberry filling and a buttery biscuit topping, this Summer dessert is so good with a scoop of vanilla ice cream! This recipe will work with fresh or frozen blueberries!
Ingredients
For the Blueberry Filling:
8 cups (907 grams) blueberries, fresh or frozen 
2 Tablespoons (28 grams) fresh lemon juice
1 teaspoon lemon zest
2 teaspoons vanilla extract 
1/2 cup (99 grams) granulated sugar 
1/4 cup (28 grams) all-purpose flour 
1/4 teaspoon finely ground nutmeg
For the Cobbler Topping:
2 and 1/2 cups (298 grams) all-purpose flour 
1/2 teaspoon salt
3 teaspoons baking powder
1/2 teaspoon baking soda
1/3 cup (67 grams) granulated sugar
1/2 cup (113 grams) unsalted butter, VERY cold and cut into tiny pieces
1 large egg
1/2 cup (113 grams) whole milk
2 tablespoons (28 grams) heavy cream
2 Tablespoons sparkling sugar (or coarse white sugar), for sprinkling 
For the Egg Wash:
1 large egg
1 teaspoon water 
Instructions
For the Blueberry Filling:
Preheat oven to 400 degrees (F). In a 12-inch skillet or a 9x13-inch baking dish, combine the blueberries, lemon juice, lemon zest, vanilla, and sugar. Toss well, making sure the berries are well coated. Add in the flour and nutmeg and toss well to combine. Set aside while you make the cobbler topping. 
For the Cobbler Topping:
In a large bowl combine flour, salt, baking powder, baking soda, and sugar, and mix well to combine.
Cut the butter into small cubes, then, using a pastry cuter, work it into the mixture until lit resembles a coarse meal. Set aside. 
In a small bowl whisk together the egg, milk, and cream. Pour this liquid mixture into the flour mixture and use a fork to stir everything together until just moistened.
Empty the loose dough out onto a lightly floured work surface and knead gently until it's a workable texture, lightly flouring as needed. Press the dough into a rectangle 1/2" thick. Cut into 12 small squares. 
For the Egg Wash:
In a small bowl, combine the egg and water. Whisk until well combined. 
Assembly:
Place the squares of dough on top of the blueberry mixture. Lightly brush each square with the egg wash, then sprinkle with the sparkling sugar. 
Place pan in the oven and bake for 28 to 30 minutes, or until the cobbler topping is deeply golden brown and cooked through. 
Serve warm, with ice cream or whipped cream. 
Notes
For a sweeter cobbler, feel free to increase the sugar to 2/3 cups (131 grams).
If the topping starts getting too brown, place a piece of aluminum foil on top for the duration of the baking time. 
Courses Dessert
Cuisine American
Recipe by Baker by Nature at https://bakerbynature.com/quick-and-easy-blueberry-cobbler/