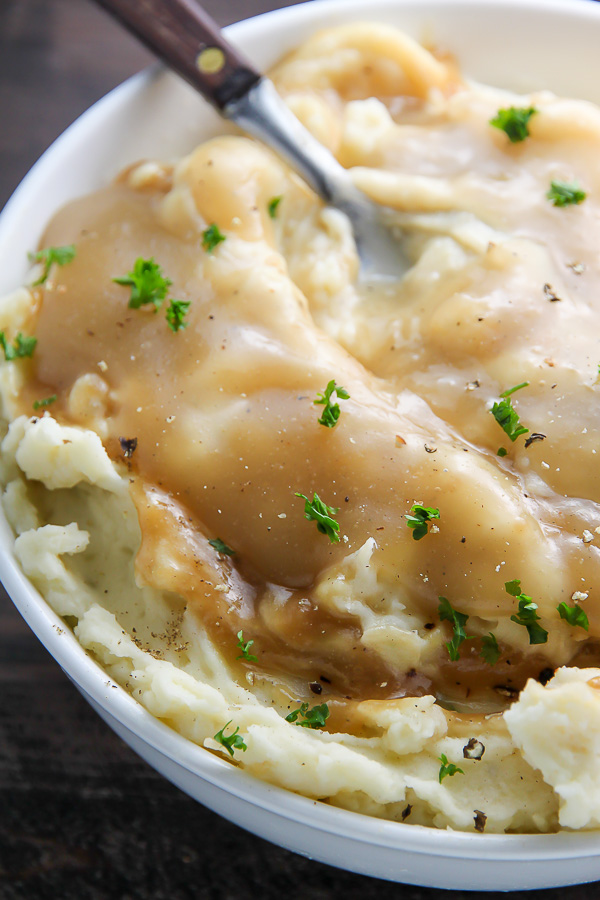 Roasted Garlic and Caramelized Onion Mashed Potatoes
Yield 12 servings
Fluffy mashed potatoes with roasted garlic and caramelized onions.
Ingredients
2 whole garlic bulbs
3 teaspoons plus 3 tablespoons olive oil, divided
2 large yellow onions, thinly sliced
8 medium potatoes, peeled and quartered
1/2 cup butter, very soft
1/2 cup sour cream
1/3 cup grated Parmesan cheese
1/3 cup heavy cream
1 teaspoon salt
1/2 teaspoon pepper
Instructions
Preheat oven to 400 degrees (F). Remove excess papery skins from garlic bulbs and carefully slice off the top of the bulbs; place in a small oven-safe baking dish, drizzle with 3 teaspoons of olive oil. and wrap the bowl in heavy-duty foil. Bake for 40 minutes, or until the inner garlic cloves have softened. Set aside to cool.
Meanwhile, in a large skillet over medium-low heat, saute the onions in remaining 3 tablespoons of olive oil, stirring occasionally, for 25-30 minutes, or until golden brown. Transfer to a food processor or strong blender, cover, and process until blended; set aside.
Place potatoes in a large stockpot and cover with water; bring to a boil over high heat. Once at a rapid boil, reduce heat to medium-low, cover, and cook for 15 minutes, or until tender enough to pierce with a fork. Drain the potatoes well. Place potatoes in a large bowl; add in the roasted garlic cloves, butter, sour cream, cheese, heavy cream, salt, pepper and onion mix. Using a handheld electric mixer on low-speed, beat potatoes until light and fluffy. Taste and adjust salt and pepper as needed. Serve warm.
Notes
*If you do not own a food processor, transfer the onions to a large cutting board and do your best to chop the caramelized onions into an "onion paste". *The garlic may be roasted ahead of time. *The onions may be caramelized ahead of time *To freeze: place completely cooled mashed potatoes in a freezer-safe container and freeze. When ready to eat, thaw in refrigerator overnight, then microwave, covered, on high in a microwave-safe bowl until heated through. Add a little cream if needed.
Courses Dinner
Cuisine American
Amount Per Serving
% Daily Value
Recipe by Baker by Nature at https://bakerbynature.com/roasted-garlic-and-caramelized-onion-mashed-potatoes/