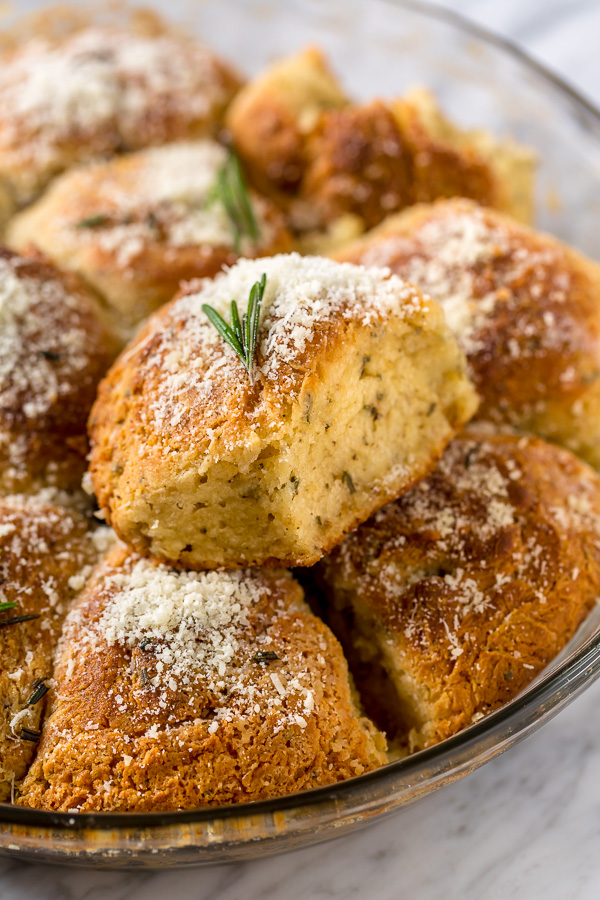 Rosemary Parmesan Biscuits
Yield 11 biscuits
Super fluffy and flavorful Rosemary Parmesan Biscuits! Perfect for Thanksgiving or any meal. And freezer friendly! 
Ingredients
2 Cups all-purpose flour
1 Tablespoon baking powder
2 Tablespoons granulated sugar
3/4 teaspoon salt
1/2 teaspoon garlic powder 
1/2 teaspoon freshly ground black pepper
1/4 Cup fresh rosemary, finely chopped
1/2 cup finely grated Parmesan cheese 
5 Tablespoons unsalted butter, very cold and cut into pieces 
1 and 1/3 cups half and half 
For brushing the biscuits:
2 Tablespoons unsalted butter, melted 
Instructions
Preheat oven to 475 degrees (F). Generously grease a 9" pie plate; set aside.
In a large bowl combine flour, baking powder, sugar, salt, garlic powder, black pepper, and rosemary, and Parmesan cheese, whisk well to combine.
Add in the butter and toss well to coat. Using a pastry blender, or two forks, work the butter into the dry ingredients until the mixture resembles a coarse meal.
Pour in the half and half and, using a rubber spatula, stir until ingredients are just combine.
Sprinkle a generous amount of flour (about 3/4 of a cup) onto a clean work surface. Spray a 1/4 cup measuring cup with nonstick spray and scoop level amounts of the batter onto the floured surface. Sprinkle the tops of the dough lightly with some of the flour. Form each mound of dough into a ball shape, then place them in the prepared pan. It's fine if they're touching each other in the pan. 
Brush the tops and sides of the biscuits with melted butter. 
Bake in preheated oven for 8 minutes, then reduce the temperature to 400 degrees (F) and continue baking for 14 to 15 minutes, or until golden brown.
Place pan on a cooling rack to cool for 5 minutes. Then sprinkle with additional Parmesan cheese, if desired, and serve! You can cut these apart with a knife, or just pull them apart with your hands! 
Notes
Half and half is a dairy product that can be found in the dairy section of most grocery stores. If you cannot find it, use equal parts heavy cream and whole milk to create a DIY version. 
Fresh rosemary is essential in this recipe and should not be replaced with dried rosemary. 
Courses Side Dish
Cuisine Bread
Recipe by Baker by Nature at https://bakerbynature.com/rosemary-parmesan-biscuits/