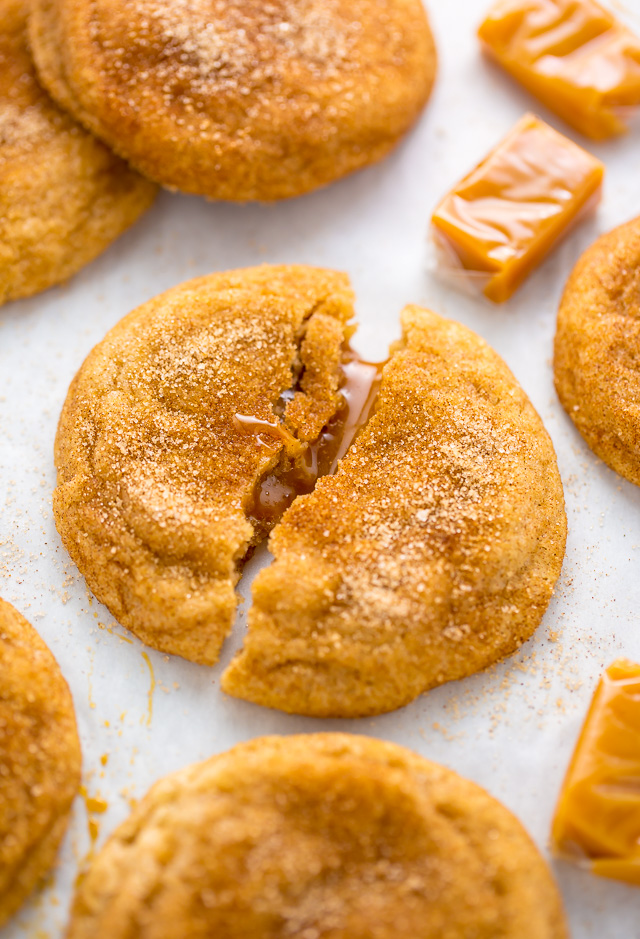 Salted Caramel Stuffed Snickerdoodles
Yield 2 dozen cookies
Soft Batch Salted Caramel Stuffed Snickerdoodles are a must bake this holiday season!
Ingredients
For the salted caramel filling:
20 semi-soft salted caramel candies, unwrapped (see post for notes)
For the cinnamon sugar coating:
1/4 cup granulated sugar
3/4 teaspoon ground cinnamon
For the snickerdoodle cookie dough:
1 cup (2 sticks) unsalted butter, at room temperature
1 and 1/2 cups granulated sugar
1 large egg plus 1 egg yolk
2 teaspoons vanilla extract
2 and 1/2 cups all-purpose flour
1 and 3/4 teaspoons cream of tartar
1 teaspoon baking soda
2 teaspoons ground cinnamon
1/4 teaspoon salt
Instructions
For the salted caramel filling:
Unwrap caramels and roll each one into a small ball; place in the freezer while you prep the cookie dough.
For the cinnamon sugar topping:
In a small bowl combine the granulated sugar and cinnamon; set aside until needed.
For the snickerdoodle cookie dough:
Preheat oven to 375 degrees (F). Line two large baking sheets with parchment paper or silicon baking sheets; set aside.
In a large bowl using a hand-held mixer or using a stand mixer fitted with the paddle attachment, cream the butter on medium speed until completely smooth, about 1 minute. Add in the sugar and continue beating on medium speed until light and fluffy, about 2 minutes. Add in egg, yolk, and vanilla and beat smooth, scraping down the sides as needed. Set bowl aside.
In a medium-sized bowl whisk together the flour, cream of tartar, baking soda, cinnamon, and salt. Slowly add the dry ingredients to the wet ingredients, all at once, and stir the dough together using a rubber spatula. The dough will be quite thick. Stir just until combined - being sure not to over mix.
Using an ice cream scoop, melon baller, or measuring spoon, scoop out a tablespoon round of dough, roll it into a ball, and place on prepared baking sheet. Gently press the frozen caramel into the center, then top with another tablespoon sized round of dough, lightly pinching the edges closed to seal the caramel completely; repeat with all cookie dough. Roll the dough ball into the cinnamon sugar topping, then transfer them onto prepared baking sheet. Repeat with all cookie dough. Bake cookies, one tray at a time, for 10 to 11 minutes. The cookies will be set at the edges and very soft. Allow cookies to cool on the baking sheet for 10 minutes before serving warm or transferring to a wire rack to cool completely.
Courses Dessert
Cuisine Cookies
Amount Per Serving
% Daily Value
Recipe by Baker by Nature at https://bakerbynature.com/salted-caramel-stuffed-snickerdoodles/