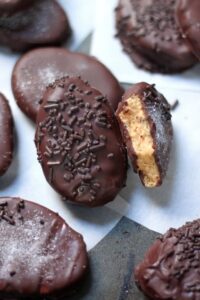 Salted Chocolate Covered Peanut Butter Eggs
Yield 2 dozen
These Homemade Peanut Butter Eggs are sure to be a hit this Easter!!! Made with just a handful of basic ingredients, these salted chocolate covered peanut butter eggs are super easy to whip up! 
Ingredients
3 1/2 cups powdered sugar (more if you can't get the dough to be workable, but I found this to be the perfect amount)
(1) 15 oz jar of unsweetened creamy peanut butter
1/4 cup butter, very soft
1 teaspoon all natural vanilla extract
2 -3 tablespoons milk (I used almond milk, but I'm sure cow milk will work just fine)
3 cups bittersweet chocolate chips
1 tablespoon coconut oil
1 tablespoon sea salt
Chocolate jimmies, optional
Instructions
In a large bowl or the body of a stand mixer fitted with the whisk attachment, mix together powdered sugar, peanut butter, vanilla, and softened butter.
Add milk, one tablespoon at a time until it becomes a nice workable dough. It will be a little sticky, but totally scoop-able and easy to work with.
Scoop 2 tablespoon sized rounds onto a large baking sheet lined with parchment paper. Form each round into egg shapes. I did this by simple squeezing the bottom of one side down and out a little.
Place eggs in freezer to firm up for 1 hour.
When ready to dip in chocolate, place chocolate chips in and coconut oil in a heatproof glass measuring cup. Microwave 30 seconds at a time, stirring in between, until melted.
Carefully dip each egg in the melted chocolate. I did this by placing each egg of a fork, then quickly dipping it in the chocolate and pulling it pack out, letting the excess chocolate drip back into the bowl.
Once dipped in chocolate, place eggs back on the waxed paper lined baking sheet, sprinkle with salt and sprinkles, and leave to set. About 1 hour. You can speed this up by placing the eggs in the refrigerator.
Courses Dessert
Cuisine Chocolate
Recipe by Baker by Nature at https://bakerbynature.com/salted-chocolate-covered-peanut-butter-eggs/