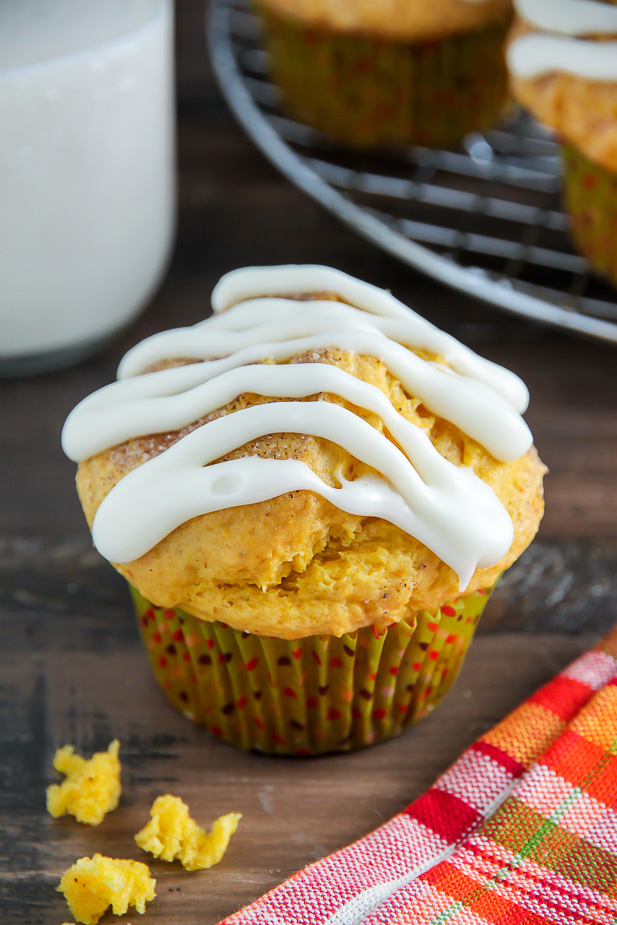 Simple Pumpkin Muffins with Vanilla Glaze
Simple and richly spiced pumpkin muffins with a sweet vanilla glaze. The perfect treat on a Fall day!
Ingredients
For the cinnamon sugar topping:
2 tablespoons granulated sugar
1 teaspoon cinnamon
For the pumpkin muffins:
1/2 cup granulated sugar
1/2 cup light brown sugar, packed
1 teaspoon orange zest (usually the zest of one large orange)
3 cups all-purpose flour (not packed)
1 tablespoon baking powder
1/4 teaspoon baking soda
1/4 teaspoon salt
2 teaspoons pumpkin pie spice
3/4 cup WHOLE milk (whole milk or full-fat will yield the best results)
3/4 cup pumpkin puree (not pumpkin pie filling)
1/4 cup orange juice (fresh squeezed or store-bought will work)
2 large eggs, at room temperature
1 teaspoon vanilla extract
1 stick (4 ounces) unsalted butter, melted and slightly cooled
For the glaze:
1 cup confectioners' sugar
2-3 tablespoons heavy cream or whole milk
1/4 teaspoon salt
1/4 teaspoon vanilla extract
Instructions
For the cinnamon sugar topping:
In a small dish combine sugar and cinnamon; set aside until needed.
For the muffins:
Adjust an oven rack to the middle position; preheat oven to 375 degrees (F). Line a 12-cup muffin tin with paper liners; spray lightly with non-stick spray; set aside.
Combine sugars and orange zest in a large bowl; using your fingers rub the orange zest into the sugars until well combined and fragrant. Add the flour, baking powder, baking soda, salt, and pumpkin pie spice into the bowl and mix well to combine.
In a medium-sized bowl combine the milk, pumpkin puree, orange juice, eggs, and vanilla extract; whisk well until completely smooth and combined. Gently fold the liquid mixture into the dry mixture, stirring with a rubber spatula until just combined. Fold in melted butter, stirring just until butter is incorporated.
Divide batter evenly among muffin tins, filling each tin 3/4 of the way full. Sprinkle a little of the cinnamon sugar mixture on top of each muffin.
Bake until set in the center and golden brown; about 20-22 minutes.
Allow muffins to cool in the pan 5 minutes, then glaze and serve warm.
Notes
Recipe should be followed exactly for best results.
Courses Breakfast
Cuisine American
Amount Per Serving
% Daily Value
Recipe by Baker by Nature at https://bakerbynature.com/simple-pumpkin-muffins-with-vanilla-glaze/