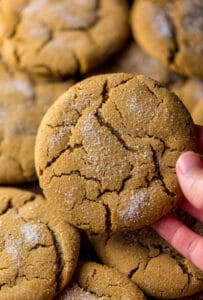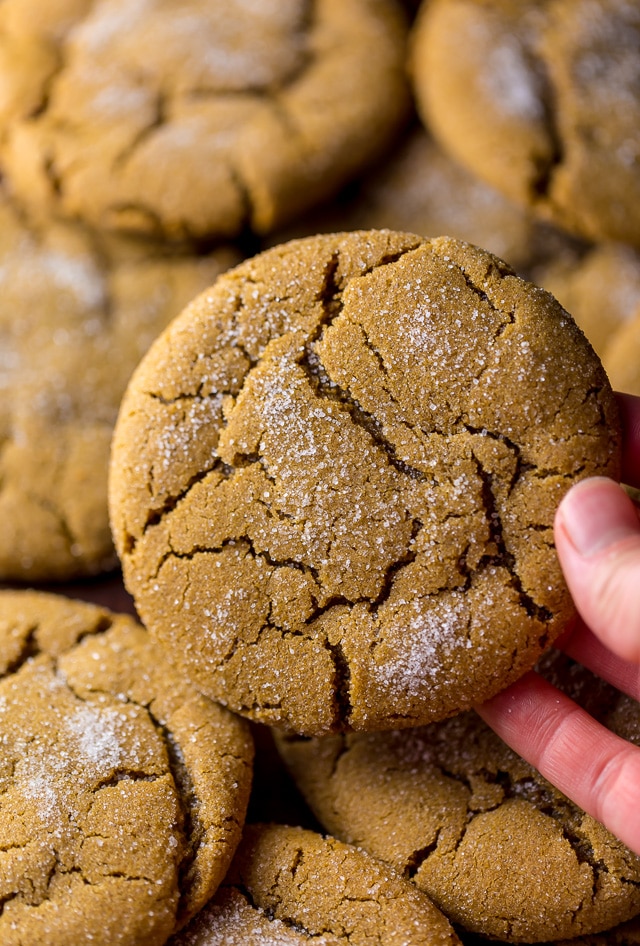 Soft and Chewy Brown Butter Gingersnaps
Yield 2 dozen cookies
My Soft and Chewy Brown Butter Gingersnaps host all the classic appeal that you know and love - plus SO much more! The edges are irresistibly crunchy, while the thick centers stay soft and chewy. They're a Christmas cookie miracle!
Ingredients
3/4 cup (170g) unsalted butter, browned and brought back to room temperature
3 cups (361g) all-purpose flour
2 and 1/2 teaspoons ground ginger
1 teaspoon ground cinnamon
1/4 teaspoon ground cloves
1 teaspoon baking soda
1/2 teaspoon salt
1 cup (198g) granulated sugar
1/2 cup (106g) light brown sugar, packed
1 teaspoon vanilla extract
2 large eggs, at room temperature
1/4 cup (85g) molasses (mild, not blackstrap)
1/2 teaspoon orange zest
For the Sugar Coating:
1/2 cup (99g) granulated Sugar
Instructions
How to Brown Butter:
Cut the butter in tablespoons and place them in a heavy saucepan over medium heat. Once the butter has melted, reduce the heat to low and continue cooking, until the solids sink to the bottom of the pan and turn golden brown, about 8 to 10 minutes. Remove from heat, pour browned butter into a small bowl, cover, and refrigerate until solidified, about 2 hours.
To make the Dough:
In a large mixing bowl, whisk together the flour, ginger, cinnamon, cloves, baking soda, and salt. Set aside.

Remove the brown butter from the refrigerator. Microwave the butter on low power, for 10 to 15 seconds, or until it's just softened, but not melted.

In the bowl of a stand mixer fitted with the paddle attachment, or in a large bowl using a handheld electric mixer, beat the softened butter until completely smooth, about 1 minute. Add in both sugars and continue beating until light and fluffy, about 3 minutes. Beat in vanilla. Add in the eggs, one at a time, beating well after each addition and scraping down the sides of the bowl as needed. Add the molasses and orange zest and beat until combined.
Reduce the mixer speed to low and gradually add in the dry ingredients, beating just until combined.
Cover bowl tightly with plastic wrap and transfer to the refrigerator to chill for at least one hour (or up to one day).
When ready to Bake:
Preheat oven to 350°F (177°C). Line two large baking sheets with parchment paper and set them aside.
Scoop out 2 tablespoon sized mounds of cookie dough and roll them into evenly round balls. Roll the balls in the sugar coating, then transfer them onto the prepared baking sheets, leaving 2-inches between for spreading.
Bake cookies, one tray at a time, for 9 to 10 minutes, or until the cookies are puffed and lightly golden. Cool cookies on the baking sheet, set on a wire rack, for 10 minutes before serving warm or transferring to a wire rack to cool completely.

Store leftover cookies in an airtight container, at room temperature, for up to 3 days.
Notes
Recipe and photos updated 11/9/2017.
Courses Dessert
Cuisine Cookies
Amount Per Serving
% Daily Value
Recipe by Baker by Nature at https://bakerbynature.com/soft-chewy-brown-butter-gingersnaps/