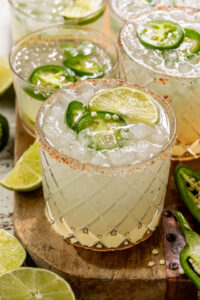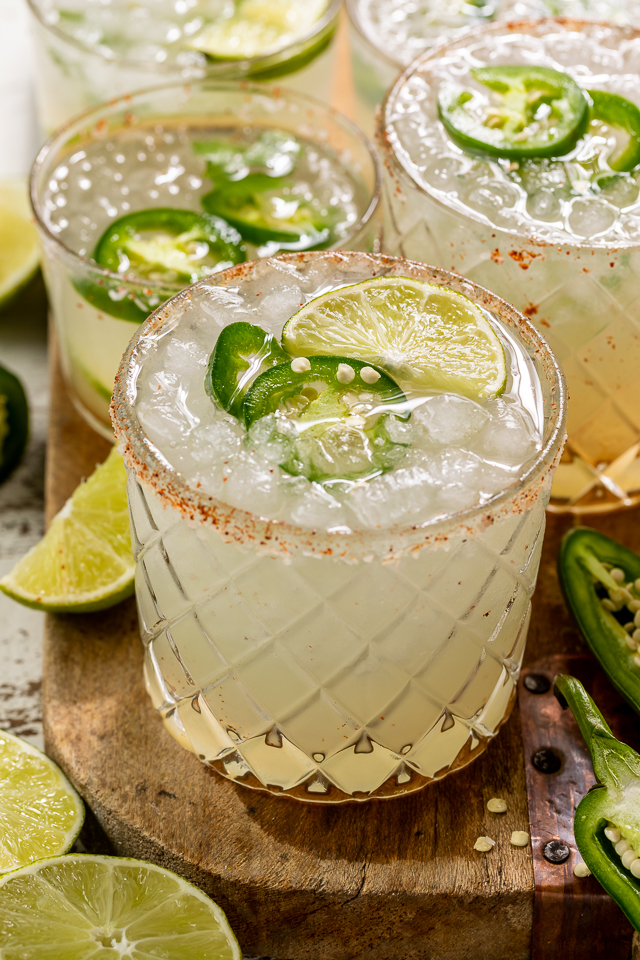 Spicy Jalapeño Margaritas for a Crowd
Yield 8 Servings
Say hello to the BEST Spicy Jalapeno Margarita your lips will ever meet! It's everything you love about a classic margarita, but with a spicy kick! Feel free to double the spice if you really want to suffer, or reduce it for a more mild marg!
Ingredients
1 cup (198 grams) granulated sugar
1 and 1/2 cups (340 grams) water
2 jalapeño peppers, cut into slices
(2) 2"-long strips of lime peel  
2 cups blanco tequila 
2 cups fresh lime juice 
1 and 1/4 cups orange liqueur 
1 Tablespoon coarse salt
1/2 teaspoon chili powder 
Lime wedges, for serving 
Jalapeño slices, for garnish 
Ice, for serving 
Instructions
In a medium saucepan, combine the sugar, water, jalapeño, and  lime peel. Bring to a rolling simmer over medium-high heat and cook, stirring frequently, until the sugar has completely dissolved. Then reduce to medium-low and continue simmering, stirring occasionally, for 15 minutes. 
Remove from heat and set aside to cool for at least 30 minutes. 
Once cool, strain syrup into a large measuring cup, through a fine mesh strainer. Discard jalapeño peppers and lime peel. Set syrup aside until needed. 
In a large pitcher combine the tequila, fresh lime juice, and orange liqueur. Then pour in the simple syrup and stir well to combined. Add a few slices of jalapeño into the pitcher if desired. 
To salt the rim, combine the salt and chili powder in a shallow dish. Run the edge of a lime around a glass, then dip the glass into the chili salt combination. Repeat with all glasses. 
Fill glasses with ice, then pour margarita mix on top. Garish with a lime wedge and a few jalapeño slices, and serve at once! 
Courses Cocktails
Cuisine Mexican
Recipe by Baker by Nature at https://bakerbynature.com/spicy-jalapeno-margaritas-for-a-crowd/