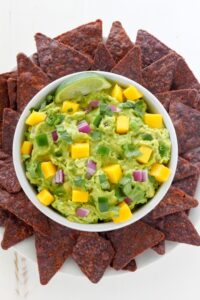 Spicy Mango Guacamole
Yield 6 servings
Thick and creamy Guacamole made extra delicious by the addition of sweet, juicy mango.
Ingredients
4 ripe avocados, cut in half and pitted
1/3 cup ripe mango, diced finely
2 limes, juiced
3/4 cup of cilantro, chopped
1/4 cup red onion, minced
1 large jalapeno, diced very finely
2 cloves garlic, minced
3/4 teaspoon ground cumin
1 teaspoon finely ground sea salt, more to taste
1/2 teaspoon fresh ground black pepper, more to taste
Instructions
Using a sharp knife carefully halve the avocados, remove the pits, dice the avocado inside the skin, and then scoop out into bowl. Add in the mango, lime juice, garlic, onion, cumin, salt, and pepper to avocado and gently stir/mash to combine all the ingredients. Add cilantro and stir. Taste to see if more spices are needed, then serve.
Notes
*photos for this recipe were updated 4/16/2015
Courses Appetizer
Cuisine Mexican
Amount Per Serving
% Daily Value
Recipe by Baker by Nature at https://bakerbynature.com/spicy-mango-guacamole/