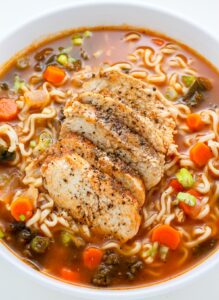 Sunday Suppers: Blackened Chicken Ramen Noodle Soup
Yield 4 Bowls
A hearty Ramen Noodle Chicken Soup loaded with flavor!
Ingredients
For the Chicken:
1 pound skinless, boneless chicken breast tenders
2 tablespoons olive oil
1 teaspoon garlic powder
1 teaspoon ground cumin
1/2 teaspoon chili powder
1/2 teaspoon cayenne pepper
1/2 teaspoon dried oregano
3/4 teaspoon salt
3/4 teaspoon ground black pepper
For the Ramen Noodle Soup:
2 tablespoons olive oil
2 tablespoons sriracha hot sauce
1 small onion, diced
2 tablespoons tomato paste
1 tablespoon ginger, grated
3 small carrots, peeled and chopped into small chunks
2 cups kale, roughly chopped
5 cloves garlic, minced
1/2 teaspoon garlic powder
1/2 teaspoon celery salt
4 cups chicken stock
2 cups water
1 tablespoon soy sauce
1 teaspoon rice vinegar (optional; only if you like tang)
3 packages ramen noodles
1/2 cup scallions, chopped
Instructions
For the Chicken:
Preheat oven to 375 degrees (F).
Place chicken tenders in a large baking dish lined with parchment paper. Drizzle with 2 tablespoons of oil and sprinkle with spices.
Place in the oven and bake for 25 minutes, flipping the chicken at the halfway point. Once cooked, slice the chicken into thin strips. While the chicken is roasting, make the soup.
For the Ramen Noodle Soup:
Add the olive oil and sriracha to a large stockpot and bring to a simmer over medium-heat. Add the onion and tomato paste and cook for 4 minutes, stirring occasionally.
Add the ginger, garlic, and seasonings; cook for 2 minutes or until fragrant. Add the chicken stock and water.
Bring mixture to a rolling simmer; add soy sauce and vinegar (if using), and simmer for another 8-10 minutes. Taste and adjust seasoning as needed.
Add the ramen noodles to the broth and simmer for an additional 2-3 minutes, or until the noodles have softened. Add the scallions, stir to combine.
Remove pan from heat, ladle soup into bowls, and top with chicken.
Courses Dinner
Cuisine Asian
Amount Per Serving
% Daily Value
Recipe by Baker by Nature at https://bakerbynature.com/sunday-suppers-blackened-chicken-ramen-noodle-soup/