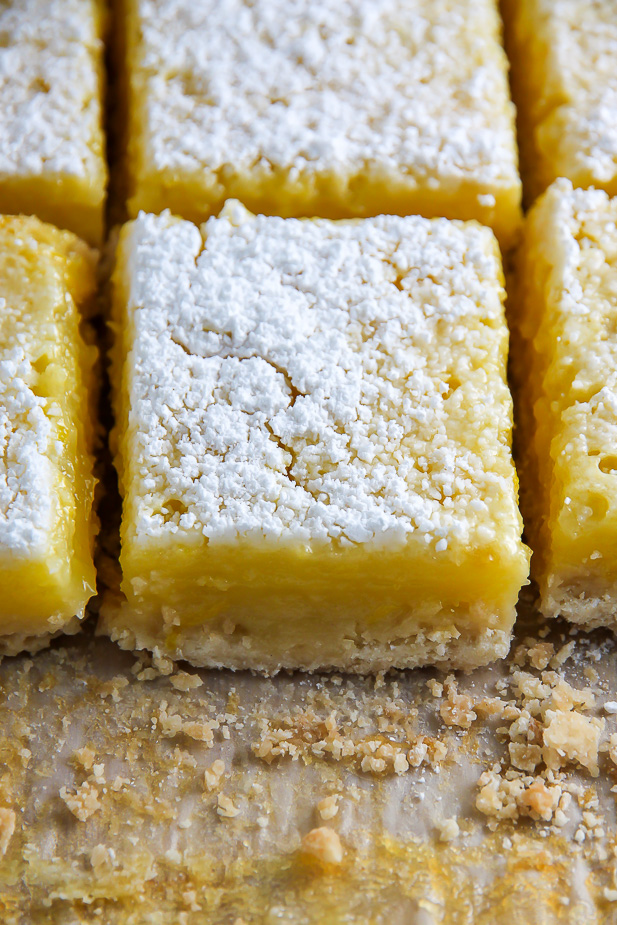 Sunny Lemon Squares
Sunny lemon squares are the perfect balance of sweet and tart! The crisp coconut crust pairs perfectly with the creamy lemon curd filling. Dust with confectioners' sugar for a pretty presentation.
Ingredients
For the coconut crust:
1 cup melted coconut oil
1/2 cup granulated sugar
1/2 teaspoon vanilla extract
1/2 teaspoon salt
2 cups all-purpose flour
For the lemon filling:
2 cups granulated sugar
1/3 cup + 1 tablespoon all purpose flour
2 teaspoons lemon zest
1/4 teaspoon salt
6 large eggs, at room temperature
1/2 teaspoon vanilla extract
1 cup fresh squeezed lemon juice
1/2 cup confectioners' sugar, for dusting
Instructions
For the coconut crust:
Preheat oven to 350 degrees (F). Line a 9x13 baking pan with parchment paper, allowing the ends of the paper to overlap two opposite edges of the pan. Generously grease the parchment paper and any exposed pan; set aside.
In a medium bowl combine the coconut oil, sugar, vanilla, and salt; mix well. Add the flour and stir until just incorporated. Press the mixture evenly into the bottom of the prepared pan. Bake for 14-15 minutes, or until the crust is set and lightly golden. Set crust aside to slightly cool; reduce the oven temperature down to 300 degrees (F).
For the lemon filling:
In a large mixing bowl combine the sugar, flour, lemon zest, and salt; mix well until thoroughly combined. Add in the eggs, vanilla, and lemon juice and whisk until well combined.
Assembly and baking:
Pour the lemon filling on top of the partially baked crust. Return the pan to oven and bake for 30 minutes, or until the filling is set in the center. Cool to room temperature, then cover the pan and refrigerate for at least 4 hours, and up to 3 days.
Courses Dessert
Cuisine American
Amount Per Serving
% Daily Value
Recipe by Baker by Nature at https://bakerbynature.com/sunny-lemon-squares/