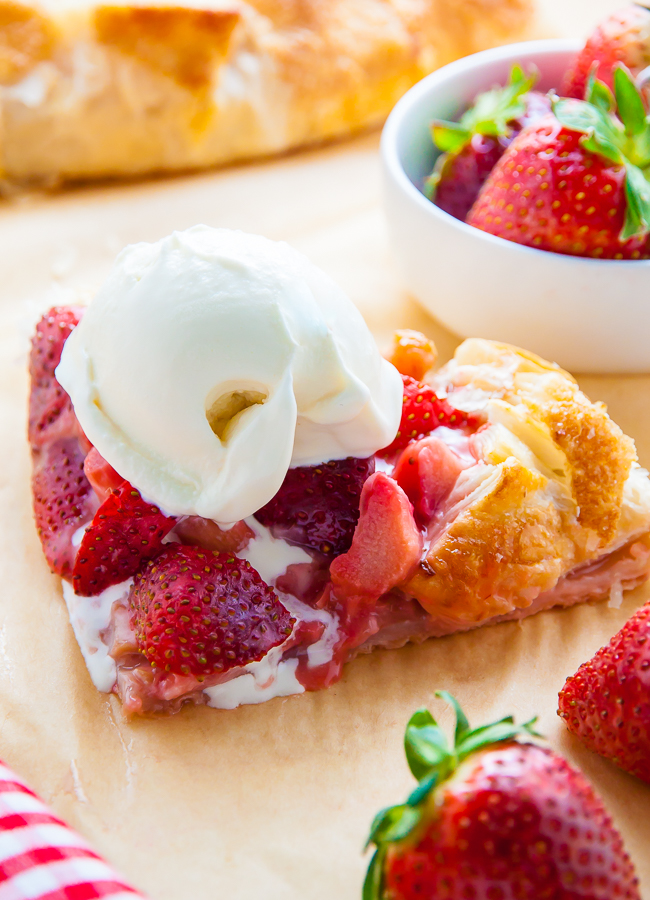 Super Easy Strawberry Rhubarb Galette
Yield 1 Galette, about 6 slices
My super easy recipe for Strawberry Rhubarb Galette. Top with fresh whipped cream or ice cream for an extra decadent dessert.
Ingredients
1 puff pastry sheet, thawed
1 large egg
1 tablespoon water
1 cup fresh strawberries, quartered
1 and 1/2 cups fresh rhubarb, chopped into 1/2 inch pieces
2 teaspoons fresh orange zest (optional but highly recommended)
1 teaspoon vanilla extract
1/4 cup all-purpose flour
1/2 cup plus 2 tablespoons granulated sugar, divided
1/4 teaspoon salt
Instructions
Preheat oven to 400°(F). Line a large rimmed baking sheet with parchment paper; set aside.
Thaw 1 sheet of puffed pastry; about 15-20 minutes at room temperature. Once thawed, gently unfold both sides. If it cracks, lightly wet your fingers then gently press the seams back together. Place puffed pastry on prepared baking sheet.
In the meantime...
In a small bowl combine the egg and water; beat until well combined and set aside.
Slice strawberries and rhubarb. Using a few sheets of paper towel, blot the strawberries and rhubarb, pressing down to remove as much excess moisture as you can without crushing the fruit. In a large bowl combine the chopped fruit, orange zest, and vanilla; toss to coat. Add in the flour, granulated sugar and salt, mixing well to evenly combine.
Spoon fruit mixture into the center of the puff pastry, leaving a 3-inch boarder on all sides. Fold pastry edge up and over fruit mixture, overlapping edges as required, but leaving the center uncovered.
Brush pastry with egg wash. then sprinkle pastry and fruit filling with remaining sugar.
Bake on the lowest shelf of your oven for 30 minutes, or until the fruit is bubbling and the pastry is golden brown. Allow the galette to rest 10 minutes before cutting and serving. Serve with ice cream or whipped cream. Galette is best eaten warm, the day it's made.
Notes
Fresh strawberries and rhubarb work best for this recipe. I don't recommend making this ahead of time, as it's best eaten warm, or within a few hours of baking.
Courses Dessert
Cuisine American
Amount Per Serving
% Daily Value
Recipe by Baker by Nature at https://bakerbynature.com/super-easy-strawberry-rhubarb-galette/