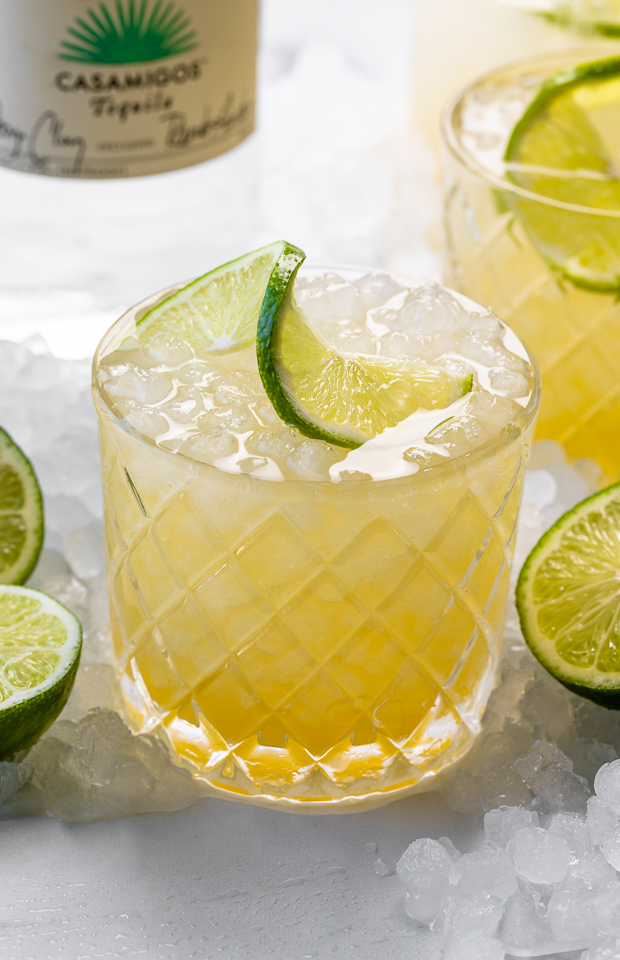 Best 5 Minute Margarita Recipe
Yield 1 Margarita
Made with freshly squeezed lime juice, orange liqueur, tequila, and just a touch of honey, this is the Best 5 Minute Margarita Recipe you'll ever make! One of the most popular cocktails in the world, and perfect for those hot Summer days! So without further ado, let's make my perfect homemade margaritas!
Ingredients
1 Tablespoon hot water
1 teaspoon honey or agave (be sure it's a liquid honey, not the thicker raw variety)
1.5 ounces freshly squeezed lime juice 
2 ounces tequila 
1.5 ounces Cointreau or Grand Marnier 
1 teaspoon freshly squeezed orange juice (optional)
Ice 
Instructions
Place hot water and honey or agave in a cocktail shaker and whisk vigorously to combine. 
Add in the lime juice, tequila, orange liqueur, and orange juice. Shake vigorously to combine. 
Fill a glass with ice. Pour the margarita on top of the ice, garnish with a lime twist or wedge, and serve at once. 
Notes
If you prefer a salt-rimmed glass, running the flesh of a lime wedge around the top rim of your glass. Then fill a rimmed plate or shallow bowl with salt, and dip the rim of the glass into the salt until it is covered with salt. Set aside while you make your drink.
If you use Grand Marnier, your margarita will have a slightly more orange hue. 
Courses Drink
Cuisine Mexican
Recipe by Baker by Nature at https://bakerbynature.com/the-best-5-minute-margarita-recipe/