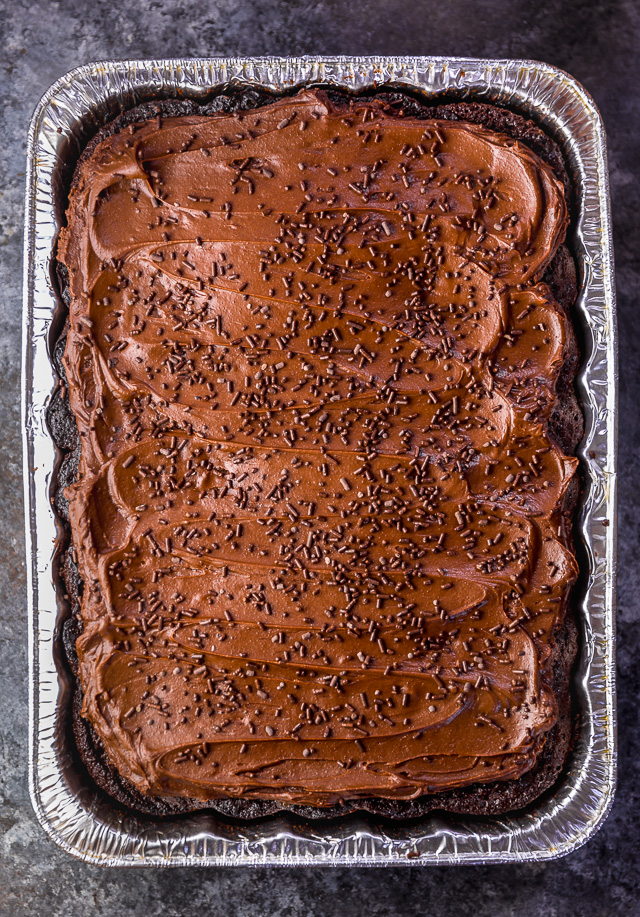 The Best Chocolate Sheet Cake
Yield 9x13 Cake
Say hello to the BEST chocolate sheet cake recipe!!! Supremely moist, fudgy, and full of decadent chocolate flavor! But the best part? This cake is so easy!!! 
Ingredients
For the Chocolate Sheet Cake:
3 ounces semi-sweet chocolate, finely chopped
1 stick (4 ounces) unsalted butter
1/3 cup melted coconut oil, canola oil, or vegetable oil
1 cup cocoa powder
3/4 cup granulated sugar
1 cup light brown sugar, packed
1 and 3/4 cups all-purpose flour
1 and 1/2 teaspoons baking soda
3/4 teaspoon salt
2 large eggs + 1 large egg yolk, at room temperature
1 cup sour cream
1/4 cup whole milk
1 tablespoon vanilla extract
1 cup freshly brewed coffee or freshly boiled water
For the Chocolate Frosting:
1 cup (8 ounces) unsalted butter, at room temperature
2 cups confectioners' sugar
1/8 teaspoon salt
1 and 1/2 Tablespoons heavy cream
1 teaspoon vanilla extract 
6 ounces (170g) quality dark chocolate, melted and cooled for 10 minutes
Chocolate sprinkles, optional 
Instructions
For the Chocolate Sheet Cake:
Preheat oven to 350°(F). Generously spray a 9x13-inch baking pan with non-stick spray and set aside until needed. 
In a large glass bowl, microwave the chocolate, butter, and oil in 30 second increments, stirring between each increment, until butter and chocolate are completely melted. Whisk smooth and set aside.
In a large bowl combine cocoa powder, both sugars, flour, baking soda, and salt until ingredients are thoroughly combined. Set aside.
In a separate large bowl, combine the eggs, yolk, sour cream, milk, and vanilla, beating until well combined. 
Pour in the chocolate mixture and stir until combined. Add the dry ingredients into the wet ingredient mixture and mix until just combined.
Carefully add in hot coffee (or water) and let sit for 1 minute. Then gently stir until completely combined. The batter will be very thin. 
Pour batter into pan and smooth the top. Bake in preheated oven for 38 to 45 minutes, or until wooden toothpick or cake tester inserted in the center of a cake comes out clean or with just a few moist crumbs attached.
Place cake on a cooling rack to cool completely. Once cool, spread frosting on top of cake. 
For the Chocolate Frosting:
In the bowl of a stand mixer fitted with the paddle attachment, or in a large bowl using a handheld electric mixer, beat the butter on medium-speed until completely smooth. Reduce the speed to low and gradually add in the confectioners' sugar, beating until all of the sugar is completely combined. Add in the salt, cream, and vanilla extract and beat smooth.
Add in the melted chocolate and beat smooth. Once all of the ingredients have been incorporated, increase the speed to medium-high and beat for a minute.
Spread frosting on top of the cooled cake. Top with chocolate sprinkles, if desired.
Courses Dessert
Cuisine American
Recipe by Baker by Nature at https://bakerbynature.com/the-best-chocolate-sheet-cake/