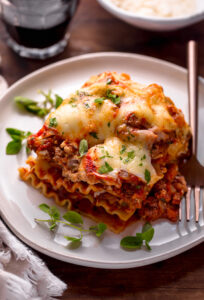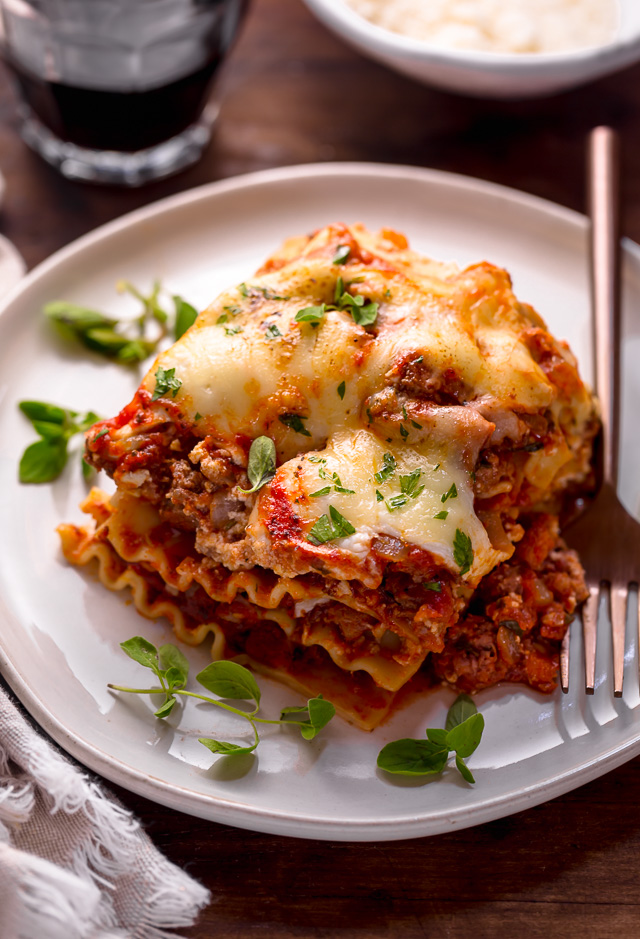 The Best Homemade Lasagna Recipe
Yield 10 servings
The Best Homemade Lasagna Recipe is cheesy, meaty, saucy, and SO delicious!!! And while this recipe requires a bit of work, it can be made ahead of time and stored in the fridge for up to 24 hours before baking. A hearty recipe that's perfect for feeding large groups!
Ingredients
For the Meat Sauce:
2 tablespoons extra-virgin olive oil
5 ounces pancetta, diced into small bits
1 pound hot Italian sausage
1 pound combined ground beef
6 cloves garlic, crushed and chopped
1 cup onion, chopped
3 Tablespoons tomato paste 
1 cup dry red wine (use something you'd enjoy drinking)
1/2 cup beef stock
2 (28 ounce) cans crushed tomatoes 
2 teaspoons sugar 
1/2 cup fresh basil, chopped 
3 Tablespoons fresh parsley, chopped 
2 Tablespoons fresh oregano, chopped 
Salt and pepper, to taste 
For the Ricotta Layer:
16 ounces ricotta cheese
5 ounces fontina cheese, grated 
1 large egg plus 1 egg yolk 
1/4 teaspoon ground nutmeg 
For the Lasagna:
15 lasagna noodles 
8 ounces mozzarella cheese, shredded 
1/2 cup parmesan cheese, finely grated 
Instructions
For the Meat Sauce:
Place a large saucepan or pot over medium high heat. Add oil and pancetta cook for 2 to 3 minutes, or until browned. Add in the sausage and beef and use a wooden spoon to break the meat up into pieces. Continue cooking until meat is browned and no pink remains, about 5 minutes. 
Add garlic and cook for 1 minute, or until fragrant. Add in the onion and continue cooking, stirring occasionally, for 6 to 8 minutes, or until onion has softened and is almost translucent. Stir in the tomato paste. 
Add in the wine and stir to combine. Cook for 5 minutes. Then stir in the stock and crushed tomatoes, stirring well to combine. Bring sauce to a boil, then reduce to medium low and continue cooking for at least 40 minutes. 
Stir in the sugar, basil, parsley, and oregano. Cook for another 5 minutes. Taste and add salt and pepper as needed. 
Remove from heat allow to slightly cool before using it in the lasagna. 
For the Ricotta Layer:
In a large bowl combine the ricotta, fontina, egg, egg yolk, and nutmeg, mixing until well combined. Set aside until needed. 
For the Lasagna:
Place a long sheet of parchment paper (about 16") on you countertop. Lightly brush with olive oil. 
Bring a large pot of water to a rolling boil. Add a pinch of salt, then add in the lasagna noodles. Cook for 4 minutes, then use tongs to remove the noodles, placing them side by side on the prepared parchment paper. 
Shred mozzarella cheese and set aside until needed. Grate the parmesan cheese and set aside until needed. 
Assembly:
Preheat oven to 375 degrees (F). Lightly grease a 9x13-inch casserole dish. 
Pour 1 cup of meat sauce on the bottom of the casserole dish. Then layer 5 noodles on top of the sauce. Top with 3/4 cup of the ricotta filling, 1 and 1/2 cups of the sauce, and 1/4 cup of the parmesan cheese. Repeat 2 more times. 
On the top layer, add the remaining sauce and mozzarella cheese. 
Cover with aluminum foil and bake for 30 minutes. Remove foil and continue baking to 15 to 20 minutes, or until cheese is melted and bubbling. 
Remove from oven and let the lasagna rest for at least 15 minutes before slicing. 
Courses Dinner
Cuisine Italian
Recipe by Baker by Nature at https://bakerbynature.com/the-best-homemade-lasagna-recipe/