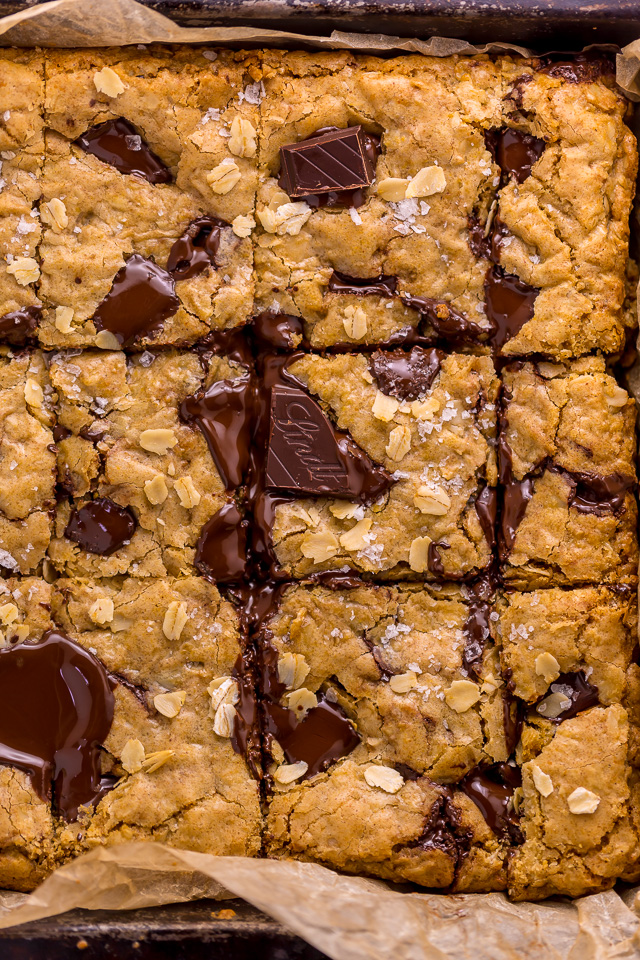 The Best Oatmeal Cookie Bars
Yield 9x13 Pan
These are the BEST Oatmeal Cookie Bars you'll ever bake! Soft, chewy, and loaded with rolled oats and chocolate, this is a great recipe the whole family will love! Super easy and no mixer required!
Ingredients
2 sticks (8 ounces, 1 cup) unsalted butter, melted 
1 cup light brown sugar, packed
1/2 cup granulated sugar
2 large eggs plus 1 egg yolk, at room temperature
2 tablespoons milk
1 tablespoon vanilla extract
1 and 2/3 cups all-purpose flour
1 teaspoon baking soda
3/4 teaspoon salt
1/2 teaspoon ground cinnamon 
2 cups rolled oats
1 and 1/4 cups chopped dark chocolate OR your mix-in of choice (see post for ideas!)
1 teaspoon flaky sea salt, optional 
Instructions
Preheat oven to 350 degrees (F). Line an 9x13-inch baking pan with parchment paper or aluminum foil. Spray lightly with non-stick spray and set aside.
In a saucepan over medium heat, melt the butter, then continue to cook it, stirring occasionally, until golden brown. Keep an eye here, you don't want burnt butter! Remove from heat and scrape the butter into a large heat proof mixing bowl.
Whisk in both sugars and mix until well combined. Stir in the vanilla. Then add in the eggs and egg yolk, beating until combined. Stir in the milk.
Using a rubber spatula, add in the flour, baking soda, salt, cinnamon, and rolled oats, mixing until just combined. Finally, fold in the chocolate chunks. Scrape the batter into the prepared pan. 
Bake for 24 to 30 minutes, or until the edges are firm and golden. Press extra chocolate chunks on top of the warm bars, if desired. 
Cool in pan for at least 1 hour before cutting. Sprinkle with flaky sea salt before serving, if desired. 
Courses Dessert
Cuisine American
Recipe by Baker by Nature at https://bakerbynature.com/the-best-oatmeal-cookie-bars/