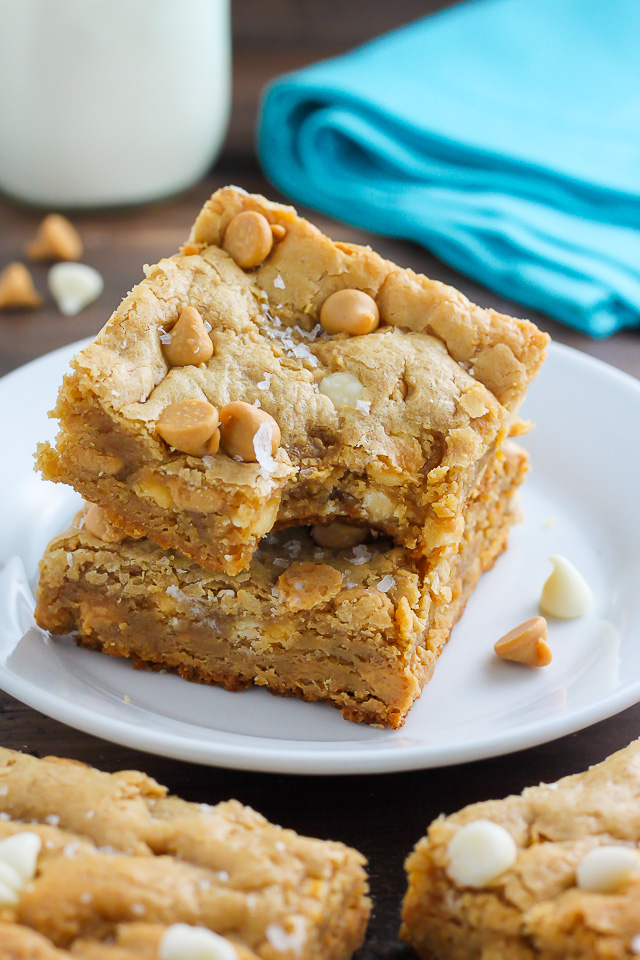 Thick and Chewy White Chocolate Peanut Butter Blondies
Thick and chewy peanut butter blondies loaded with white chocolate and peanut butter chips!
Ingredients
1/2 cup (4 ounces; one stick) unsalted butter, melted
1/2 cup creamy peanut butter
1 and 3/4 cups dark brown sugar, packed
2 large eggs, at room temperature
1/2 teaspoon salt (fine sea salt, table salt, or kosher salt will all work)
2 cups all-purpose flour
1 teaspoon baking powder
1 1/2 cups white chocolate chips
1 cup peanut butter chips
1 teaspoon flaky sea salt (I used Maldon Sea Salt and think it's the best), for sprinkling, optional
Instructions
Preheat oven to 350 degrees (F). Line a 9" x 13" pan with parchment paper; lightly grease the paper and set aside.
Melt the butter in a medium saucepan over medium-heat. Remove from heat and stir in the peanut butter and brown sugar, whisk well to combine.
Whisk in eggs, one at a time, beating well after each addition. Stir in the salt, flour, and baking powder, mixing just until combined. Fold in the white chocolate chips and peanut butter chips.
Spread the mixture evenly in the pan, then sprinkle the top with additional white chocolate chips and peanut butter chips, if desired. Bake the blondies for 15 minutes, then cover the pan with aluminum foil and bake for another 15-18 minutes, or until they're light brown on the edges and top. Carefully remove them from the oven and cool completely before cutting.
Courses Dessert
Cuisine Cookies
Amount Per Serving
% Daily Value
Recipe by Baker by Nature at https://bakerbynature.com/thick-and-chewy-white-chocolate-peanut-butter-blondies/