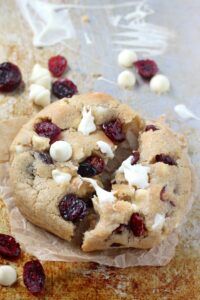 Thick and Chewy White Chocolate Cranberry Cookies
Yield 2 dozen cookies
These Thick and Chewy White Chocolate Cranberry Cookies are perfect for Christmas!!! Loaded with chewy cranberries and white chocolate chips, these cookies are always a crowd-pleaser! 
Ingredients
2 1/2 cups all-purpose flour
1 teaspoon baking soda
1/2 teaspoon salt
1/4 teaspoon cinnamon
15 tablespoons unsalted butter, at room temperature
1 cup + 2 tablespoons dark brown sugar
1/2 cup granulated sugar
2 1/2 teaspoons pure vanilla extract
2 large eggs, at room temperature
2 cups white chocolate chips
1 cup dried cranberries, chopped
Instructions
Preheat oven to 375 degrees (F).
Line 2 large baking sheets with parchment paper; set aside.
In a medium-sized bowl whisk together the dry ingredients; set aside.
In a large bowl combine the butter, sugars, and vanilla; whisk until light and fluffy; about 2 minutes (you may use a standmixer/ handheld mixer to help if you have one).
Add the eggs and beat quickly – for only about 30 seconds – until they're just combined. Let the mixture rest for 5 minutes, then beat the eggs for another 30 seconds. Gently fold in the flour mixture with a wooden spoon, stirring only until the flour begins to disappear.
Fold in the white chocolate chips and cranberries.
Roll 3 tablespoon sized balls of dough between your palms to form a ball (they should be big; almost a 1/4 cup), then place on prepared sheet (make sure to leave enough room in between each cookie for inevitable spreading). Continue this process until all the dough has been rolled. Place baking sheets in preheated oven and bake for 11-14 minutes, or until golden at the edges but still soft in the middle. Let cookies cool for 5 minutes on the sheet before transferring to a wire wrack to cool completely.
Courses Dessert
Cuisine Cookies
Recipe by Baker by Nature at https://bakerbynature.com/thick-chewy-white-chocolate-cranberry-cookies/