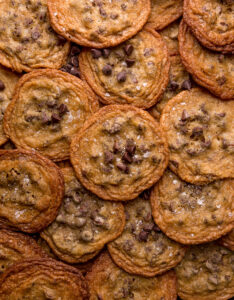 Thin Crispy Chocolate Chip Cookies
Yield 3 dozen cookies
Bust out your cookie sheet, because these thin crispy chocolate chip cookies are a must bake! These cookies bake up golden brown and smell like heaven! Super thin and delightful crisp, these are one of our favorite chocolate chip cookie recipes!
Ingredients
2 cups all-purpose flour
1 teaspoon baking soda
1 teaspoon sea salt
10 ounces unsalted butter, at room temperature 
1 and 1/3 cups granulated sugar
1/4 cup light brown sugar, packed 
2 teaspoons vanilla extract 
2 large eggs, at room temperature
1 Tablespoon milk, at room temperature 
2 cups semi-sweet chocolate chips 
Instructions
Preheat oven to 350 degrees (F). Line 2 large baking sheets with parchment paper and set aside.
In a medium sized bowl whisk together the flour, baking soda, and salt; set aside.
In the bowl of a stand mixer fitted with the paddle attachment, beat the butter and both sugars on medium-speed for about 2 minutes, or until light and fluffy, scraping the bowl as needed. 
Add in the vanilla and beat smooth. Add the eggs, one at a time, beating well after each addition. Beat in the milk. 
On low speed, add the flour mixture, beating until just combined. Beat in the chocolate chips.
Drop 1 tablespoon sized balls of dough onto the prepared baking sheets, leaving 2-inches between each cookie for inevitable spreading.
Bake, one tray at a time, for 10 to 11 minutes, rotating the baking tray halfway through baking.
Let cookies cool for 15 minutes on the baking sheet before using a thin spatula to transfer them to a wire rack to cool completely. Repeat with all cookie dough. 
Courses Dessert
Cuisine American
Recipe by Baker by Nature at https://bakerbynature.com/thin-crispy-chocolate-chip-cookies/