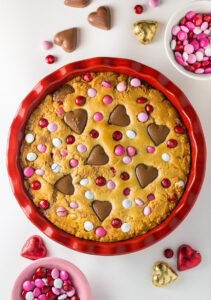 Valentine's Day Cookie Pie
Yield 9" pie
This deep dish Valentine's Day Cookie Pie is loaded with festive M&M's and Heart Shaped Peanut Butter Cups!
Ingredients
2 sticks (8 ounces) unsalted butter, melted
1 cup light brown sugar, packed
1 cup granulated sugar
1 large egg plus 2 egg yolks, at room temperature
1 tablespoon vanilla extract
2 cups all-purpose flour
1/4 cup cornstarch
1/2 teaspoon salt
2 cups Valentine's day M&M's (although regular will work)
3/4 cup mini heart shaped peanut butter cups, chopped (regular mini peanut butter cups will work)
Instructions
Preheat oven to 350 degrees (F). Light spray a 9" pie plate with non-stick baking spray; set aside.
In a large bowl add the melted butter, brown sugar, and granulated sugar; beat well until combined. Beat in the egg, egg yolks, and vanilla. Add in the flour, cornstarch, and salt and mix until just combined. Be sure not to over mix here! Fold in the M&M's and chopped peanut butter cups. Spread the mixture into the prepared pie plate. Top with additional M&M's and peanut butter hearts, if desired. Bake for 38 to 40 minutes, or until the top is golden brown, the edges are completely set, and the center of the pie is only slightly jiggly. If your cookie begins to look too dark, you can place a piece of tin foil over the top until it's done baking.
Place pie on a wire rack to cool for at least one hour before slicing and serving.
Courses Dessert
Cuisine Cookies
Amount Per Serving
% Daily Value
Recipe by Baker by Nature at https://bakerbynature.com/valentines-day-cookie-pie/