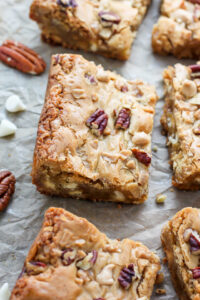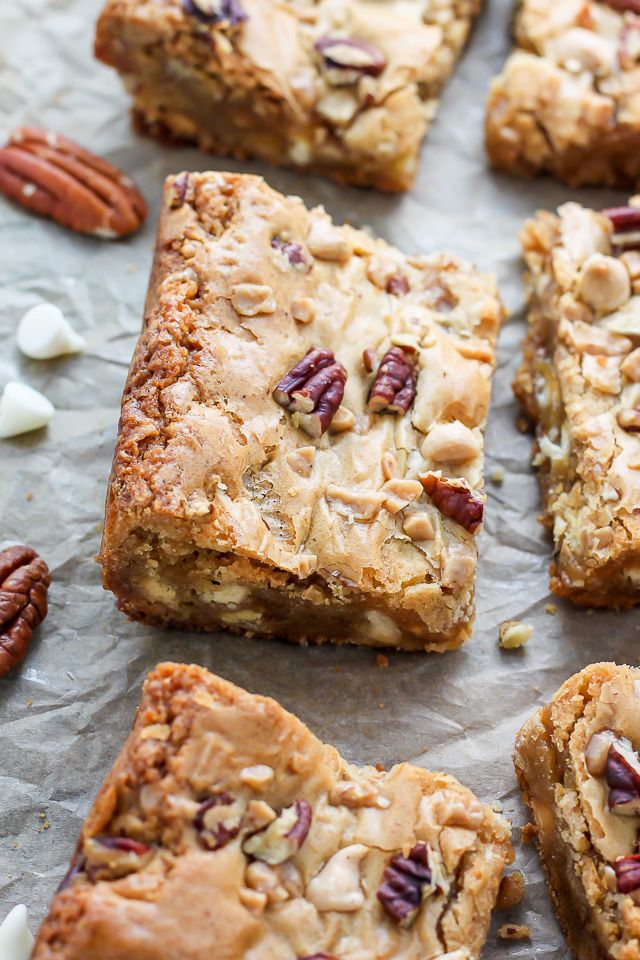 White Chocolate Butter Pecan Blondies
Thick and chewy White Chocolate Butter Pecan Blondies are ready in just 30 minutes!
Ingredients
For the buttered pecans:
1 tablespoons unsalted butter
1/2 cup pecans, chopped
For the blondies:
1 stick butter (4 ounces)
1 cup light brown sugar, packed
1 large egg
1 cup flour (be sure not to pack your flour)
1/2 teaspoon baking powder
1/2 teaspoon cinnamon
1/2 cup toffee bits (not the chocolate covered ones)
3/4 cup white chocolate chips
Instructions
For the butter pecans:
Melt the butter in a small skillet over medium heat. Add in the pecans and cook, stirring frequently, until the mixture is lightly browned, about 5 minutes. Remove pecans from pan and let them cool a few minutes.
For the blondies:
Preheat oven to 350 degrees (F). Line an 8x8 baking pan (or loaf pan) with parchment paper and spray parchment lightly with non-stick spray, set aside.
Melt butter in a medium-sized skillet over medium heat. Remove from heat and cool for a few minutes, then whisk in the brown sugar; beat until well combined. Add in the egg, beating until combined. Gently stir in the flour, baking powder, and cinnamon, being sure not to over mix. Fold in the buttered pecans, toffee bits, and white chocolate chips.
Bake for 25-30 minutes, or until the edges are firm and golden and the center is just slightly wobbly. Cool in pan for at least 20 minutes before cutting.
Courses Dessert
Cuisine American
Amount Per Serving
% Daily Value
Recipe by Baker by Nature at https://bakerbynature.com/white-chocolate-butter-pecan-blondies-2/