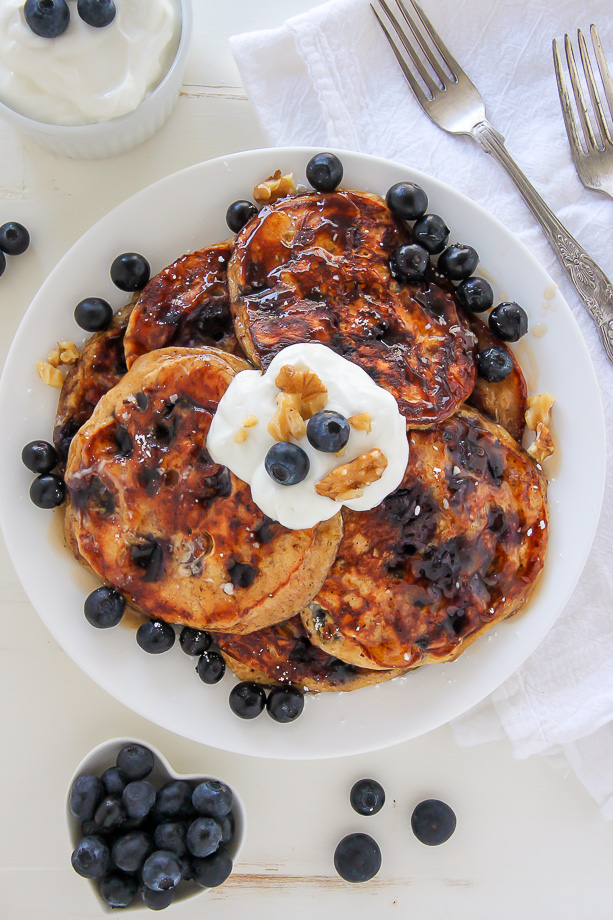 Whole Wheat Greek Yogurt Blueberry Pancakes
Yield 8 pancakes
Start the day off right with a stack of these light and fluffy blueberry pancakes!
Ingredients
3 large eggs, at room
1 cup fat-free plain Greek yogurt
1/4 cup milk (I used almond milk, but any variety will work)
3 teaspoons vanilla extract
3 tablespoons light brown sugar, packed
1/2 teaspoon salt
2 and 1/2 teaspoons baking powder
1/3 cup + 2 tablespoons whole wheat flour
1/3 cup all-purpose flour
1 cup fresh blueberries
4 tablespoons butter, for the pan
Maple syrup, for serving
Instructions
In a large bowl add the eggs, Greek yogurt, milk, and vanilla; whisk well to combine.
Add in the brown sugar, salt, baking powder, and flours and whisk just to combine; do not over mix! The batter will be thick, so don't worry if there are a few clumps left. Fold in the blueberries with a rubber spatula.
Melt 1 tablespoon of butter in a large skillet over medium-low heat.
Once hot, ladle 1/3 cup scoops of the batter into the skillet, only cooking a few at a time so they don't blend together.
Cook pancakes until the edges begin to brown and the top of the batter bubbles, then flip and cook for another 1-2 minutes. Repeat for all pancake batter.
Top pancakes with syrup and extra blueberries, or anything else your heart desires! Serve at once.
Courses Breakfast
Cuisine American
Amount Per Serving
% Daily Value
Recipe by Baker by Nature at https://bakerbynature.com/whole-wheat-greek-yogurt-blueberry-pancakes/