Monster cookies are loaded with creamy peanut butter, chewy oats, colorful m&ms, and gooey chocolate chips! They bake up super thick, with chewy edges and incredibly soft centers. A must try for all of my fellow cookie monsters out there!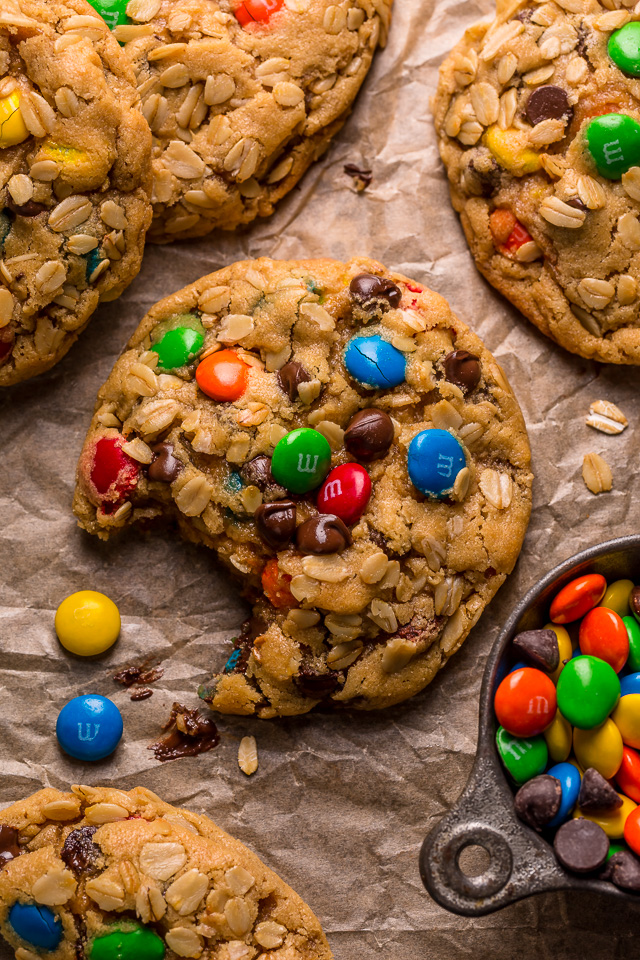 Monster Cookies
Happy Monday! Can you believe Halloween is THIS weekend?!?
Which is why I'm popping in to share these insanely decadent monster cookies with you! They're certainly not the spookiest Halloween treat, but they are SCARY delicious. And perfect for using up any M&M's your trick or treaters might lug home this year!
What the heck is a monster cookie?
There are SO many monster cookie recipes on the web! And many of them vary greatly. Some are basically just regular cookies loaded up with m&m s and chocolate chips. Others have oats, nuts, or even coconut involved. And then there are the ones that incorporate PEANUT BUTTER. Which I was instantly drawn to.
My version is a soft batch peanut butter oatmeal cookie that's bursting with crunchy salted peanuts, M&Ms, oats, a touch of cinnamon, vanilla extract, and of course, chocolate chips! I also use a combination of brown sugar and granulated sugar, which adds depth of flavor.
The other more common ingredients are flour, baking powder, baking soda, and salt. I haven't tested these gluten free, but think a 1 for 1 gluten free baking flour should work fine!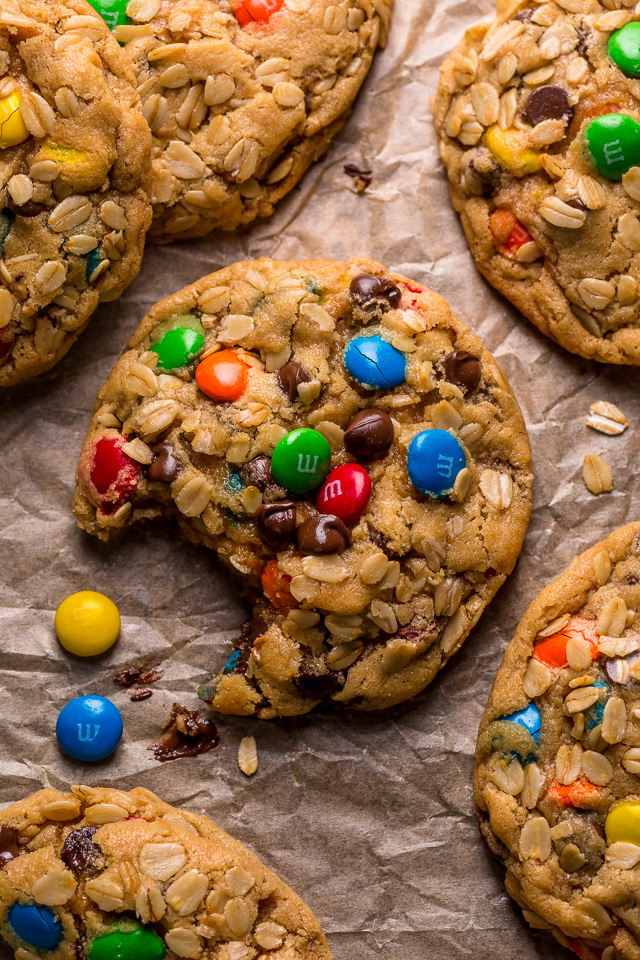 Quick Oats AND Old Fashioned Oats
Unlike most monster cookie recipes that call for only quick oats, I use a combination of both. I think this is the best choice because the quick oats help bind the cookie dough, while the old-fashioned oats add a delightful texture.
Choosing the right peanut butter…
I'll get straight to the point: creamy peanut butter is king when it comes to these cookies! JIF, Skippy, and Peter Pan Brand all work well! I don't recommend using chunky peanut butter, natural peanut butter, and definitely not almond butter or other nut butters. That said, you're always free to experiment and play around! But for guaranteed good results, stick with creamy PB!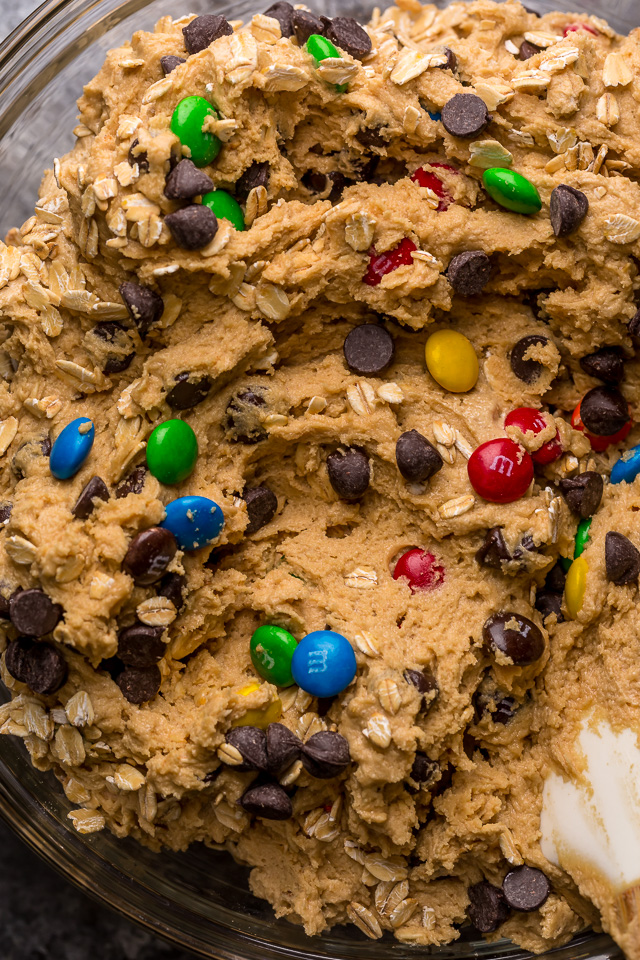 5 Tips for PERFECT Monster Cookies:
Make sure your butter is at room temperature! Depending on where you live, this can take anywhere from 15 minutes to 45 minutes. Basically, you'll want to leave your butter on the counter until it's soft enough that when lightly pressed with your finger it easily leaves an indentation, but not so warm it's shiny or greasy or melted at all. Your eggs should also be at room temp, so that when you add the eggs and vanilla they can easy combine with the other ingredients. Cold ingredients do not bond.
Don't pack your flour! Instead, first fluff of the flour in the pack. Then lightly spooning the flour into the measuring cups, and level it off using the flat side of a knife.
Be sure to scrape the bottom of the mixing bowl! Because often the top will look light and fluffy, but the bottom will be wet and unmixed.
Use the baking time as a guide, but keep an eye on your cookies as they bake, because every oven runs differently! They're ready to come out of the oven when they're golden at the edges and just slightly soft in the center. They'll firm up as they cool.
For an extra pretty presentation, sprinkle the cookie dough balls with a teaspoon of old-fashioned oats before baking. Then press some extra M&MS and chocolate chips on top of the warm cookies when they come out of the oven!
I like making these Monster cookies MONSTER in size, and use about a 1/4 cup of cookie dough per cookie. But if you prefer smaller cookies, simply use a smaller cookie scoop and reduce the bake time by a minute or two. Enjoy!!!
More Cookie Recipes: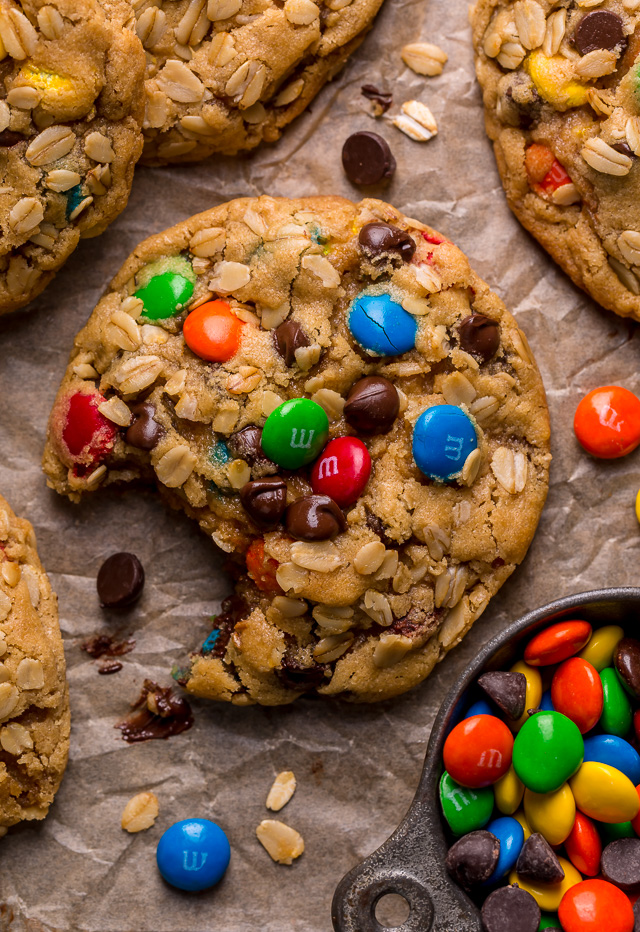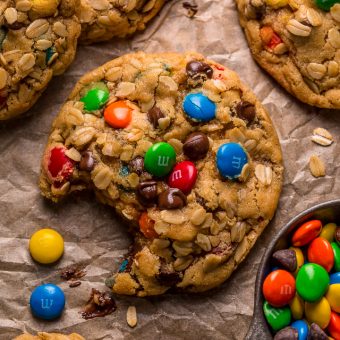 Soft Batch Peanut Butter Monster Cookies
Monster cookies are loaded with creamy peanut butter, chewy oats, colorful m&ms, and gooey chocolate chips! They bake up super thick, with chewy edges and incredibly soft centers. A must try for all of my fellow cookie monsters out there!
Ingredients
1 cup (227 grams ounces) unsalted butter, at room temperature
1 cup creamy peanut butter, at room temperature
2 teaspoons pure vanilla extract
1 and 1/4 cups light brown sugar, packed
1/3 cup granulated sugar
2 large eggs, at room temperature
1 large egg yolk, at room temperarure
2 cups (240 grams) all-purpose flour
1 cup old-fashioned oats
1/2 cup quick oats
1 teaspoon baking soda
1 and 1/2 teaspoons baking powder
1/2 teaspoon ground cinnamon
1/2 teaspoon salt
1 and 1/2 cups M&M candies
1 and 1/2 cups semi-sweet chocolate chips
1/2 cup salted peanuts, roughly chopped
Instructions
In the bowl of a stand mixer fitted with the paddle attachment or in a large bowl using a handheld electric mixer, beat the butter on medium speed until smooth and creamy.

Add in the peanut butter and vanilla and beat until smooth, about 2 minutes.

Next add in both sugars and beat until light and fluffy, scraping down the sides and bottom of the bowl as needed, about 2 minutes.

Add in the eggs and yolk, one at a time, beating well after each addition. Turn mixer off.

Add in the flour, oats, baking soda, baking powder, cinnamon, and salt. Whisk the ingredients together lightly before turning the mixer back on low and mixing in the dry ingredients until just combined. Be sure not to over mix here.

Turn mixer off and use a spatula to fold in the M&Ms, chocolate chips, and peanuts. 

Cover the bowl and place it in the fridge for 30 minutes, or up to 2 days. 
When ready to bake:
Preheat oven to 350 degrees (F). Line two large baking sheets with parchment paper.

Scoop two tablespoon sized mounds of dough onto the prepared cookie sheet, leaving a few inches between each cookies for spreading. Gently press down on each cookie ball, slightly flattening the ball. This will help them spread evenly in the oven. Sprinkle the top of each cookie with some extra oats, if desired. 

Bake one tray at a time, for 12 minutes, or until the edges are golden and the centers have set. If any edges spread out while baking, use a spatula and gently press them back in as soon as you remove the cookies from the oven. 

Cool cookies on the baking sheet for 10 minutes before transferring them to a cooling rack.