Strawberries and Cream Scones are tender, flaky, and bursting with fresh strawberries in every bite! We love serving these strawberry scones with coffee or tea, and extra glaze on the side. The perfect strawberry scone recipe for occasions like Mother's Day or Easter brunch!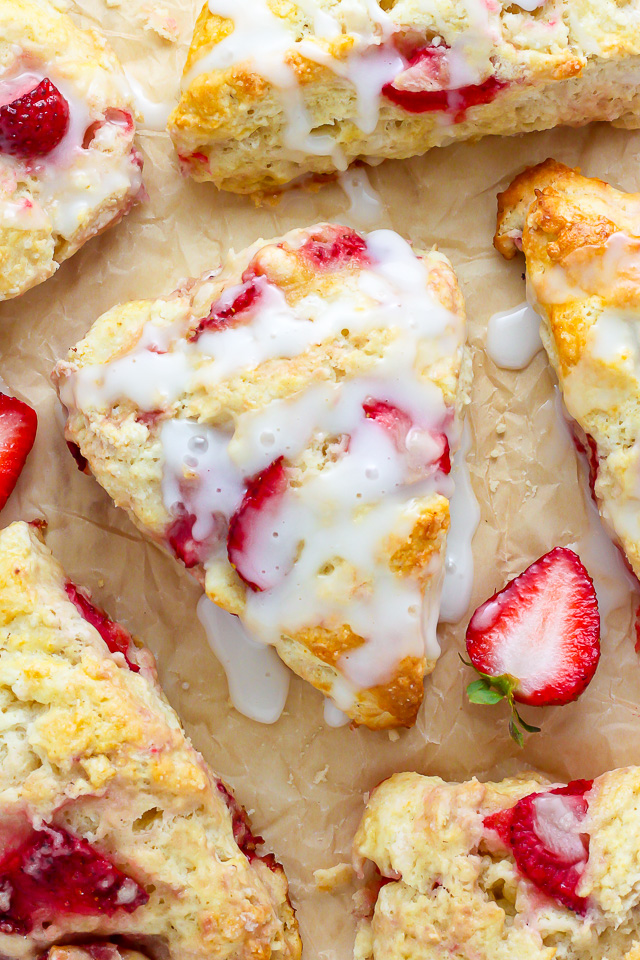 Strawberry Scones with Glaze
Spring is quickly approaching, and with it comes fun holidays like Easter and Mother's Day! We always host brunch on those holidays, and one of my favorite ways to welcome guests to a brunch party is with fresh scones and a variety of tea and coffee options. It's a simple step that makes guests feel extra special! And it also allows you a little extra time in the kitchen to put the finishing touches on any other dishes you may be preparing. 

I have a TON of scone recipes in the breakfast archives, but these gorgeous glazed strawberry scones may just be my favorite! They're very easy to make and use simple ingredients I always have on hand. And they're not dry like a lot of scone recipes. Instead they're buttery and flavorful!!! Plus, it doesn't hurt that they're absolutely gorgeous. Everyone's eyes perk up when they see these beautiful strawberry scones on the table!

MY RECENT VIDEOS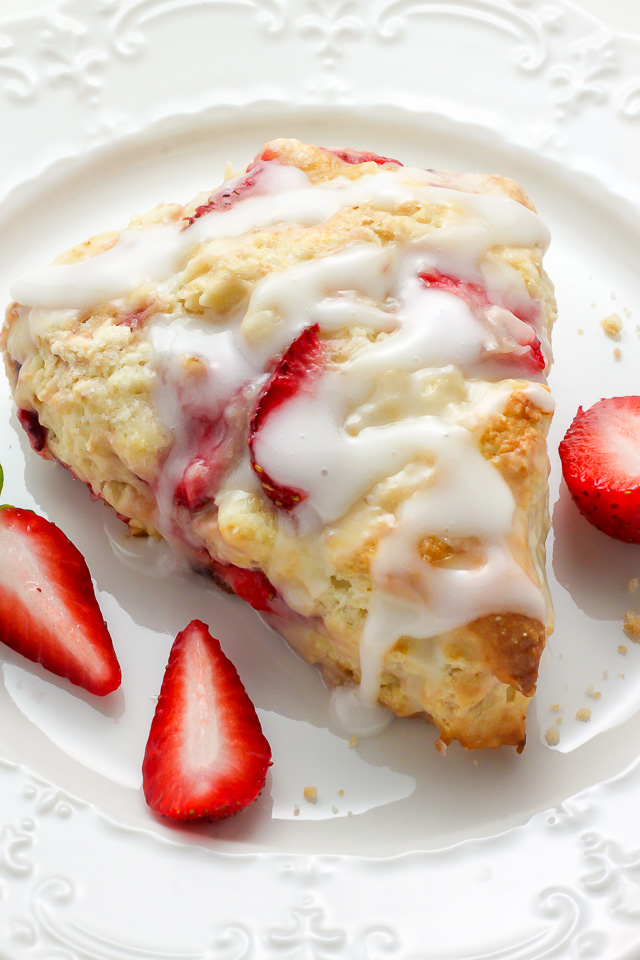 Sweet, fruity, buttery perfection in every bite. Warm from the oven, with a hearty drizzle of vanilla cream, and cup of coffee… there's truly no better way to start a morning!!!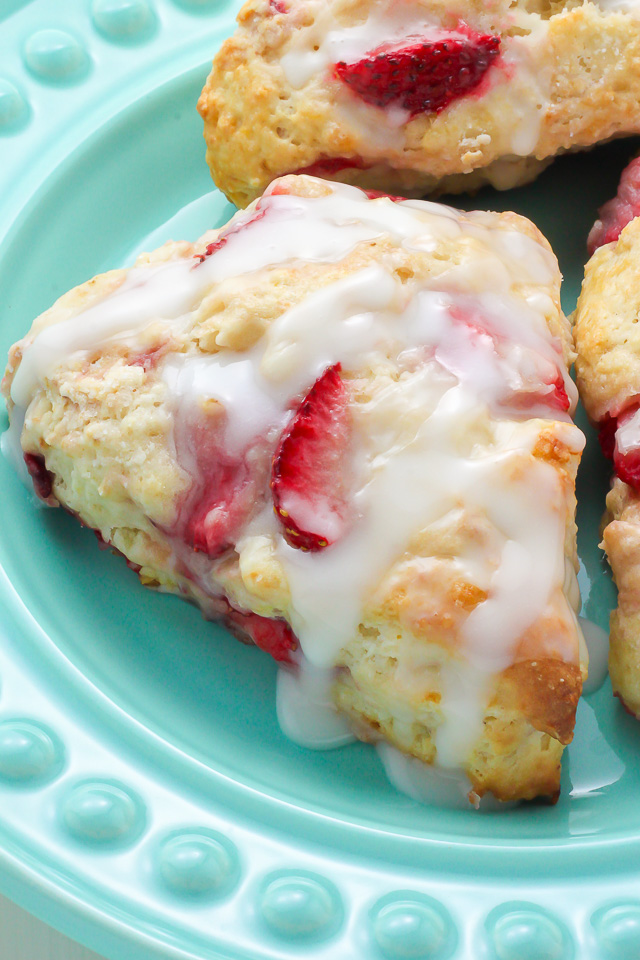 Alright. Enough of my gushing. Let's chat recipe details, y'all.
Strawberry Scone Ingredients:
flour
salt
baking powder
baking soda
sugar
butter (COLD butter!)
eggs
milk
heavy cream
vanilla extract
and strawberries (chopped in quarters)
You'll also need confectioners' sugar for the drippy and delicious vanilla glaze!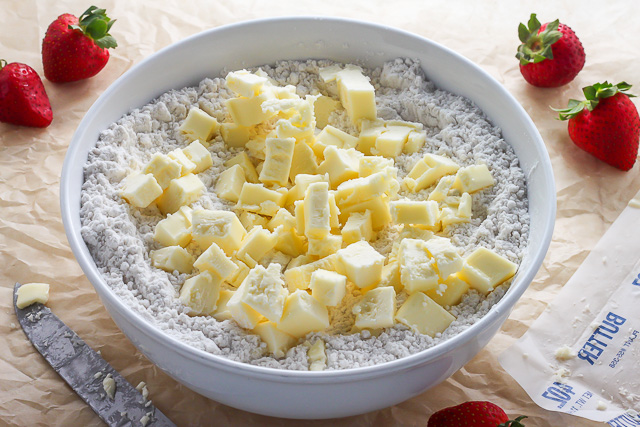 The recipe assembly is pretty simple and straightforward. You'll begin by combing the dry ingredients in one bowl. Then you'll work in the cold butter (very cold, remember?) until it resembles a coarse meal. Kind of like this.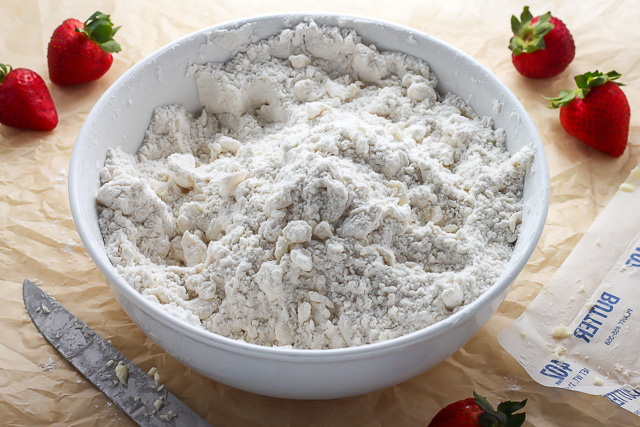 Not pretty… but hopefully helpful 😉
Once this is done you're going to add in your milk, cream, and egg.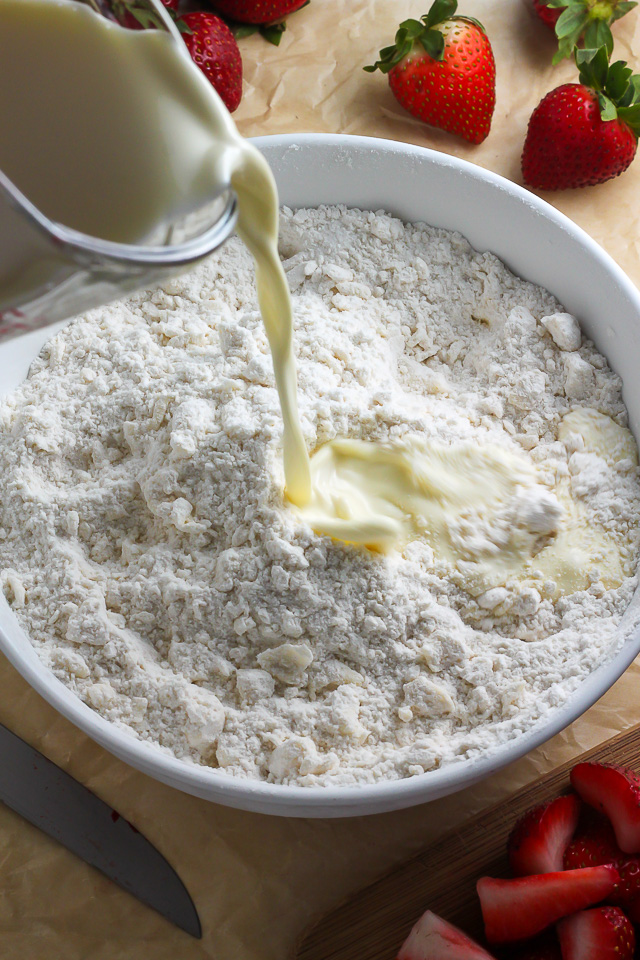 Then it's strawberry tiiiiiiime! As mentioned earlier, it's best to chop your berries into quarters. I tested this recipe three times and found a larger strawberry cut to yield the most delicious results. If you have really large berries, feel free to cut them into small pieces.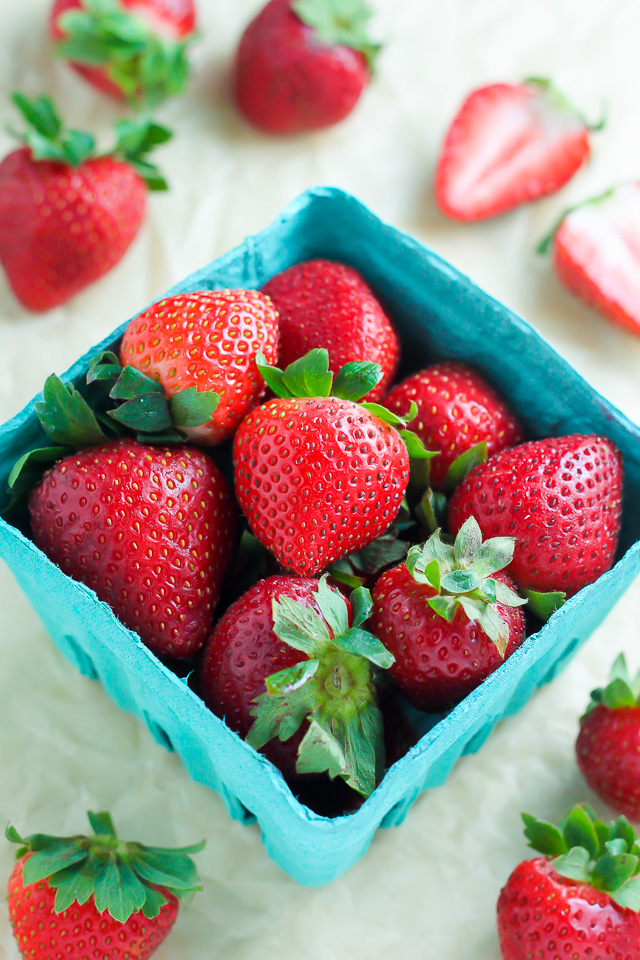 When you dump the scone mixture out onto your work surface it's going to be a loose and shaggy mess.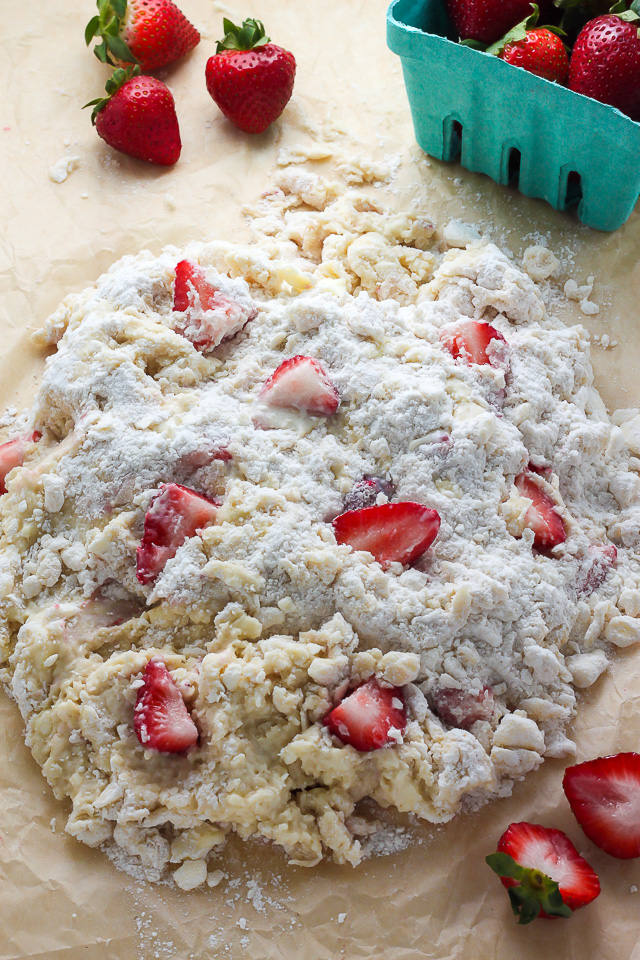 Not to worry, because just a few easy kneads and you'll have a manageable dough at your fingertips.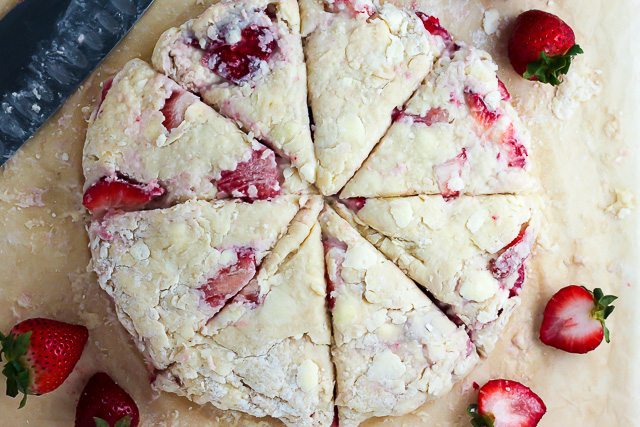 Cut the dough into 8 triangles, place them on a baking sheet, and pop them in the oven!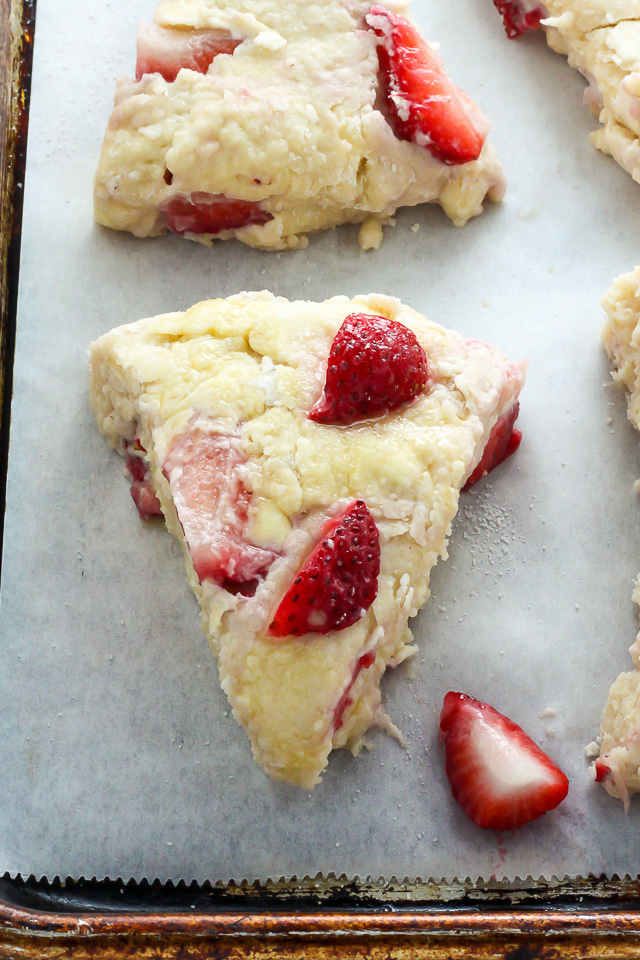 Get ready for your home to smell amazing! Because when these scones are in your oven, wafts of vanilla and swirls of strawberry will be dancing through your kitchen. It's a luxury to be savored and enjoyed.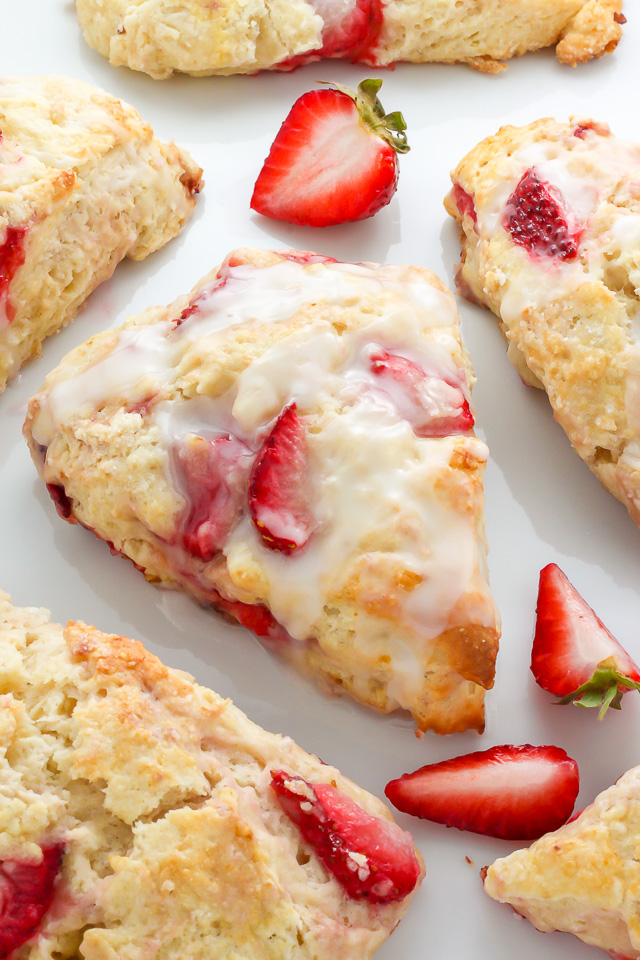 Can I freeze strawberry scones?
Yes! This strawberry scone recipe freezes great for up to 2 months!  When you're ready to enjoy, simply thaw overnight in the refrigerator then heat them up, cover with glaze, and enjoy!
AND IF YOU TRY THIS RECIPE FOR STRAWBERRIES AND CREAM SCONES, LET ME KNOW! LEAVE A COMMENT BELOW AND DON'T FORGET TO SNAP A PIC AND TAG IT #BAKERBYNATURE  ON INSTAGRAM! SEEING YOUR KITCHEN CREATIONS MAKES OUR DAY.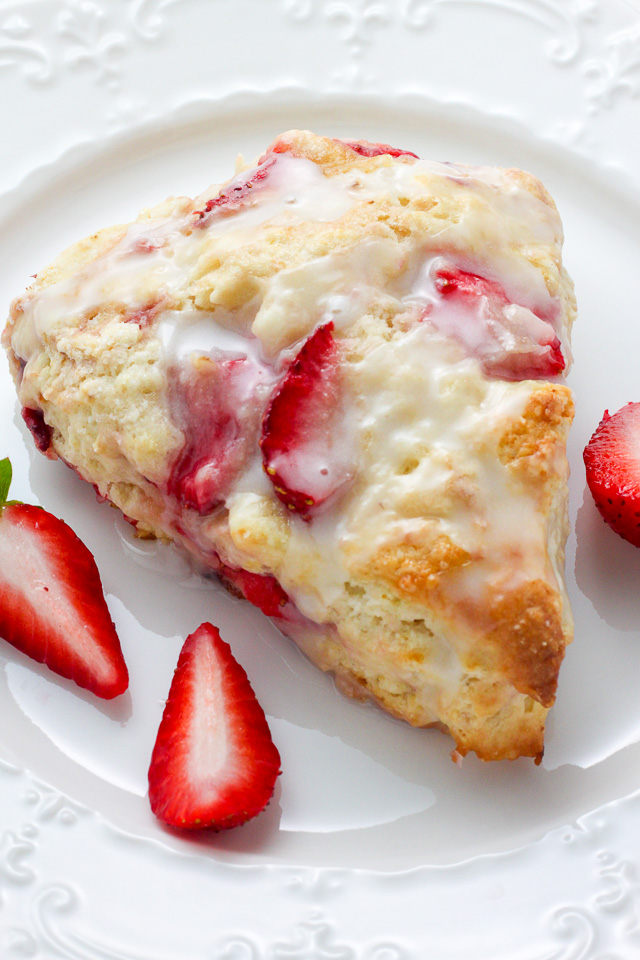 For more Strawberry Recipes, Check Out:
For more Scone Recipes, Check Out:
Strawberries and Cream Scones
Yield 8 scones
Classic and crumbly fresh strawberry scones topped with vanilla cream. Even scone haters LOVE these.
Ingredients
2 1/2 cups all-purpose flour
1/2 teaspoon salt
2 teaspoons baking powder
1/2 teaspoon baking soda
1/3 cup granulated sugar
1 stick (4 ounces) unsalted butter, VERY cold and cut into tiny pieces
1 large egg
1/2 cup whole milk
2 tablespoons heavy cream
1 cup fresh strawberries, hulled and quartered
For the egg wash:
1 large egg, beaten
1 teaspoon milk or water
2 tablespoons sugar, for sprinkling
For glaze:
2 tablespoons heavy cream
3/4 cup confectioners' sugar
1 teaspoon vanilla extract
Tiny pinch of salt (1/8 teaspoon or less)
Instructions
Preheat oven to 400°(F). Line a large baking sheet with parchment paper; set aside.
In a large bowl combine flour, salt, baking powder, baking soda, and sugar; mix well to combine.
Cut the butter into small cubes then work it into the mixture (using your fingers, two forks, or a pastry cutter) until lit resembles a coarse meal.
In a small bowl whisk together the egg milk, and cream. Add to flour/butter mixture and use a fork to stir everything together until just moistened.
Add strawberries and using a rubber spatula gently fold them into the dough. Don't worry if some of the berries break up a bit.
Empty the loose dough out onto a clean, floured work surface, then shape the dough into an 8-inch circle. *You may need to knead the mixture a few times to get it to a workable texture.
Cut the dough into 8 wedges and carefully transfer them to the prepared sheet, placing them 2" apart.
Lightly brush each scone with the egg wash, then sprinkle the tops with sugar.
Bake for 18 minutes, or until light golden brown.
Allow scones to cool for 10 minutes on the baking sheet. In the meantime you can make your glaze.
For the glaze:
In a small bowl whisk together the heavy cream, confectioners' sugar, vanilla, and salt. Drizzle over semi-warm scones and serve at once.
Courses breakfast
Cuisine scones
Nutrition Facts
Serving Size 1 scone
Amount Per Serving
% Daily Value
* Percent Daily Values are based on a 2,000 calorie diet. Your daily values may be higher or lower depending on your calorie needs.