A quick and easy recipe for Pan-Seared Cod in White Wine Tomato Basil Sauce! If you love cod fish recipes, try this flavorful dish for dinner tonight! So good with rice or zoodles!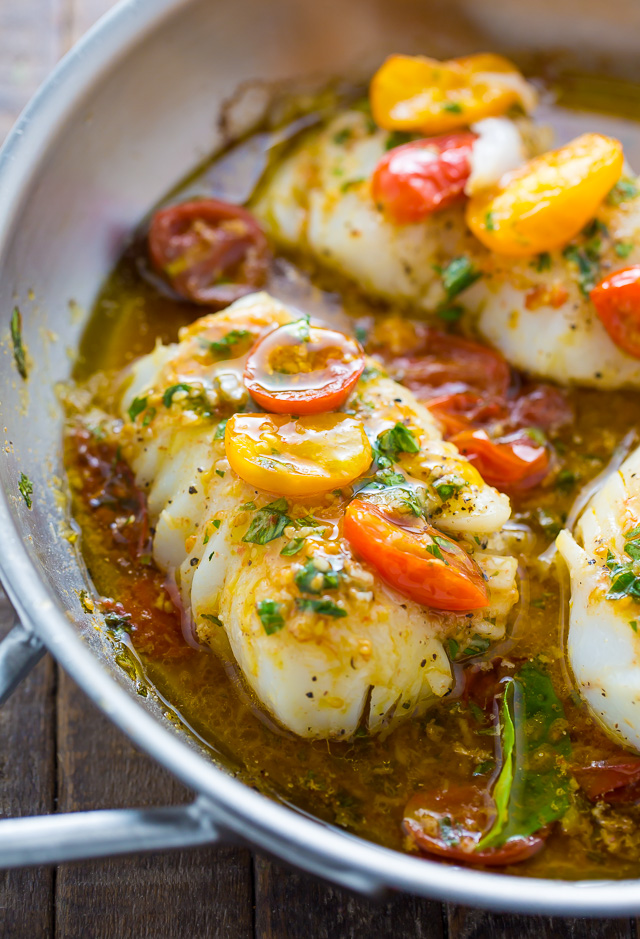 Pan-Seared Cod
Yesterday we spent the entire day (and night) at the Dutchess County Fair! I look forward to it every Summer, and definitely didn't hold myself back from indulging in funnel cake, deep fried oreos, french fries, and chocolate covered bananas. We occupied our afternoon trying to win oversized stuffed animals, spinning on the ferris wheel (pretty much the only ride I have the guts to get on), and strolling around the luscious fairgrounds, soaking up the late-August sun. To top it all off, Third Eye Blind put on an evening concert where I definitely sang (ok… shouted) my heart out and maybe indulged in one too many sangria slushies. The whole experience was nothing short of Summer magic!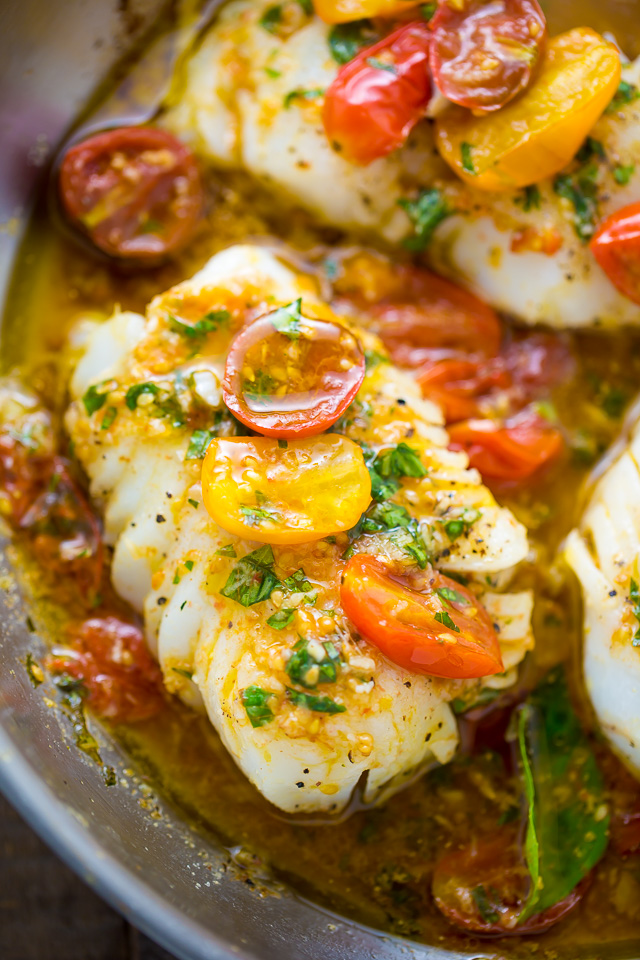 Suffice it to say, I'm currently recovering from a fried food hangover! As I type I'm sipping on a green juice and dreaming of this healthy, flavorful pan-seared cod I made last weekend. It took about 40 minutes start-to-finish and is exploding with flavor thanks to fresh basil, juicy tomatoes, plenty of garlic, and a bright kick of white wine. It's the kind of meal you can look forward to making and eating!
Question: Do you like cod? We can't get enough of it! So let me know if you'd like to see more cod recipes here!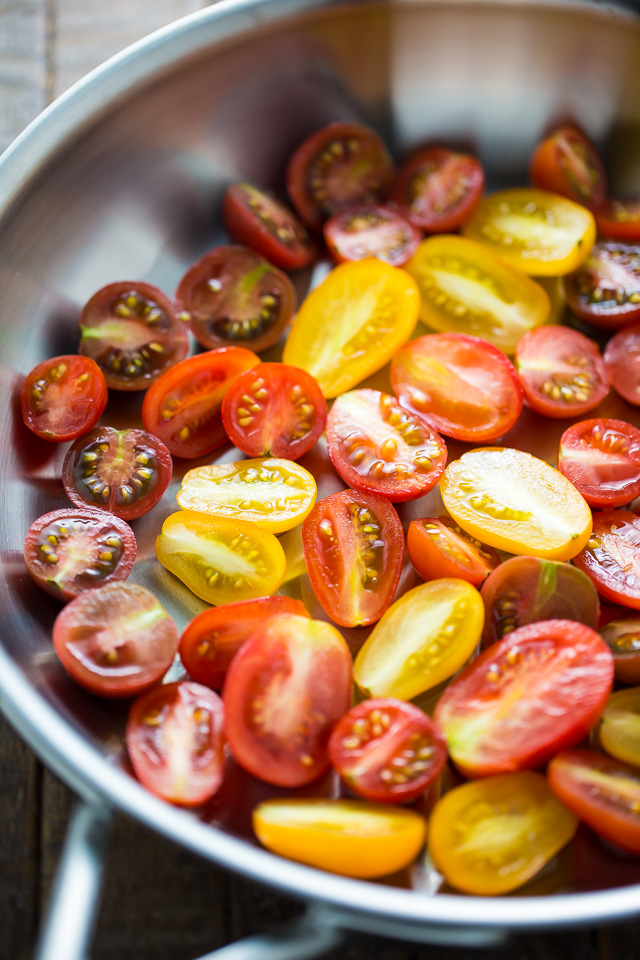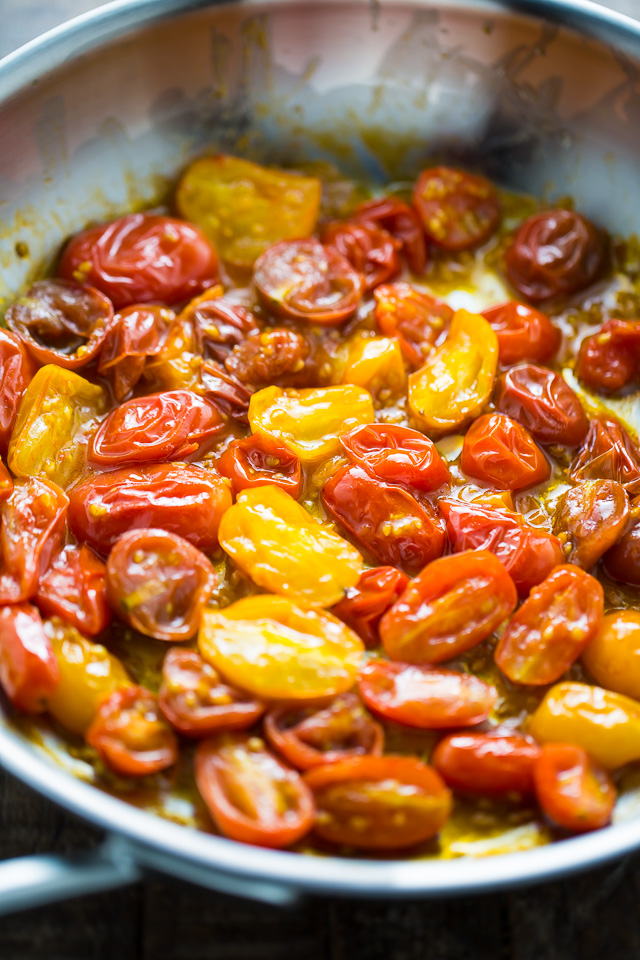 Tips and Tricks for Recipe Success:
Due to the delicate nature of cod, I highly suggest using a non-stick pan or skillet when making this recipe. If the cod sticks, it will likely break apart when you try to flip it, which isn't a huge deal (it still tastes delicious) but try to avoid it if you can.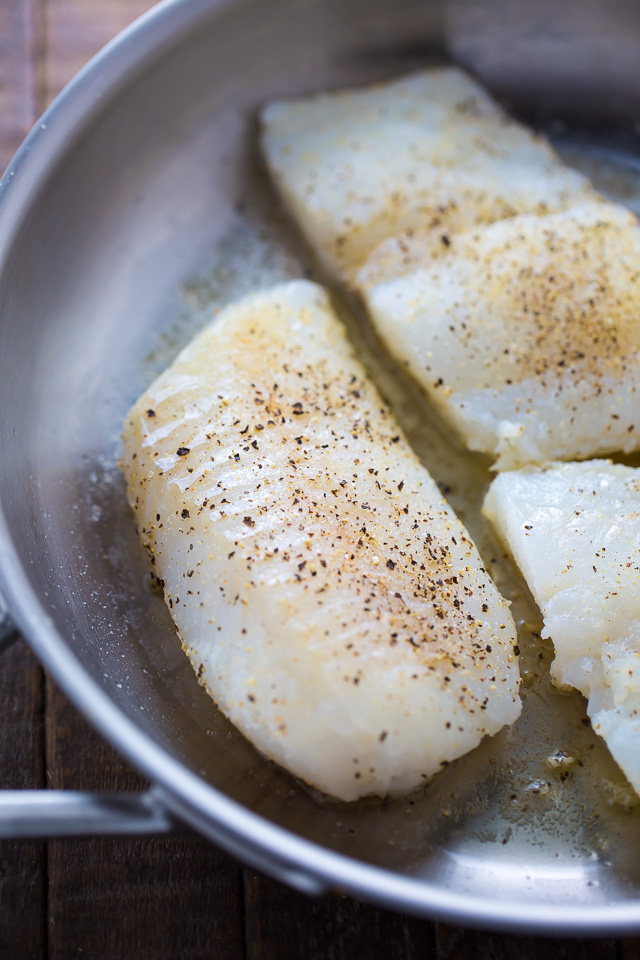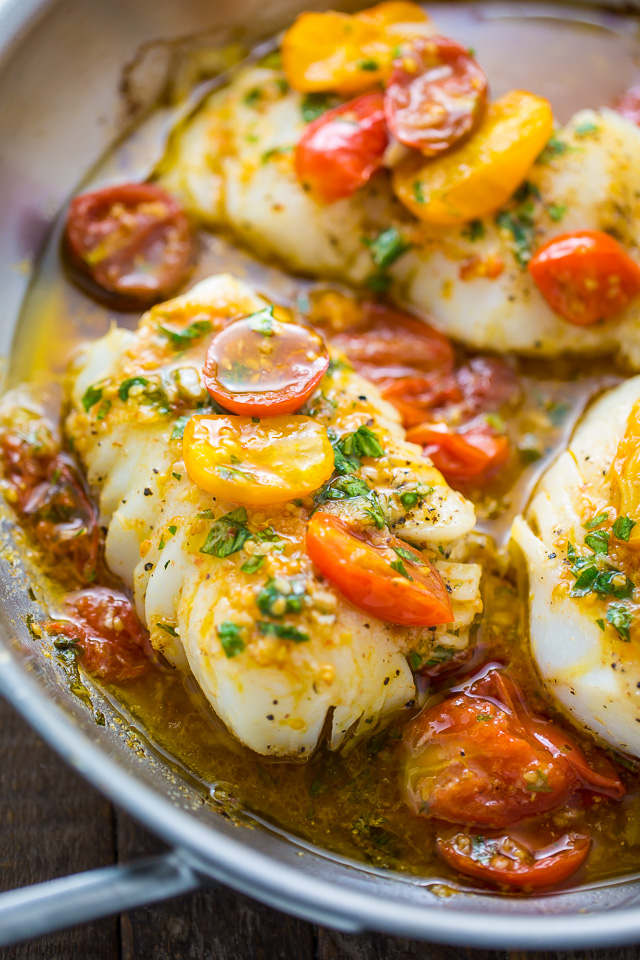 I haven't tried this recipe with frozen cod, but I imagine it would work as long as it's thawed first. I suggest reading the package instructions before trying it with this recipe.
If possible, purchase thicker fillets of cod, since the thin tail is very delicate and flakes easily.
When it comes to choosing your white wine, I suggest using one that is crisp and dry, such as Pinot Grigio or Sauvignon Blanc.
Cod cooks very fast, so be sure not to over cook it. It really only needs 4 to 5 minutes on each side.
You will have plenty of pan sauce leftover, so I suggest serving this recipe with rice, quinoa, or even mashed potatoes.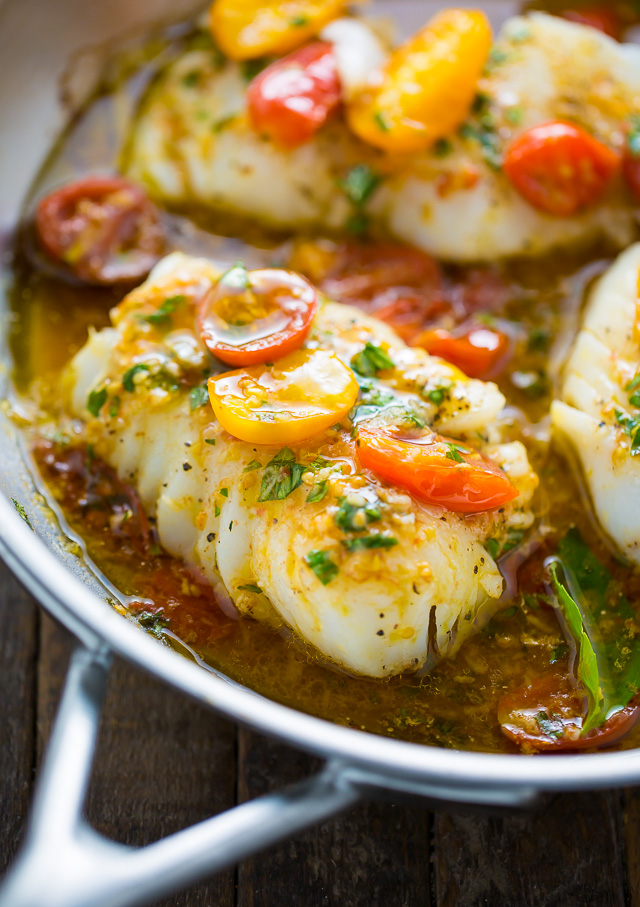 If you love seafood as much as I do, this Pan-Seared Cod in White Wine Tomato Basil Sauce is sure to be a hit in your home! The cod is flaky and tender, and the sauce is so flavorful! Always a hit with the whole family!
If you try this recipe, let me know what you think! Leave a comment below, and don't forget to snap a pic and tag it #bakerbynature on instagram! Seeing your creations makes my day.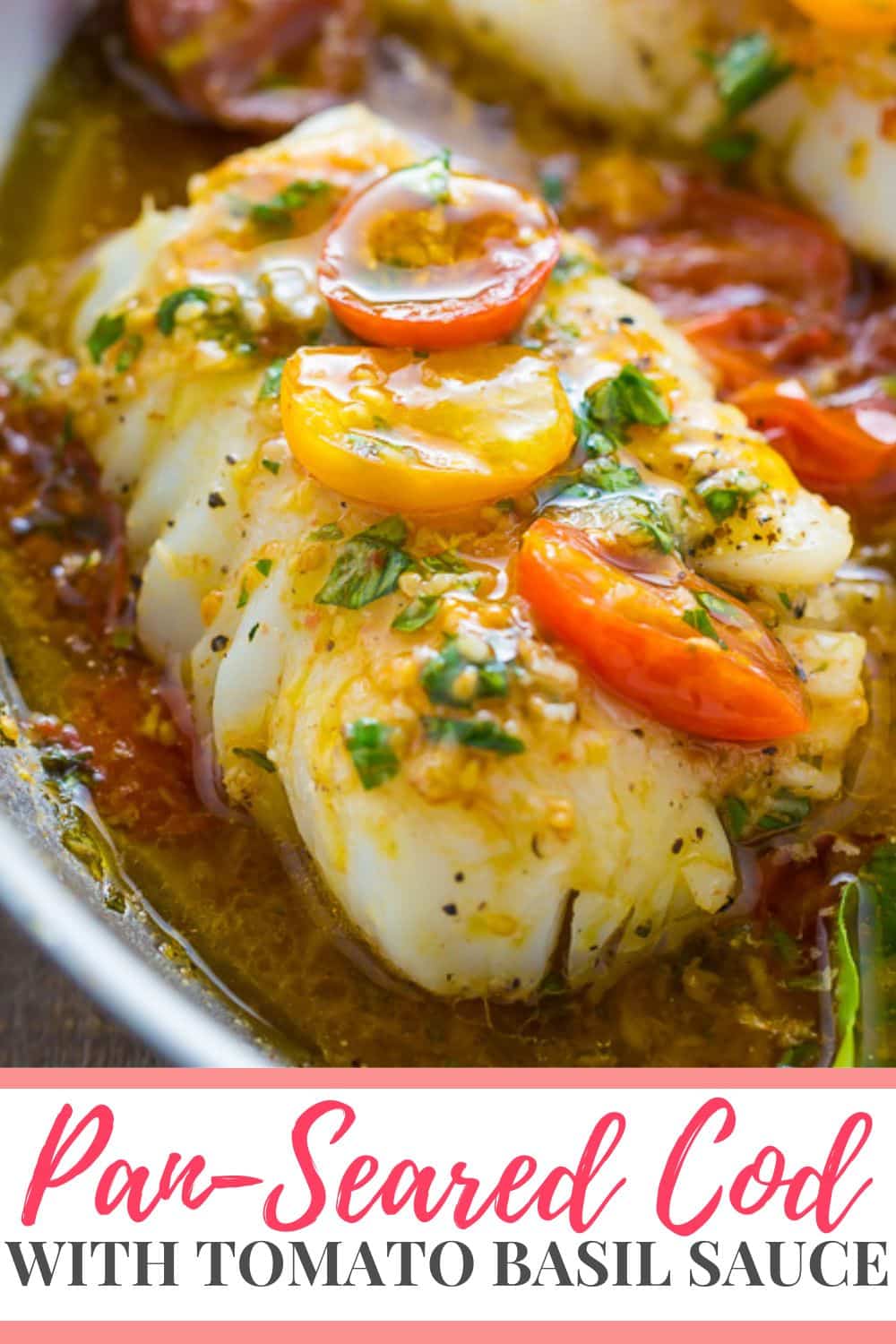 More Cod Fish Recipes: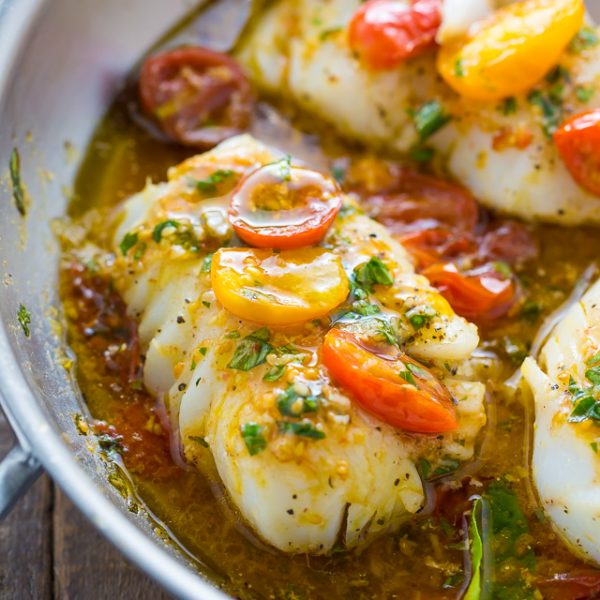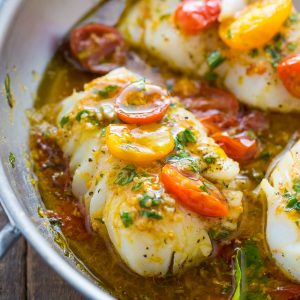 Pan-Seared Cod in White Wine Tomato Basil Sauce
A quick and easy recipe for Pan-Seared Cod in White Wine Tomato Basil Sauce!
Ingredients
For the White Wine Tomato Basil Sauce:
2 tablespoons olive oil
1/4 teaspoon crushed red pepper flakes
3 large cloves garlic, finely minced
1 pint cherry tomatoes, sliced in half
1/4 cup dry white wine
1/2 cup fresh basil, finely chopped
2 tablespoons fresh lemon juice
1/2 teaspoon fresh lemon zest
1/2 teaspoon salt (more to taste)
1 teaspoon granulated sugar
1/4 teaspoon fresh ground black pepper (more to taste)
For the Cod:
2 tablespoons olive oil
1 and 1/2 pounds fresh cod, cut into 4 fillets (or four 6 ounce fillets)
Salt and pepper
Instructions
For the White Wine Tomato Basil Sauce:
Heat oil in a large saute pan over medium heat. Add crushed red pepper flakes and garlic and saute for 1 minute, or until garlic is fragrant. Add the cherry tomatoes and cook, stirring occasionally, until they're soft and blistering, but still hold their shape, 9 to 12 minutes. Add in the white wine, stir, and allow the mixture to come to a gentle simmer. Stir in the basil, lemon juice, lemon zest, salt, sugar, and pepper and cook for 2 minutes. Transfer the sauce into a bowl and set aside until needed.
For the Cod:
Heat oil in a large saute pan over medium heat. Pat the cod dry with paper towels. Then season both sides of cod with salt and pepper.

Place cod in the oil and cook until golden brown, about 3 minutes. Carefully flip the cod over and continue cooking for another 3 to 4 minutes, OR until it's cooked through.

Pour the white wine tomato basil sauce over the cod, let the sauce warm up for a minute, then remove from heat and and serve at once.
Notes
*The cooking method of this recipe has been slightly updated. The recipe and flavor are still the same!