Today I'm teaching you how to make a water bath for cheesecake! I hope to take the fear out of this often dreaded baking method, and show you just how easy and efficient it is! I'm also going to share with you all of my pro tips and MUST HAVE cheesecake baking gear!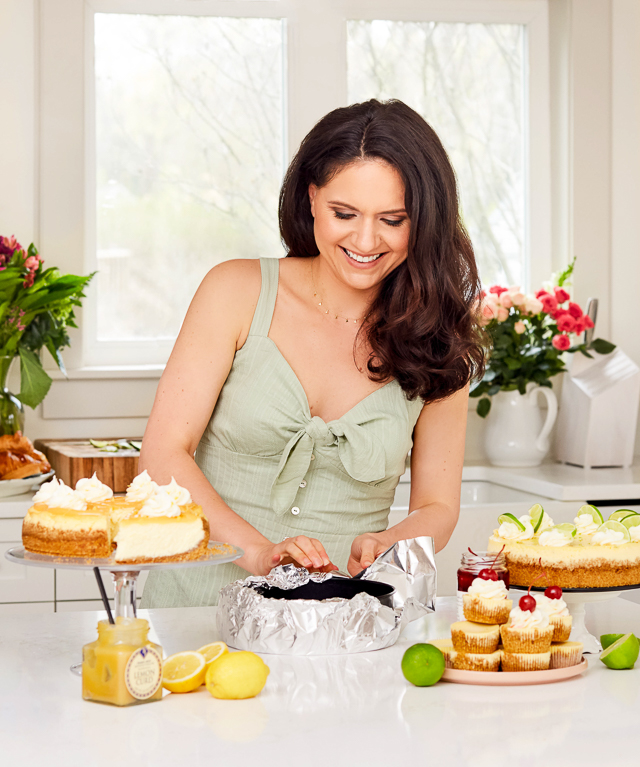 How to Make a Cheesecake Water Bath
It's no secret I'm a diehard cheesecake fan! It's easily my favorite dessert! And definitely the thing I bake most often. I even worked at the legendary CCF from my late teens into my early twenties! So yeah, I'm kind of a cheesecake fanatic!
Thankfully, you love it too! I know this because my Extra Rich and Creamy Cheesecake is the most popular recipe on my website! Followed very closely by my Ultimate Chocolate Cheesecake and New York Style Cheesecake!
And I have to say you guys have great taste because all of those are my faves, too! In fact, I always freeze a few slices of each so I have a variety to choose from when the craving strikes! Yes, that's right – you can freeze cheesecake! For up to 2 months!!!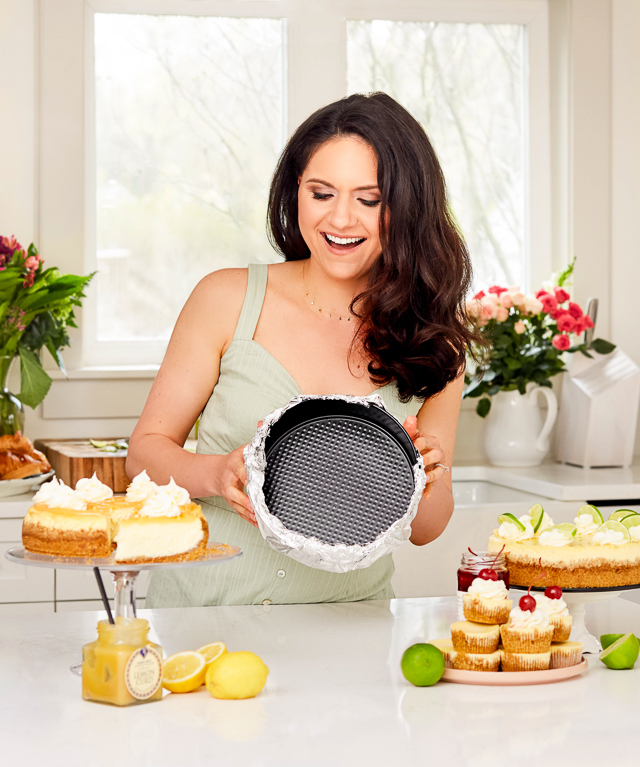 But today, I'm not sharing a recipe for cheesecake. Instead, I wanted to take some time to talk to you about the much dreaded water bath! And why I think you should always use one when baking cheesecake! Or, I should say, when you're baking a full-size cheesecake. Because mini cheesecakes and cheesecake bars actually don't require one! So that's a great option if you're committed to never making a water bath!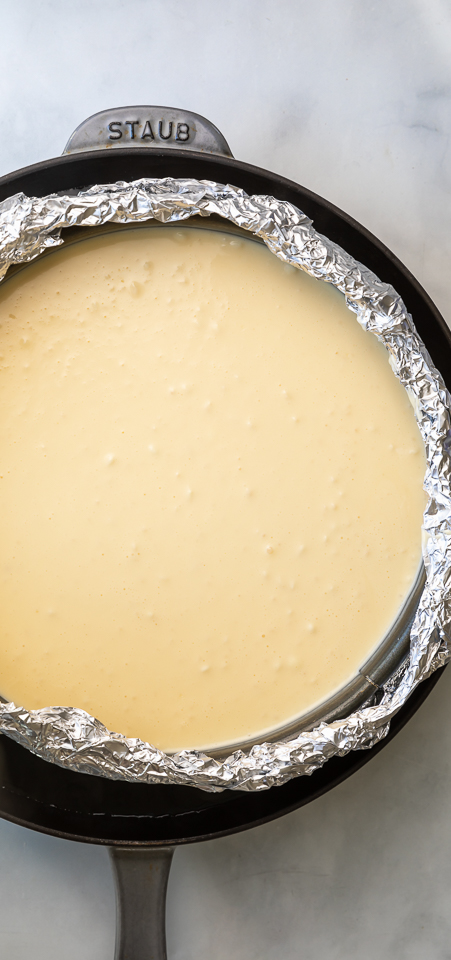 What is a Water Bath?
But for the rest of us, let's dive into what I'm calling water bath 101!
I'll start by quickly explaining what a water bath is exactly. A water bath, also known as a bain marie, is simply a pan of hot water that protects your delicate cheesecake while it's baking in the oven. This method not only helps the cheesecake not crack on top, but also ensures the cheesecake will come out smooth and creamy. If you've ever had a rubbery or curdled cheesecake before, it was most likely baked without a water bath!
Why use a Water Bath?
A water bath essentially guarantees you'll have a cheesecake that:
is lusciously smooth
and ultra creamy
beautiful and crack-free
and is not over cooked and gummy
and doesn't brown too much or puff up in the oven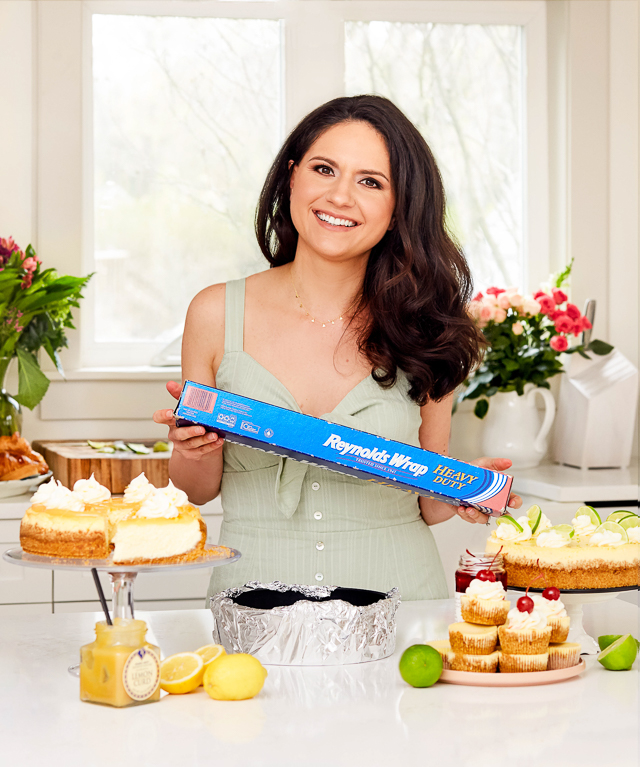 What do I need to build a Water Bath?
You'll need a few things to build a solid water bath! Luckily, they're things most bakers already have on hand or can easily grab at the store.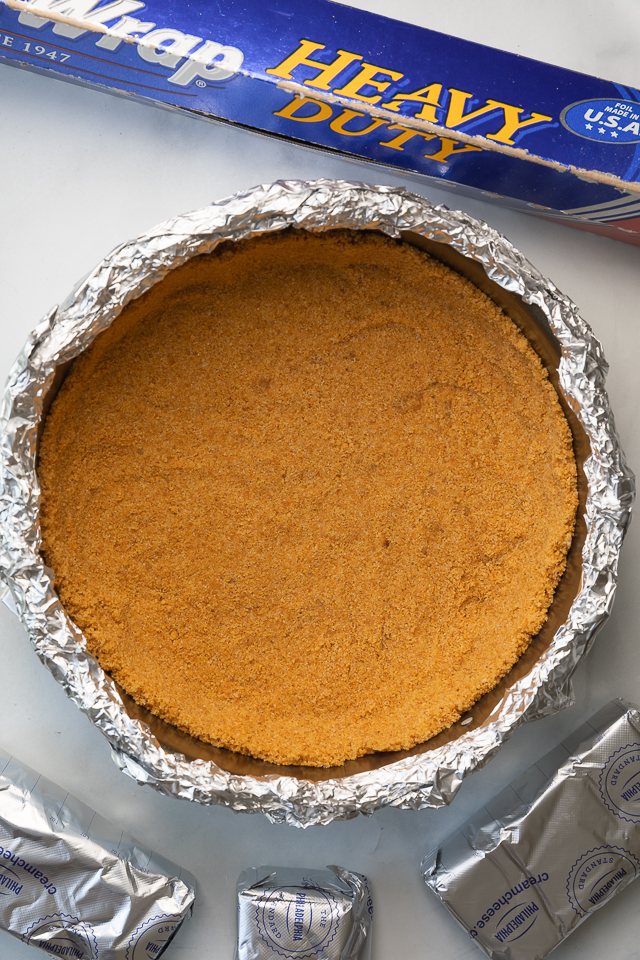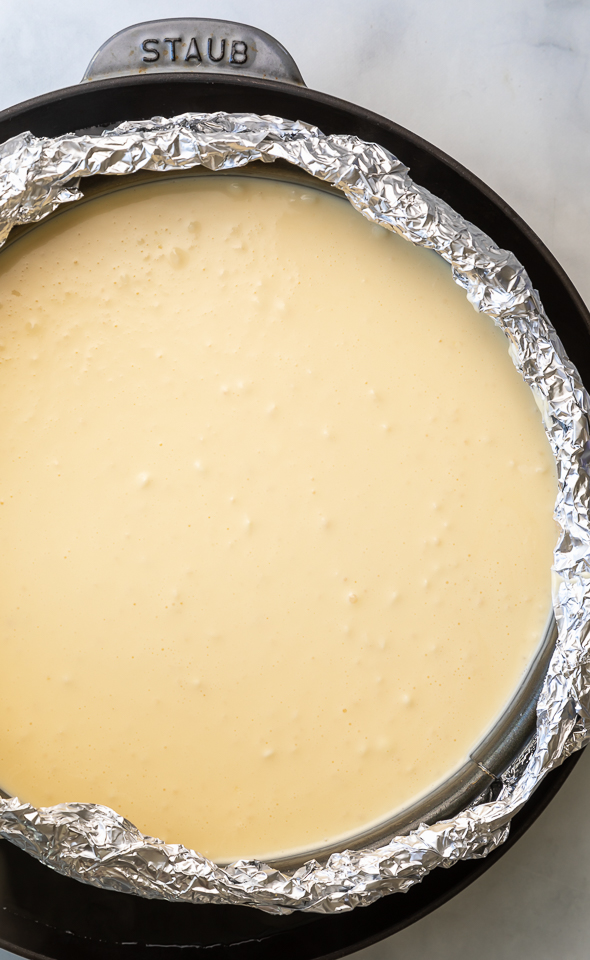 How to make a Water Bath Step-by-Step:
Prepare your cheesecake crust, then press it into the cheesecake pan. Par-bake, if directed in recipe. Then remove from the oven and let cool until the pan is cool enough to handle.
Place a large piece of heavy-duty aluminum foil underneath the pan. You'll want to tear off a piece that's large enough to completely cover the bottom and sides of the spring form pan.
Gently press the foil up and around the edges of the pan. Repeat this process at least twice to ensure there's no gaps for the water to seep in. Personally, I do 3 layers of foil.
Optional step: place your foil wrapped pan inside an oven bag.
Next, fill a kettle with water and bring to a rolling boil.
Now pour your cheesecake batter on top of the cooled partially baked crust. Then place your spring form pan inside your larger roasting pan.
Place both pans inside your preheated oven, on the middle rack. Then very carefully pour a few inches of hot water into the bath pan (the pan outside of the cheesecake pan). You only need about 2 to 3 inches of water. I like to stop pouring when the water is halfway up the side of the cheesecake pan. Essentially you want enough water that it won't quickly evaporate during the baking process, but not so much that it'll splash up or touch your cheesecake batter.
Gently push the cheesecake and water bath into the middle of the rack, close the oven, and bake as directed.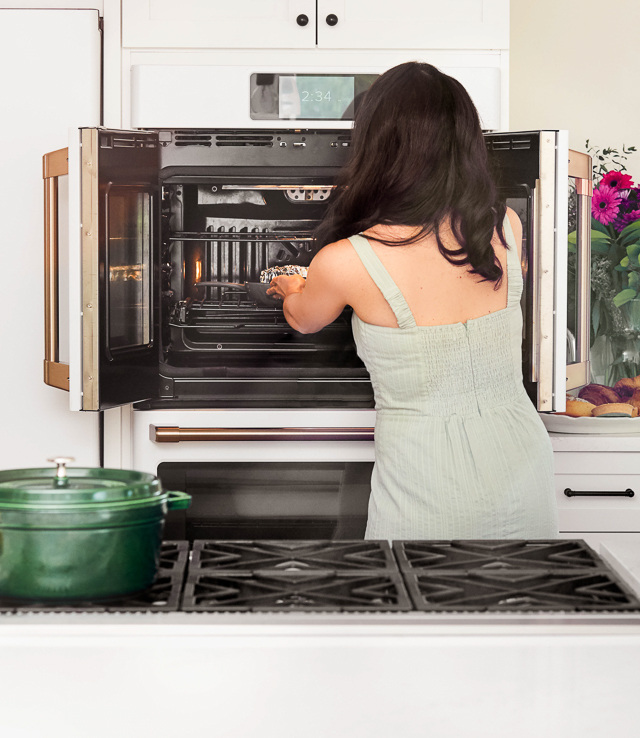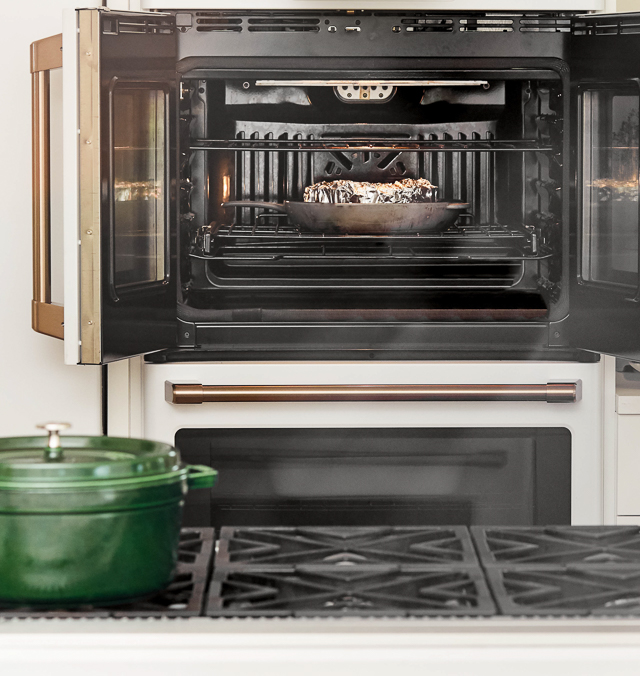 A few Pro-tips for Perfect Cheesecake:
Don't over bake your cheesecake! Because even if you use a water bath, over baking can lead to cracks and not so creamy cheesecake slices! You want to remove your cheesecake from the oven when the top looks dry and set, but the center still jiggles quite a bit! If you bake your cheesecake until it's firm in the middle, you will be disappointed later on. So don't fear the jiggle!
Let it par cool in the oven! All of my cheesecake recipes call for this in the instructions, but basically what you're doing is allowing the cheesecake to slowly cool down, without giving it the temperature shock of going from 300 degrees to room temperature all at once.
Remove the spring form pan from the water bath pan, but do NOT remove the cheesecake from the spring form pan until it's fully cooled and chilled in the fridge. Otherwise it will flow like lava and be a complete disaster!
Be sure to chill completely before removing from the pan and slicing! Most full-size cheesecakes call for at least 6 hours of chill time, but I find chilling in the fridge overnight will yield the best texture!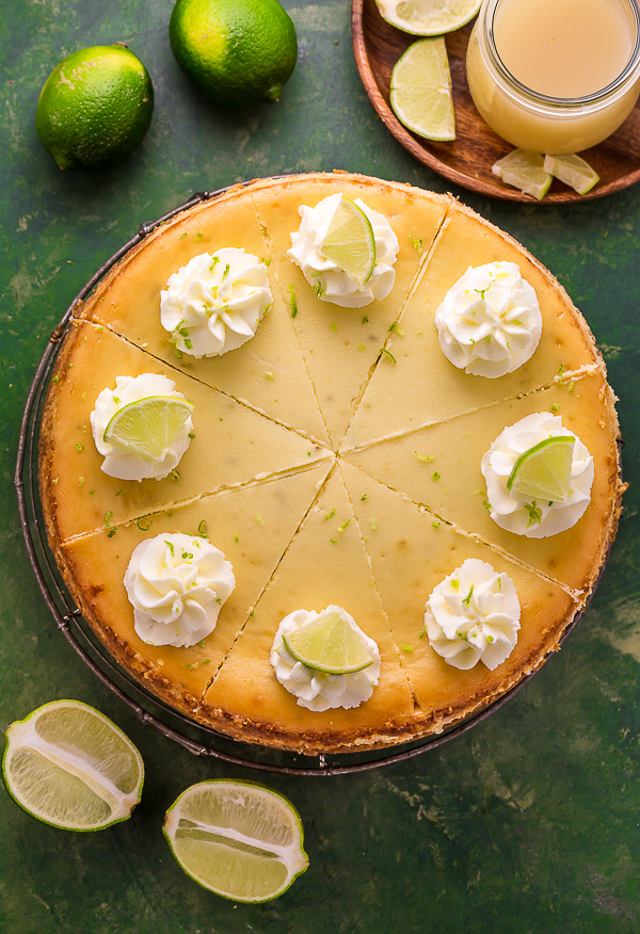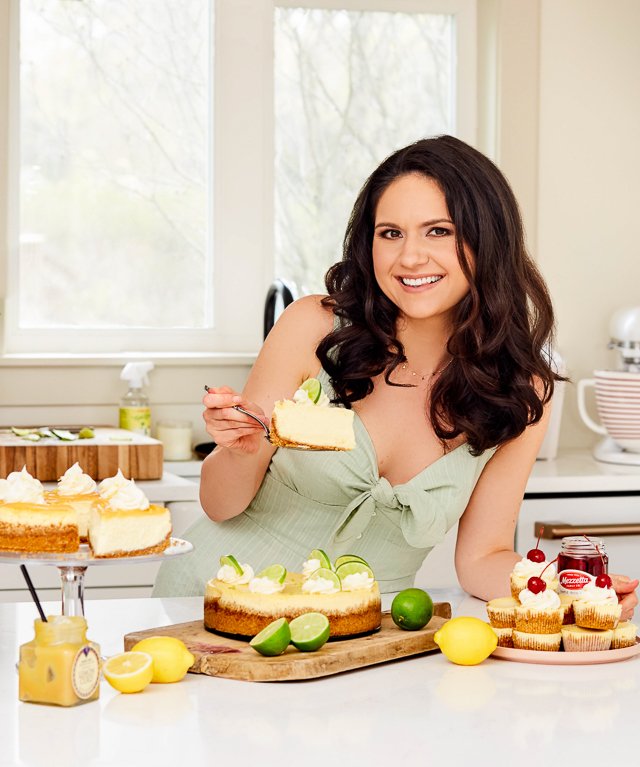 Best Cheesecake Recipes: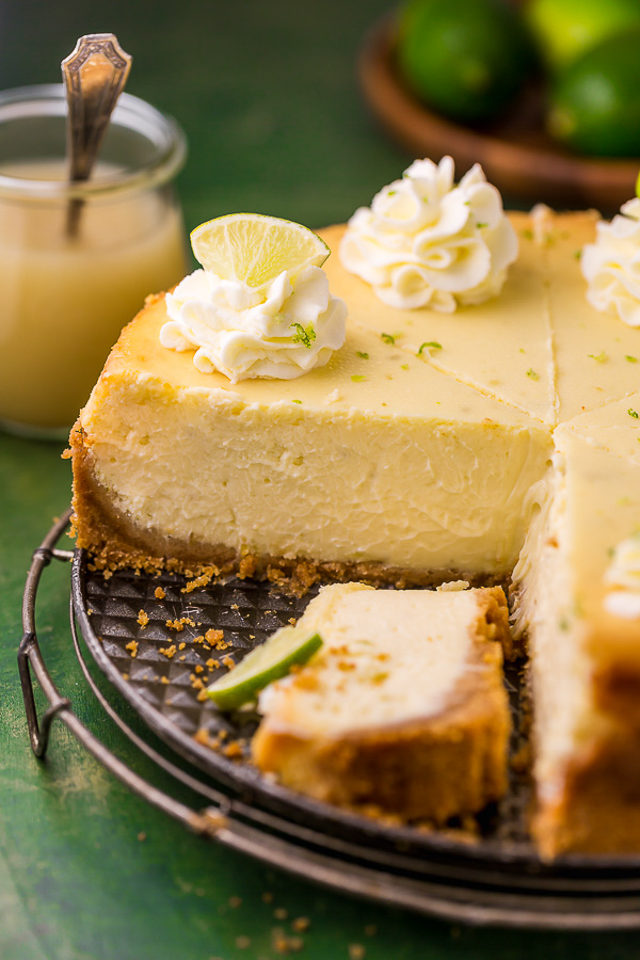 All photos of me shot by Rikki Snyder! This post contains affiliate links, which simply means if you purchase something from a link posted here on my website, I'll make a small commission with no extra cost to you! Thank you for supporting Baker by Nature!