An easy recipe for Blueberry-Raspberry Muffins with Streusel Topping! Perfect for breakfast or as an afternoon snack! These blueberry raspberry muffins are the perfect Summer recipe!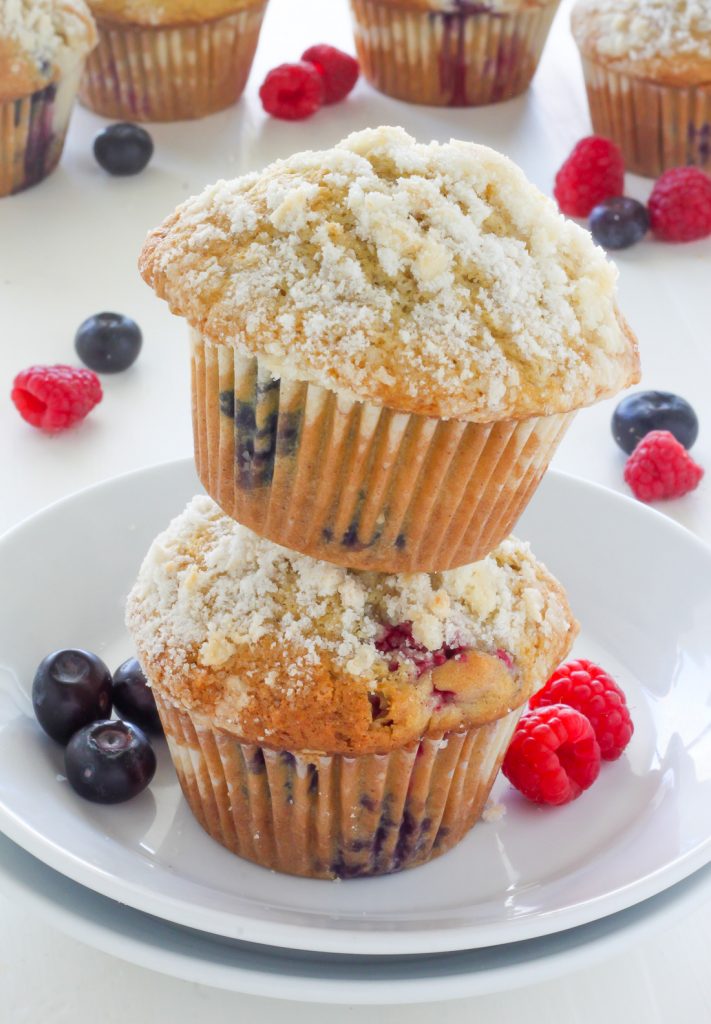 Blueberry and Raspberry Muffins
The city was full and bustling today. It seems the natives have returned from their vacations, weekend trips, and country houses; ready to buckle down and readjust to the daily grind of city life. Line traffic spoke clearly that the beginning of Fall, and the reality of back to school – back to real life – was on everyone's minds.
I woke up strangely calm today. I've been worrying overtime this week about everything and nothing (silly!!!), and the eerily solid mental stillness and sureness was welcomed. A still mind is a luxury. Maybe the calm came from knowing I would bake this afternoon; time in the kitchen always works like a therapy session.
I head back to work (sigh) full time tomorrow; my mornings of coffee in the kitchen – making a big mess with flour, and sugar, and chocolate – will be less frequent. I'll miss my spatulas, whisks, and knives, we've grown quite close these past few months.
Today, I needed to prepare for the rest of the week – prepare grab and go breakfast.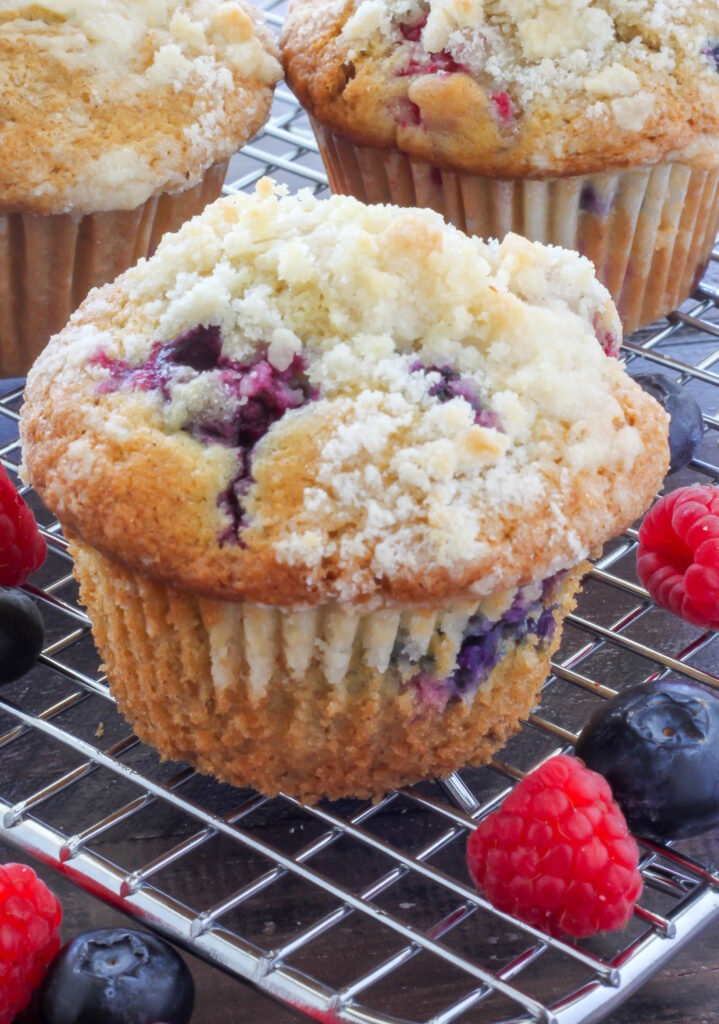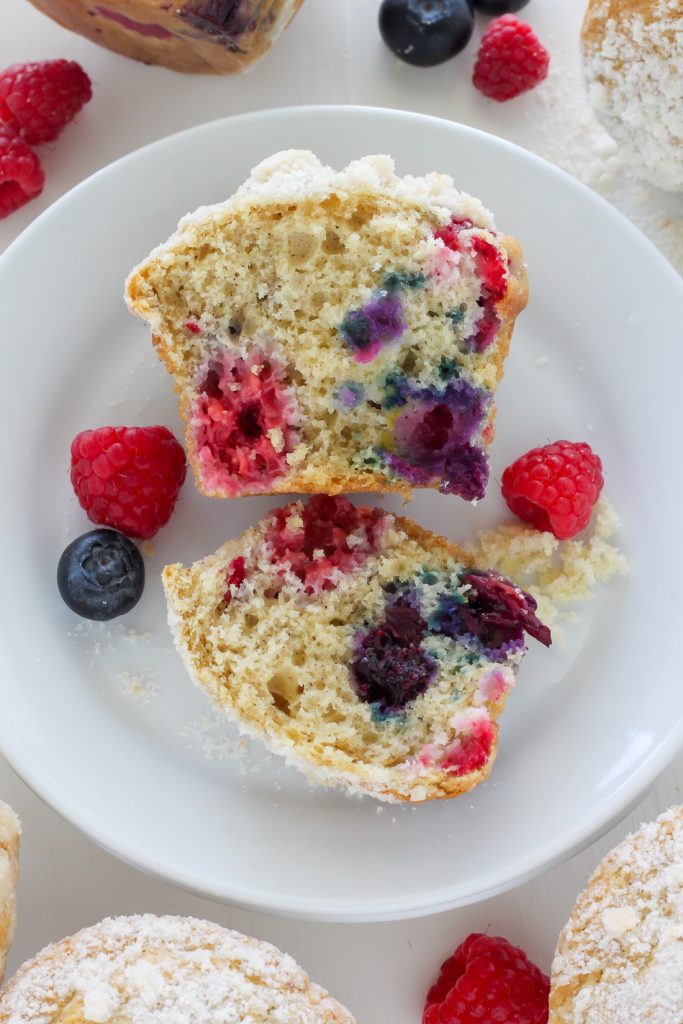 Breakfast has long been a favorite of mine; this Summer I dove a little bit deeper in love with my morning meal, and intend to have something to eat every morning – no matter how scarce on time I may be. Now that life's pace will be picking up to a steady 11 hours of work – a day- I'm looking forward to the treats that will be keeping me sane, and full, during these long days ahead.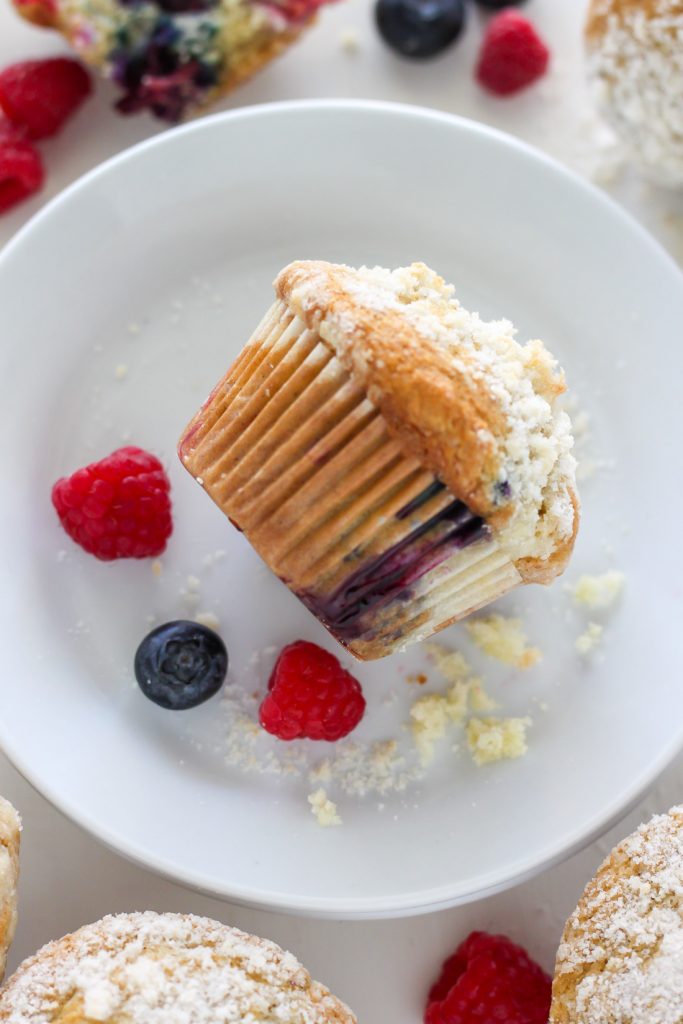 These muffins have everything I was hoping they would; I love when things work out just so. The texture was perfect: moist, rich, and crumbly. The berry to batter ratio guaranteed your muffin to have a mini bounty of fruit in each cup, and the lemon zest encourages both the blueberries and raspberries to shine to their full flavor potential. The sweet, lemon zest spiked crumb topping married these muffins into what is sure to be the highlight of tomorrow morning. My coffee and I look forward to eating one, or 3, before heading off to the adult days of real world.  Muffins have magical powers like that – go make some!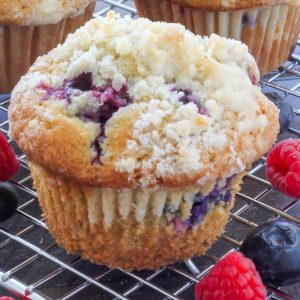 Blueberry-Raspberry Muffins with Streusel Topping
Ingredients
Topping:
1/4 cup all-purpose flour
2 tablespoons butter, softened
2 tablespoons sugar
2 tablespoons finely chopped walnuts
1 teaspoon finely grated lemon peel
Muffins:
2 cups all-purpose flour
2/3 cup sugar
2 teaspoons baking powder
1/2 teaspoon baking soda
1/2 teaspoon salt
1/4 teaspoon ground cinnamon
2 large eggs
1 stick unsalted butter, melted
1 cup buttermilk
1 tablespoon grated lemon zest
3/4 cup fresh blueberries
3/4 cup fresh raspberries
Instructions
Preheat the oven to 400 degrees (F). Line a standard 12-cup muffin tin with paper liners; set aside.
To make the topping:
In a medium bowl, mix together the topping ingredients until crumbly. Set aside.
To make the muffins:
In a bowl, whisk together the flour, sugar, baking powder, baking soda, salt, and cinnamon.

In a separate large bowl, beat the eggs with the melted butter. Add the buttermilk and lemon zest and whisk to combine. Add the dry ingredients to the wet and stir just to combine. (Batter will still be somewhat lumpy; do not over mix.) Gently fold in the blueberries and raspberries so the berries do not break open and pour into the prepared muffin tin. Crumble the streusel topping over the muffins and bake until golden brown and a toothpick inserted into the center comes out clean, about 20 minutes.

Let cool in the tins for 10 minutes, then remove and cool on wire racks.