My favorite morning glory muffins are healthy, hearty, and so delicious! Loaded with carrots, apples, raisins, nuts, and coconut, they're sure to become one of your new favorite muffin recipes! Perfect for breakfast or as an after-school snack.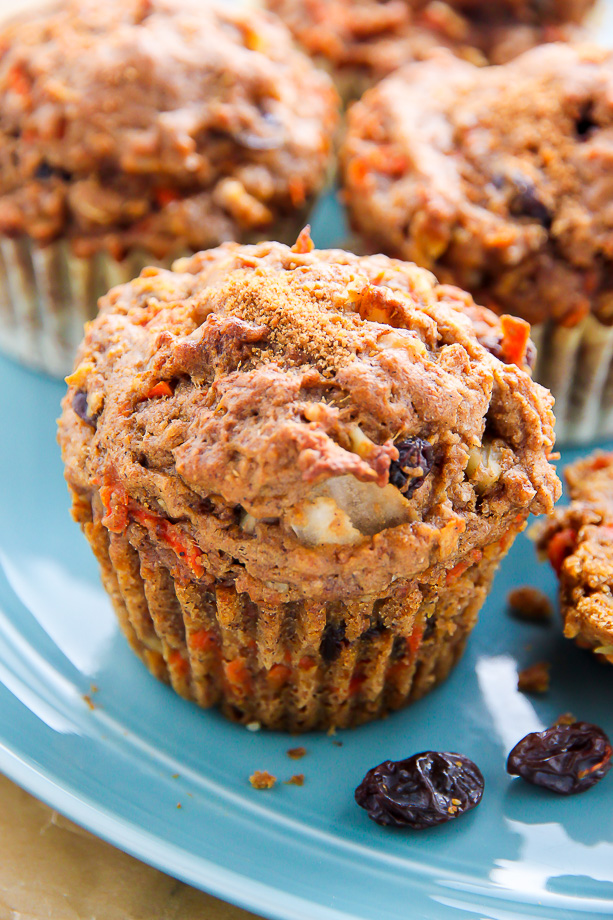 Morning Glory Muffins
A lot of my friends and family are on health kicks right now, keeping me hot on the hunt for healthy, satisfying recipes that are easy to make and freezer friendly. These whole wheat and healthy morning glory muffins have quickly become a favorite. Have you ever had a healthy morning glory muffin before? They're an old school bakery favorite, and have been one of my favorites since I was a kid. They're so moist and tender and sweet. Add a cup of coffee and oh mah gosh. HEAVEN.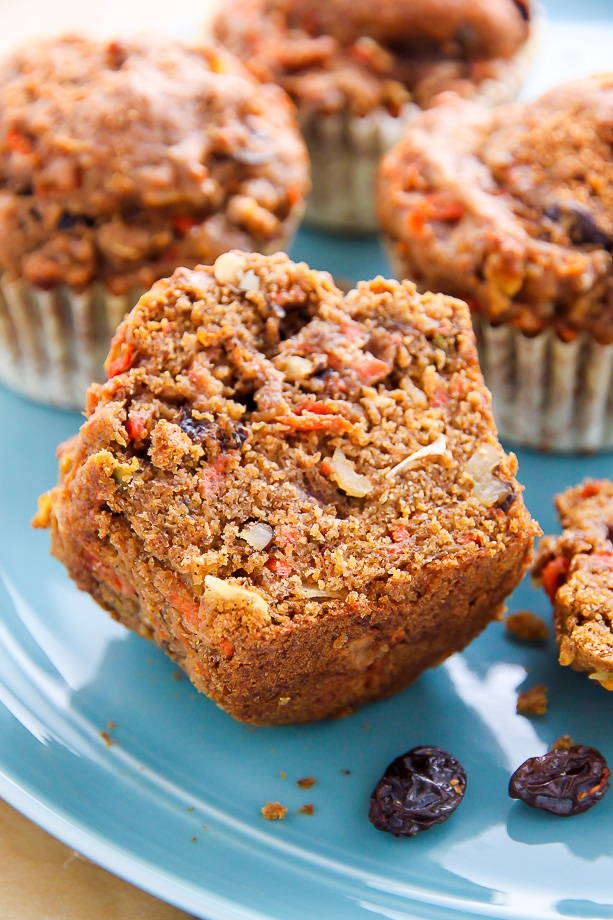 Another bonus? These muffins are tailor-made to use up all those odds and ends you have hiding in the fridge. They're loaded with:
fresh carrots
grated apple
sweet coconut flakes
crunchy walnuts
chewy raisins
coconut oil
whole wheat flour
a kiss of brown sugar
and love ♥♥♥
These muffins are made without eggs or any other animal products, so they're vegan friendly.
And tastewise, they're a cross between a cinnamon apple muffin and carrot cake. So they're really the best of both worlds!!!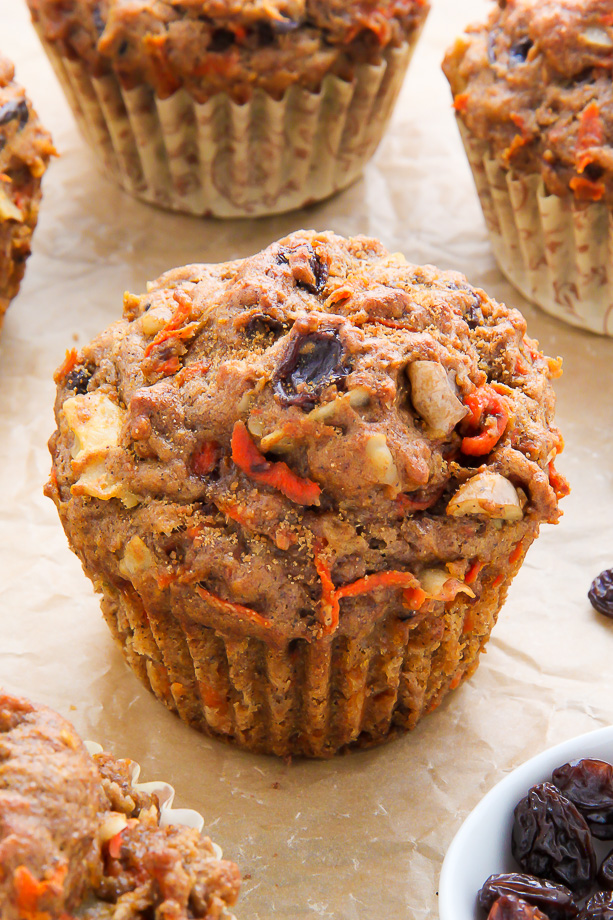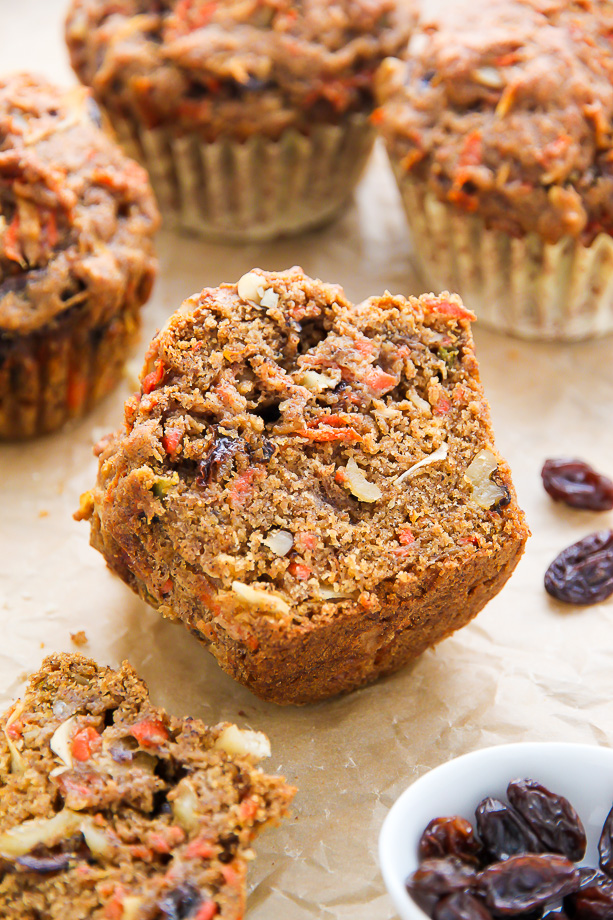 Morning Glory Muffin Recipe
Let's talk ingredient substitutions!
These muffins are delightfully adaptable. Don't like coconut oil? Try using canola oil, or a very mild olive oil. Not a fan of walnuts? Use almonds or pecans instead. No brown sugar in the pantry? Granulated sugar or coconut sugar will work! Hate raisins? Toss in dried cherries or cranberries for a tasty swap.
P.S. Unless you have a serious aversion to carrot/apple peels, there's no need to take that extra step. These muffins are wonderfully rustic like that.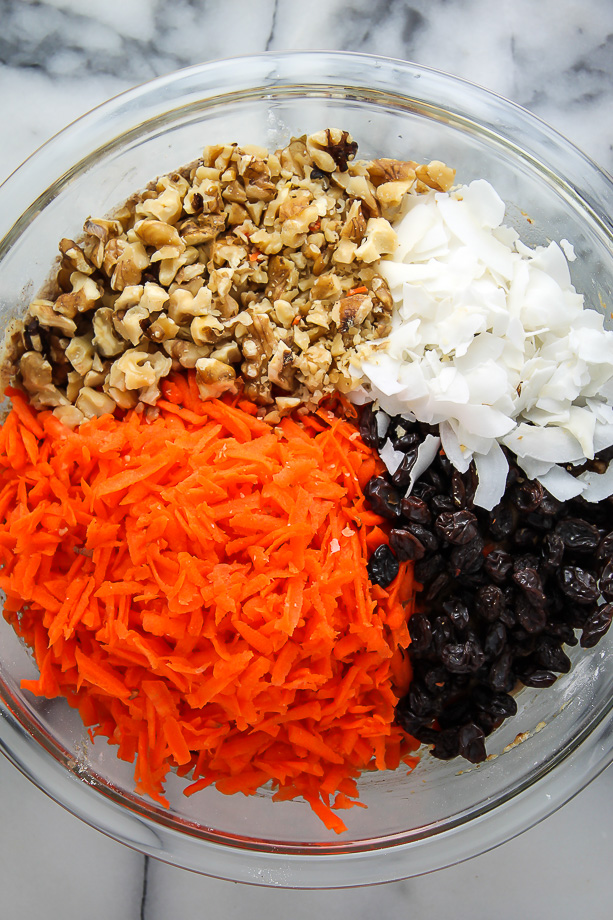 These hearty and homemade muffins are just the thing to fill you up when you need a quick breakfast or afternoon snack. Better than any muffin you'll grab from the bakery… and way cheaper, too. You can thank me later 😉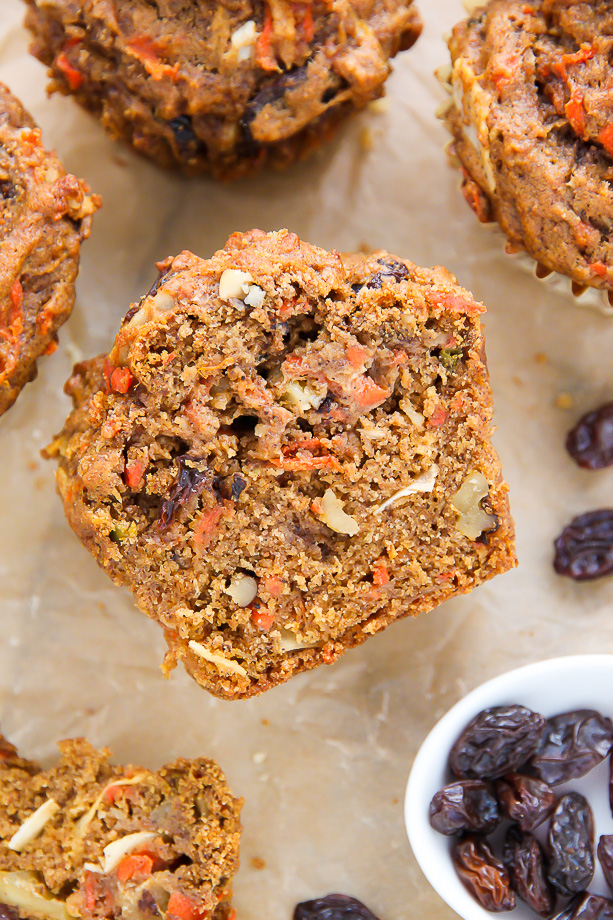 Serving a crowd? How about some morning glory MINI muffins. Teeny-tiny, mega tasty, and so stinkin' cute.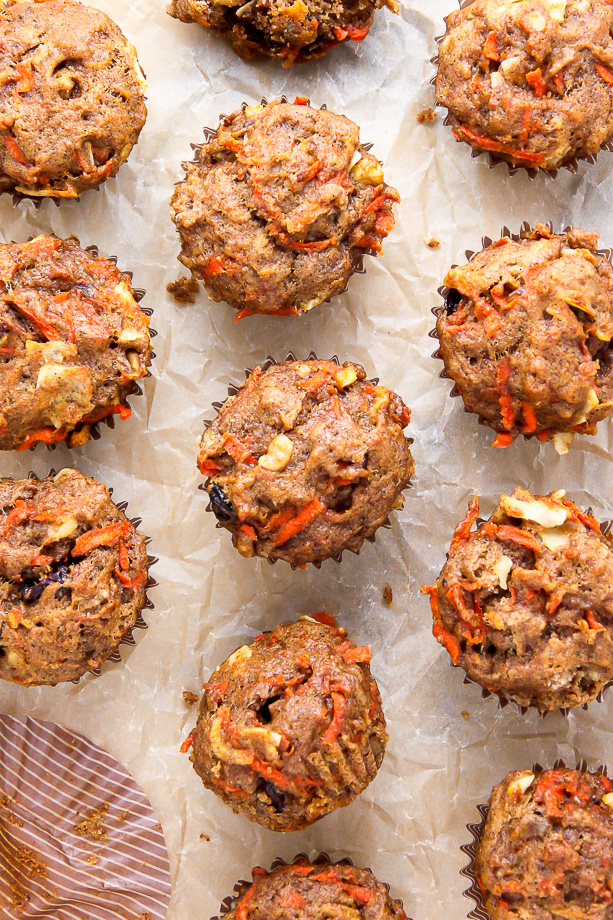 More Muffin Recipes:
And if you try this recipe for vegan morning glory muffins, please let me know! Leave a comment below and don't forget to snap a pic and tag it #bakerbynature on instagram! Seeing your kitchen creations makes my day. ♥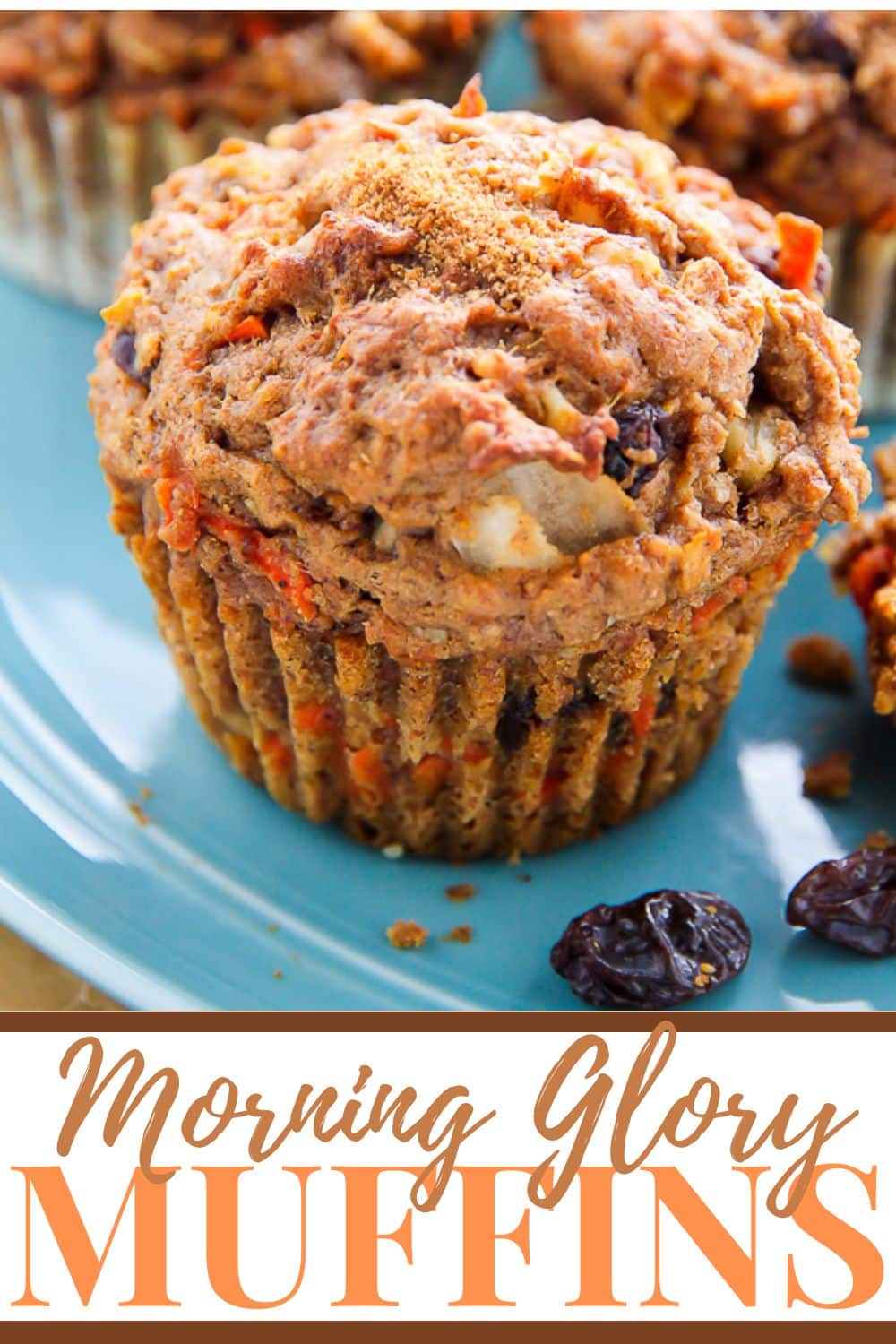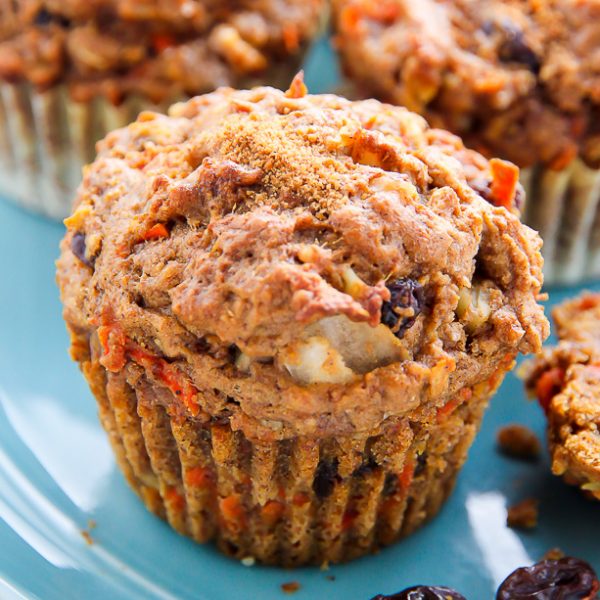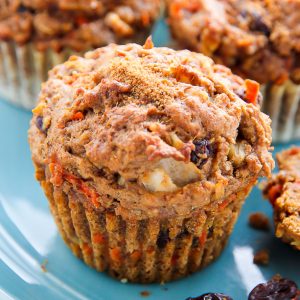 One-Bowl Morning Glory Muffins
Simple, sweet, and supremely moist - these morning glory muffins are perfect for breakfast, a snack, or dessert.
Ingredients
1 and 1/2 cups whole wheat flour
1/2 cup all-purpose flour
3/4 cup brown sugar, packed
1 tablespoon baking powder
2 teaspoons baking soda
2 teaspoons ground cinnamon
1/2 teaspoon ground ginger
1/2 teaspoon salt
3/4 cup unsweetened applesauce
1/2 cup coconut oil, melted
1 apple, shredded
1 tablespoon vanilla extract
2 cups grated carrot (about 3 medium)
1/2 cup raisins
1/2 cup flaked coconut
1/2 cup walnuts, chopped
Instructions
Line a muffin tin with paper liners and set aside. Preheat oven to 400 degrees (F).

In large bowl add the flours, sugar, baking powder, baking soda, cinnamon, ginger, and salt; whisk well to combine. Add in the applesauce, oil, apple and vanilla; whisk just until combined. Fold in the carrot, raisins, coconut and walnuts; stir until ingredients are combined. Divide batter evenly among prepared muffin cups.

Bake at 400 degrees for 10 minutes, then reduce the heat to 350 degrees and bake for an additional 10 minutes, or until a toothpick inserted in the center comes out clean (or with just a few crumbs attached). Cool muffins in the pan for 5 minutes before transferring them to a wire rack. Serve warm, at room temperature, or chilled.
Notes
If you make these into mini muffins, decrease the bake time to about 10 minutes, or until the tops are golden and the centers are fully cooked.