Milkshakes are quickly becoming one of my favorite Summer treats! They're so awesome because they're endlessly adaptable, ice cold (and full of ICE cream), and you can totally sneak some booze in there and people don't judge… right? I mean, boozy morning milkshakes are what "off" days are all about! At least sometimes 😉
Burnt peaches and bourbon are pretty much the ultimate combination! They're both intense and smokey, but get mellowed out by a few HUGE scoops of ice cream and some brown sugar. YES!
If you like bourbon and peaches, I think this may just be your new favorite sipper.
GO SHAKE IT UP! Yes, you.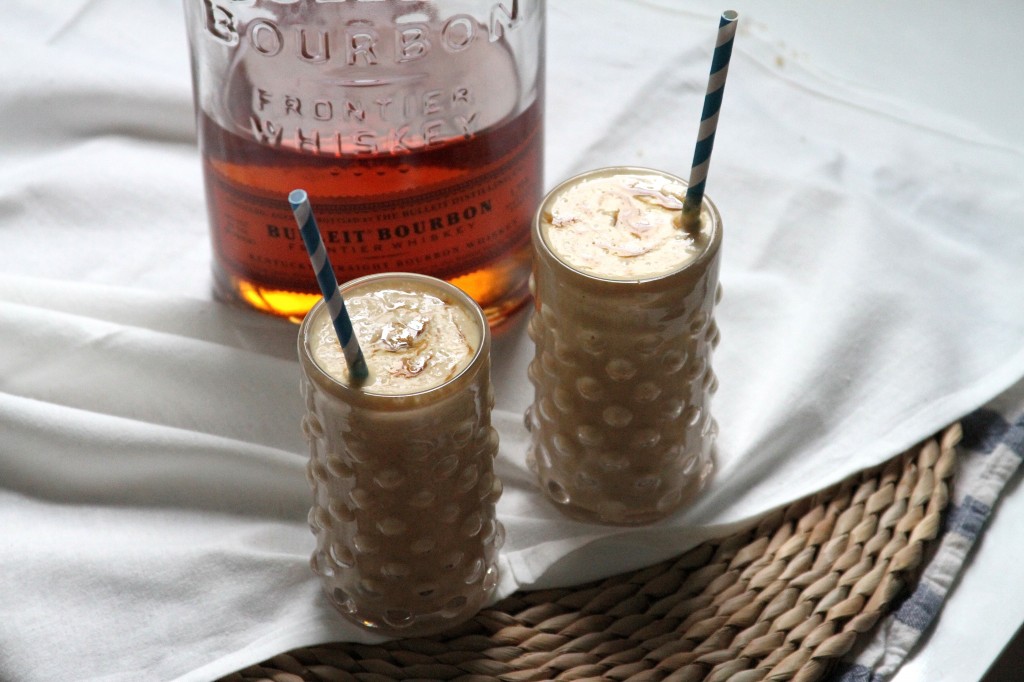 Burnt Peach and Bourbon Milkshakes – Baker by Nature
Makes 2 BIG shakes, or 4 wimpy ones
Ingredients:
4 firm peaches, cut in half, pitted, and sliced in wedges
2 tablespoons unsalted butter
1/4 cup brown sugar
4 HEAPING cups of vanilla bean ice cream, VERY cold (I know this sounds silly, but sometimes people put softish ice cream in a milkshake and then it's not as thick)
1/2 cup whole milk
1 teaspoon vanilla extract
1/4 cup bourbon
Instructions:
Melt butter in a large skillet over medium high heat. Add peaches and brown sugar, stir, then cook on medium high for 5-8 minutes – stirring about every 2 minutes – or until the peaches have slightly caramelized and are deeply golden on the outside. Transfer burnt peaches (and all their juices/butter/sugar) to serving bowl and cool COMPLETELY. If your peaches are hot, they'll melt your ice cream. No good.
Once your peaches are cooled, place them in a blender with the ice cream, 1/2 of the milk, bourbon, and vanilla and blend until smooth. Add more milk if needed (some people prefer a thinner shake although I personally think thick is best). Pour into tall glasses and serve right away!