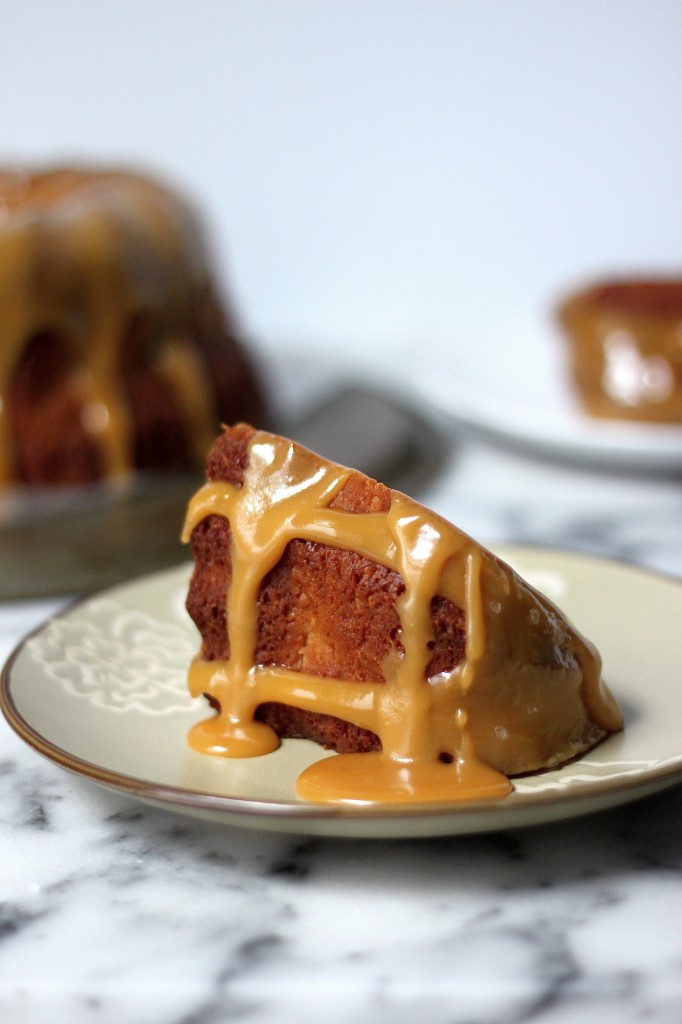 I've been playing around with this apple bundt cake recipe for the last few weeks – just little tweaks here and there – and yesterday, I finally baked the perfect one. Oh success… you're sweet! It was quite a delicious journey and all, but I'm mucho happy I've found my "the one". A girl can only eat so many slices of cake (this was cake #4!)… before she needs a cookie 😉 Or a cocktail! Since it's Friday, I think maybe both?
Anyway, lets talk cake! And more specifically, why this one is so dang amazing. First, and most importantly I think, it's 100% applelicious! Not only is it PACKED with fresh apple chunks – lots and lots of them! – it has a big splash of apple cider in the batter which adds a whole other element of apple awesomeness. WIN!
This hunk of a bundt is also moist, rich in brown butter flavor (which totally jives with the apples!), and slathered in a robe of bourbon butterscotch sauce… which is EPIC! It's one of my new favorite toppings not only for cake, but also for ICE CREAM! I say double it up and make two batches.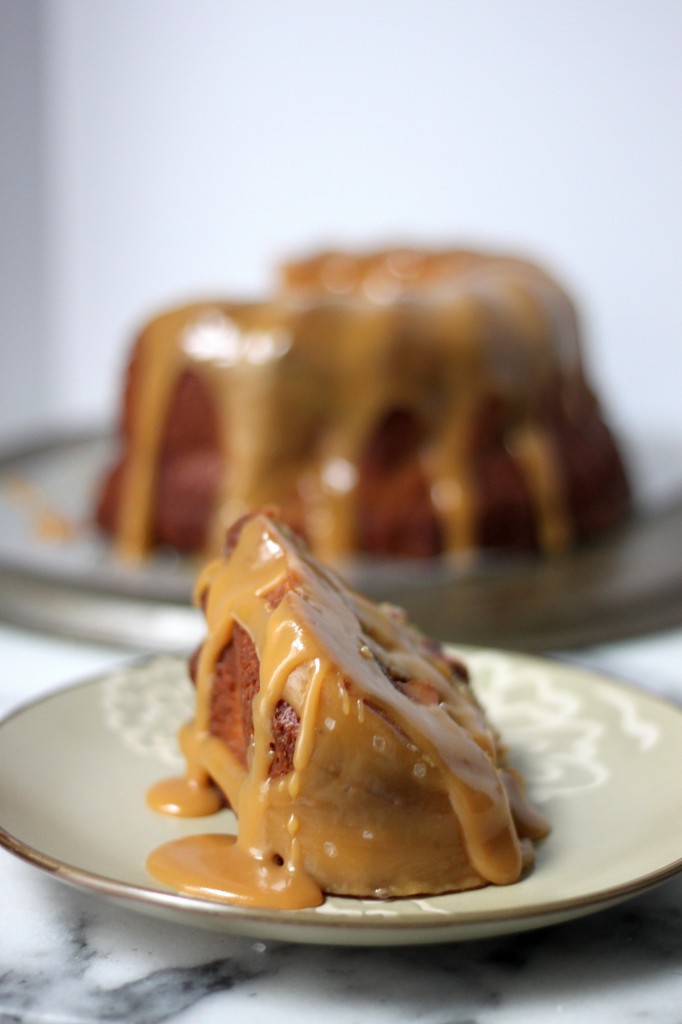 Happy Friday! I hope you guys have a fun/safe/gnarly weekend planned? We'll be running tons of errands Saturday, with hopefully a little shopping somewhere in the mix! I really want a cute sweater dress, but so far they've all been BULK city. If you guys have any suggestions, toss em this way, please.
Brown Butter Apple Bundt Cake with Bourbon Butterscotch Sauce
Moist and incredibly flavor brown butter bundt cake topped with a bourbon butterscotch sauce.
Ingredients
For the apple cider reduction:
1 and 1/2 cups apple cider
For the brown butter apple bundt cake:
3 medium apples, peeled, cored, and chopped into rough chunks (about 3 cups)
3 cups plus 2 tablespoons all-purpose flour, divided
2 teaspoons cinnamon, divided
1/2 teaspoon ground ginger
1/4 teaspoon ground nutmeg
1/4 teaspoon ground cloves
1 and 1/4 cups granulated sugar, divided
1 stick (4 ounces) unsalted butter, browned
1/3 cup vegetable oil
2 teaspoons vanilla extract
3 large eggs, at room temperature
2 teaspoons baking powder
1/2 teaspoon baking soda
1/2 teaspoon salt
3/4 cup whole milk
For the Bourbon Butterscotch Sauce:
1/4 cup unsalted butter
1/2 cup packed light brown sugar
1/2 cup heavy cream
2 teaspoons bourbon
Instructions
FIRST STEP! Make the apple cider reduction:
Place the apple cider in a small saucepan and simmer over medium-low heat, stirring occasionally, for 20 to 25 minutes, or until the cider has reduced to a 1/2 cup. Reducing the cider allows you to get a more intense apple flavor. Transfer the reduction to a heatproof measuring cup and place it in the fridge to cool while you prepare the other ingredients. It should be room temperature when added to the batter.
For the brown butter apple bundt cake:
Preheat oven to 350 degrees (F). Generously grease a large bundt pan; set aside.

Peel, core, and roughly chop the apples. Place them in a medium-sized bowl; add 2 tablespoons of flour and toss well to coat; set aside.

In a medium-sized saucepan melt the butter over medium-heat, stirring almost constantly, until it's light amber brown in color and smells slightly nutty - careful not to burn the butter! Remove pan from heat and stir in the vanilla. Set aside.

In a medium-sized bowl whisk together the eggs, cooled apple cider reduction, remaining granulated sugar, and brown sugar; mix well to combine. Set aside.

In a large mixing bowl whisk together the remaining flour, baking powder, baking soda, remaining cinnamon, ground ginger, and salt.

Whisk in the egg mixture, then the butter and oil, then gently fold in the milk; do not over mix!

Add half of the batter to the prepared bundt pan, then sprinkle 1/2 of the apples on top before adding the remaining batter. Add the remaining apples to the top of the batter, then place the pan in the oven. Bake for 65-75 minutes, or until a cake tester comes out clean. Allow the cake to cool in the pan for 20 minutes before removing it from the pan and transferring it to a cooling rack to cool completely.
For the bourbon butterscotch sauce:
Melt butter in a medium heavy-bottomed saucepan over medium heat. Add the sugar and cream and whisk until well combined. Bring to a light boil and cook for about five minutes, whisking occasionally.

Remove from heat and whisk in bourbon. Cool slightly before drizzling over cake.
Notes
To save time, the butter may be browned ahead of time and stored in the fridge for up to two days. The butterscotch sauce may be may ahead of time and stored in the fridge for up to one day. Warm the butterscotch sauce in the microwave for 10 seconds before pouring it over the cake.