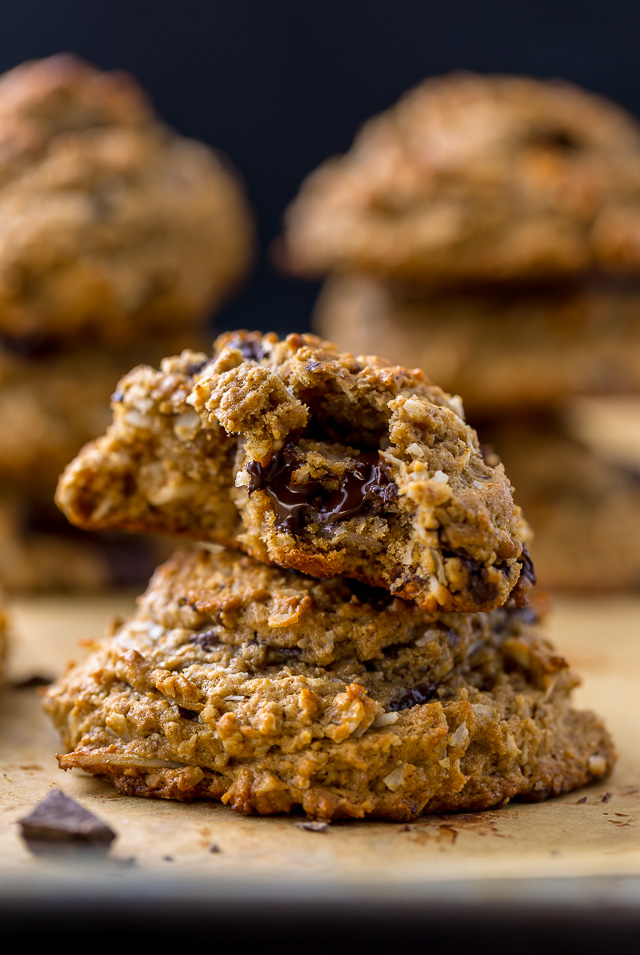 Chocolate Coconut Banana Bread Breakfast Cookies
Yield 1 dozen
Chocolate Coconut Banana Bread Breakfast Cookies are so delicious and perfect with a cup of coffee!
Ingredients
1/2 teaspoon baking soda
1/2 teaspoon salt
1/2 teaspoon ground cinnamon
1 cup finely shredded unsweetened coconut 
1 cup flaked unsweetened coconut 
1 cup all-purpose flour
3/4 cup whole wheat flour 
1/2 cup coconut oil, solid but scoopable 
1/3 cup creamy almond butter
1/2 cup coconut sugar
2 tablespoons maple syrup 
1 teaspoon vanilla extract 
1 large egg, at room temperature
3/4 cup ripe bananas (about 2 medium), mashed 
3.5 ounces dark chocolate, chopped into chunks (optional) 
Instructions
Preheat oven to 375°F (129°C). Line a large baking sheet with parchment paper and set it aside.
In a medium mixing bowl, combine the baking soda, salt, cinnamon, both coconut varieties, and both flours. Set aside. 
In the bowl of stand mixer fitted with the paddle attachment, or in a large bowl using a handheld electric mixer, beat the coconut oil, almond butter, and coconut sugar on medium speed until smooth and slightly fluffy, about 2 minutes. Beat in the maple syrup, vanilla, and egg and beat until well combined. Beat in the bananas until combined. Reduce the speed to low and gradually beat in the dry ingredients, mixing just until combined. Turn mixer off and, using a rubber spatula, fold in the chocolate chunks, if using. 
Using a large cookie scoop, drop level rounds of the dough onto the prepared baking sheet, leaving 2 inches between each one for spreading. Bake for 13 to 14 minutes, or until the tops are set and the edges are golden.
Cool cookies on the baking sheet for 10 minutes before serving warm or transferring to a wire rack to cool completely.
Store, lightly covered in plastic wrap, for up to 48 hours.
Notes
If you'd like your cookies to look like mine, sprinkle the dough with a little extra shredded coconut before baking, then press a few chocolate chunks on top after baking. 
Courses Breakfast
Cuisine Cookies
Recipe by Baker by Nature at https://bakerbynature.com/chocolate-coconut-banana-bread-breakfast-cookies/