You don't have to travel to France to enjoy one of the great breakfast classics: French Toast! Featuring thick slices of bread soaked in an egg mixture that adds flavors of vanilla, cinnamon, and nutmeg, then they're fried until crispy and golden brown. Top with maple syrup and fresh fruit like blueberries, strawberries, or raspberries.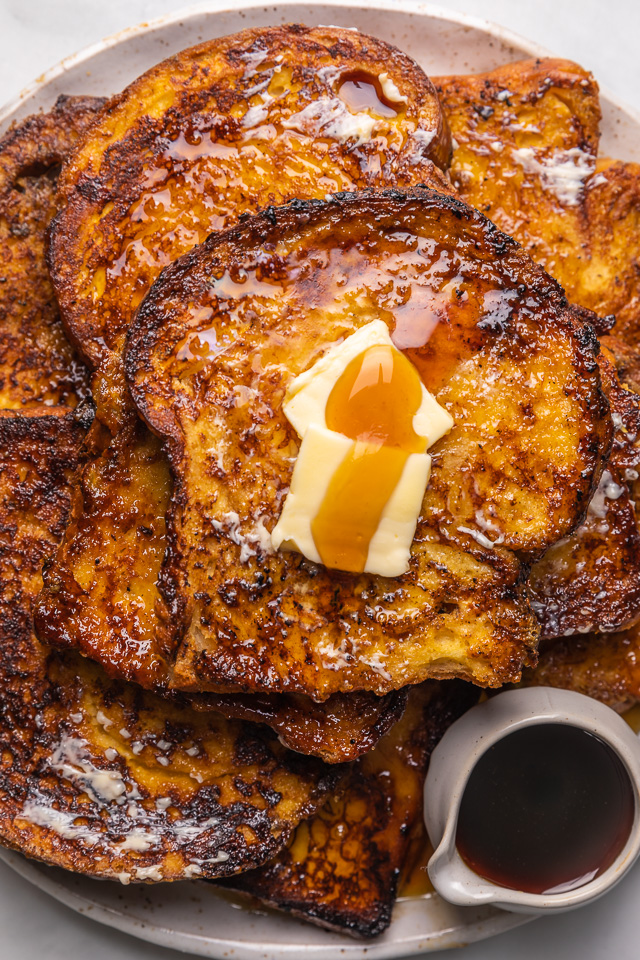 Easy French Toast Recipe
French toast: do you love it… or hate it? I rarely meet someone who holds a medium-level passion on the subject. And I think the reason behind this is quite simple.
People who love french toast have experienced the euphoric pleasure of enjoying REALLY good french toast. The kind that's thick and golden brown and crispy in all the right places. While the haters have probably only experienced sad and soggy white sandwich bread slices that no amount of maple syrup can save. What a waste of calories, right? Today, I hope to eliminate the latter from ever happening again! Because making restaurant-quality french toast at home is SO DARN EASY! And although it's made with basic ingredients… this is not your basic French toast recipe!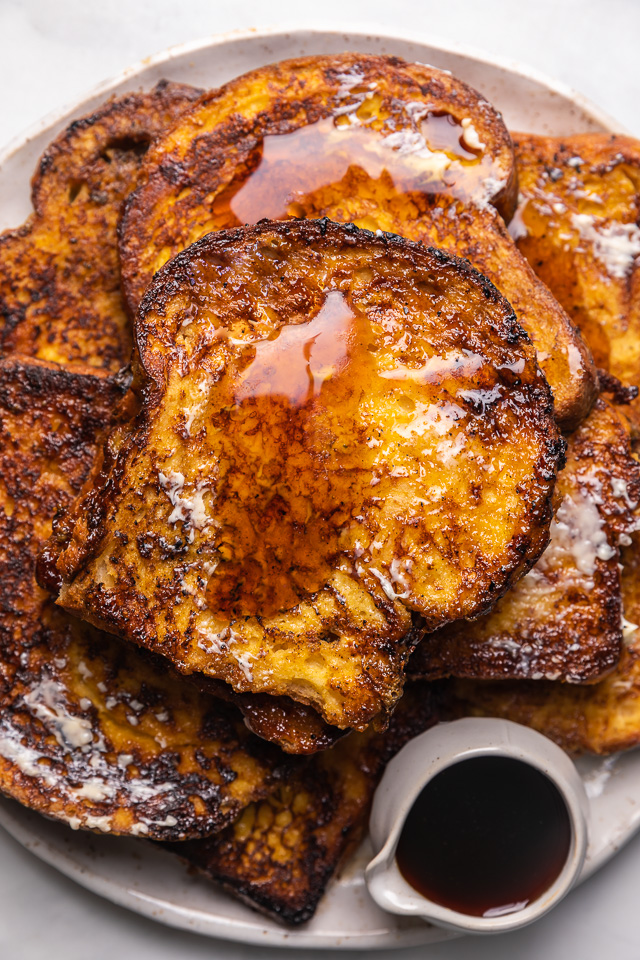 Ingredients to Make the BEST French Toast?
Here's what you'll need:
Eggs: You'll use whole eggs and egg yolks. The reason we use egg yolks? It creates a rich custard without making the French toast taste overly eggy. Save those leftover egg whites! You can use them in cakes, omelets, and more!
Milk: I suggest using whole milk aka full-fat milk. If you're looking to make this dairy-free, coconut milk will work.
Heavy Cream: Aka whipping cream. Again, if you're looking to make this dairy-free, coconut cream will work.
Vanilla extract: Never use imitation vanilla! But feel free to use an infused vanilla like bourbon vanilla!
Sugar: For sweetness and depth of flavor, you'll use
Butter: I always suggest using unsalted butter, but in this case, salted butter will work fine. A touch of salt won't ruin the recipe. But I don't suggest adding more salt, as you don't want a ton of added sodium or salty flavor to this recipe.
Bread: Brioche, sour dough, or challah will all work great! Just don't use basic white sandwich bread, which won't yield great results.
If you have those 7 basic ingredients, you have what it takes to make the best french toast! Of course, bonus points if you have fresh berries and quality maple syrup! Because in my experience, they make almost everything a little better! This delicious French toast also pairs great with breakfast proteins like sausage, eggs, or bacon. A tablespoon butter or two on top doesn't hurt either!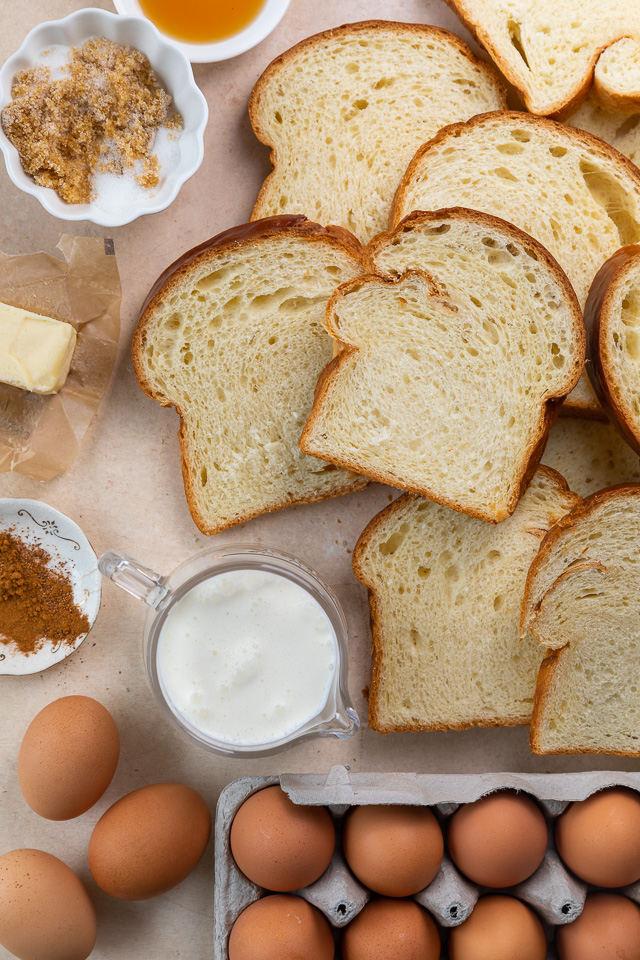 How to Make Easy French Toast:
Melt butter in a large skillet over medium heat. In a large bowl, whisk up your egg mixture! Dip bread in egg mixture. The easiest way to do this is by pouring the mixture into a 9×13-inch pan because you'll be able to fit almost all of the slices. But any shallow dish or even a pie plate will do!
Fry each slice until golden brown, about 3 minutes on each side.
Top with maple syrup and serve warm!
Of course, the full recipe is at the bottom of this post! But it really is as easy as 1,2,3! If you'd like this recipe to be more like pain perdu, you can place a wire rack on top of a baking sheet. Preheat the oven to 350 degrees (F). Place the French toast in a single layer, on top of the rack. and bake for about 5 minutes. This will make it extra extra crispy!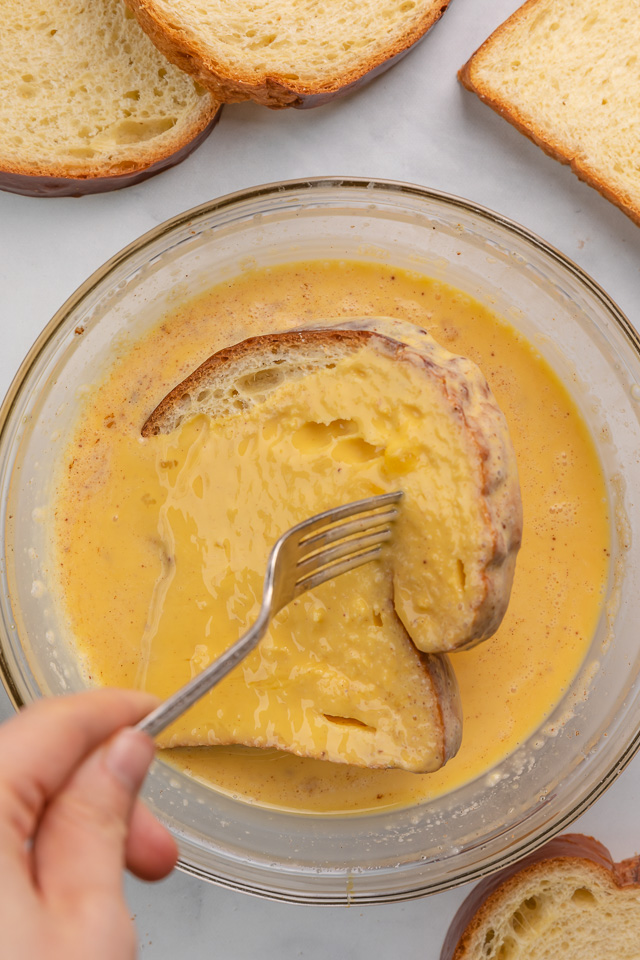 What kind of bread is best for French Toast?
I'm sure there are a lot of strong opinions on this, but personally and professionally, I think brioche, challah, and sour dough are the best candidates for making delicious french toast! Day old bread always works best because it's just slightly stale, which helps the bread absorb more of the delicious egg mixture.
That said, french bread is also a great candidate! And I've heard Texas toast can be delicious! Just please don't use basic white sandwich bread! It's too thin and won't do this recipe justice!
Pin it For Later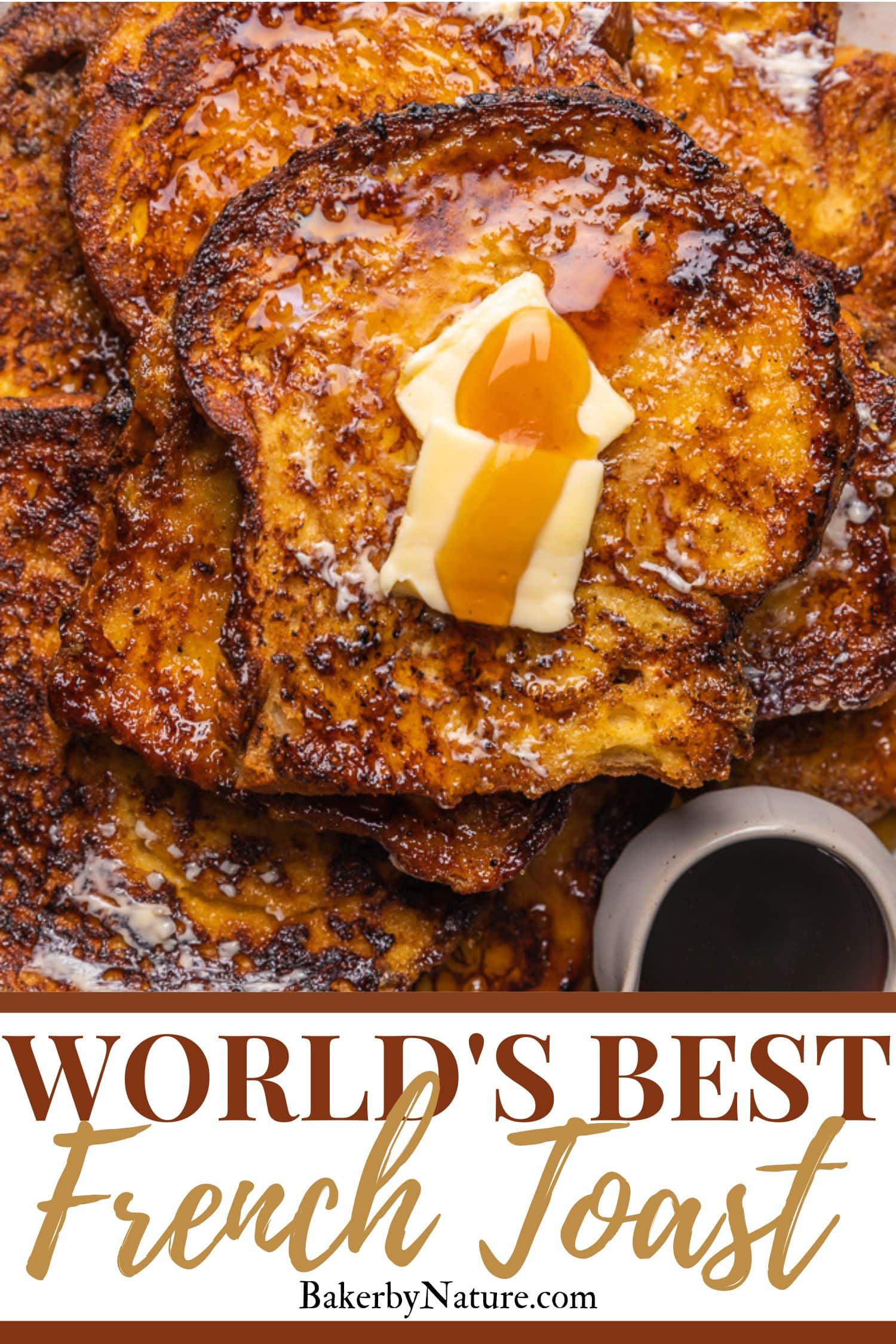 More French Toast Recipes:
If you try this recipe for The BEST Homemade French Toast, please let me know! Leave a comment below and don't forget to snap a pic and tag it #bakerbynature on instagram! Seeing your kitchen creations makes my day.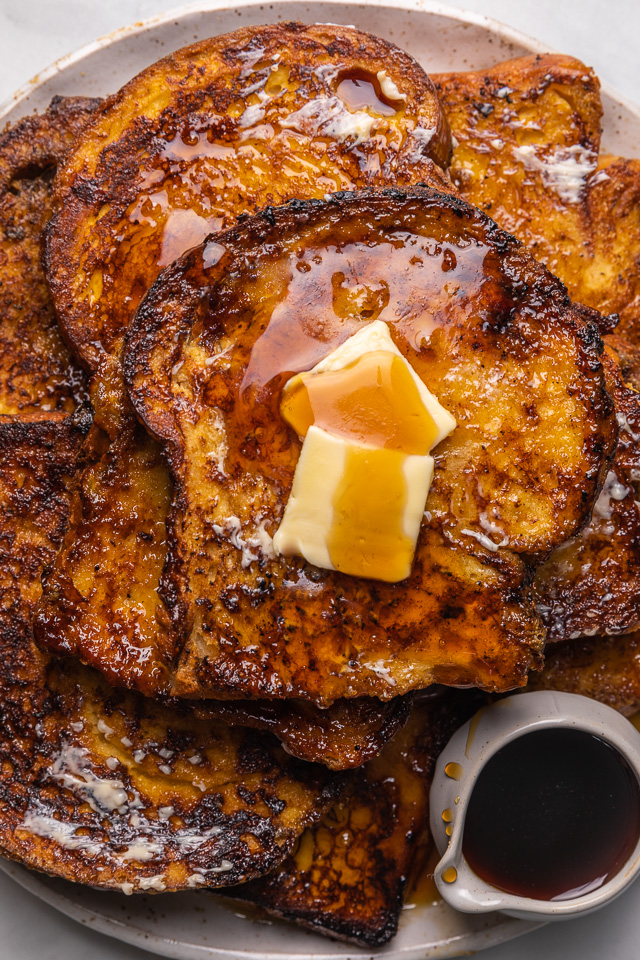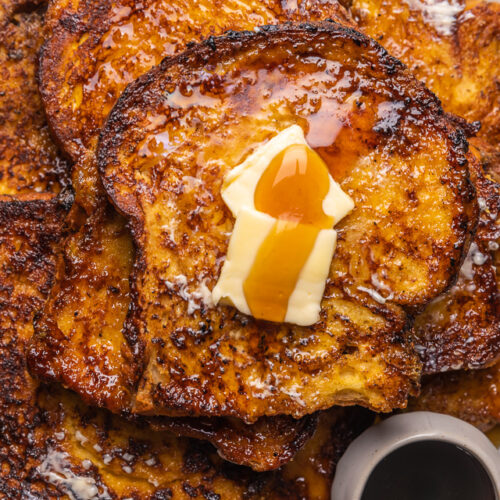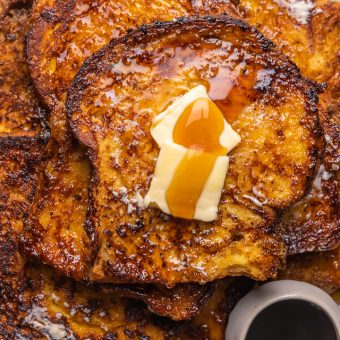 Best Easy Homemade French Toast
Today I'm teaching you how to make the BEST Easy Homemade French Toast! And you won't believe how quick and easy it is! Top with fresh berries, powdered sugar, or maple syrup, this is sure to become one of your favorite breakfasts!
Ingredients
1/2 cup butter
4 large eggs plus 4 large egg yolks
3/4 teaspoon ground cinnamon
1/4 teaspoon ground nutmeg
2 and 1/2 Tablespoons granulated sugar
1 and 1/2 Tablespoons light brown sugar
1/2 cup milk
1/2 cup heavy cream
1 Tablespoon vanilla extract
10 slices challah or brioche bread, sliced 3/4-inch thick
Instructions
Melt a few Tablespoons of the butter in a large skillet over medium-heat. 

In a large shallow bowl or pie plate, whisk the eggs and egg yolks until well combined. Add in the cinnamon, nutmeg, and both sugars, and whisk until well combined. Finally, whisk in the milk, heavy cream, and vanilla.

Dip as many slices of bread into the egg mixture as possible, allowing each side to soak up the mixture for about 2 minutes. 

Place the soaked bread slices into prepared skillet and cook until the undersides are golden brown, about 3 minutes. Flip, and continue cooking on the other side until equally golden brown, about another 3 to 4 minutes. Continue with all french toast, adding more butter to the pan as needed. 

Serve warm, with maple syrup and fresh berries!