My Favorite Buttermilk pancakes are thick, fluffy, and made totally from scratch! A super easy pancake recipe that's also freezer friendly. The perfect breakfast to please the whole family!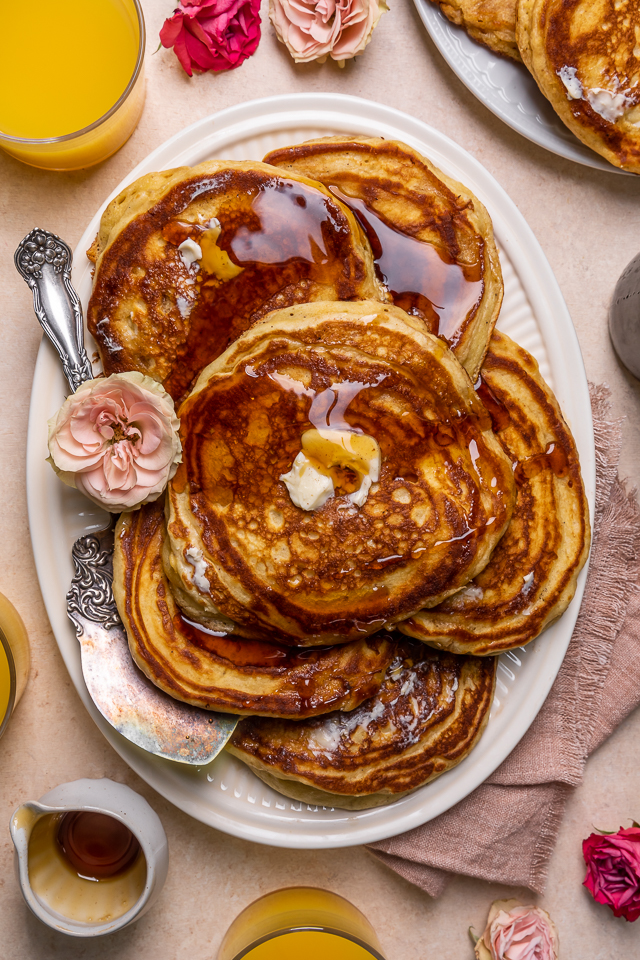 Buttermilk Pancakes
Happy weekend! What are you up to today? I hope you have a little time to sit back, take a breather, and devour a tall stack of these yummy buttermilk pancakes! With extra maple syrup, of course. Fact: I've eaten these pancakes twice this weekend… and it's not even Sunday! They're seriously so good. I've also been cleaning, cooking and packing like a crazy woman! I leave for my month long European adventure in 3 days and I'm equally excited and unprepared! So maybe I should just pack my whole wardrobe?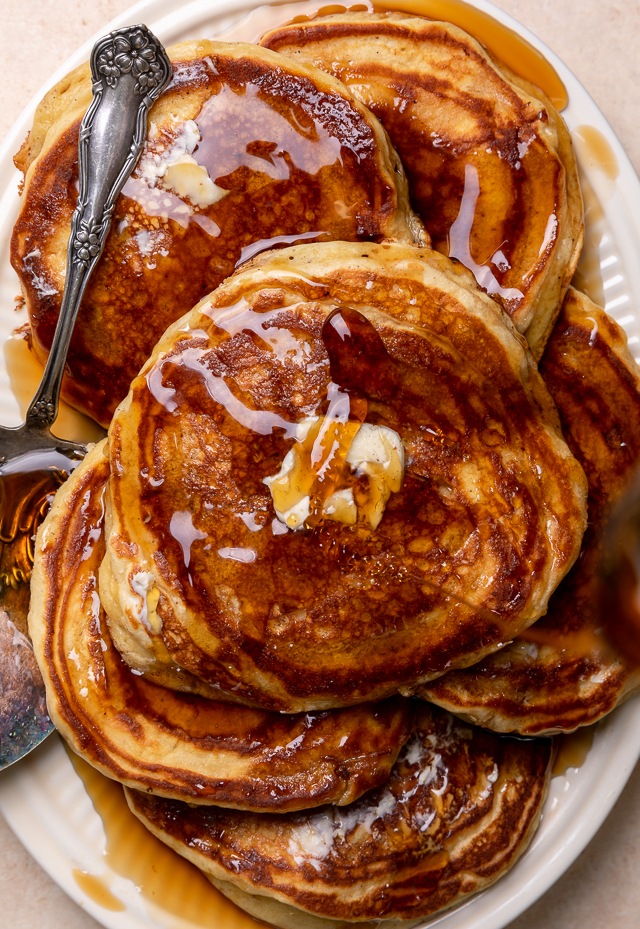 But I digress. Back to the pancakes! Today I'm so happy to be sharing my absolute favorite buttermilk pancake recipe with you. They are:
light and fluffy
leaps and bounds better than boxed pancake mix
perfectly sweet
super easy
made with basic, everyday ingredients
just begging to be drenched in maple syrup
sure to become your new favorite!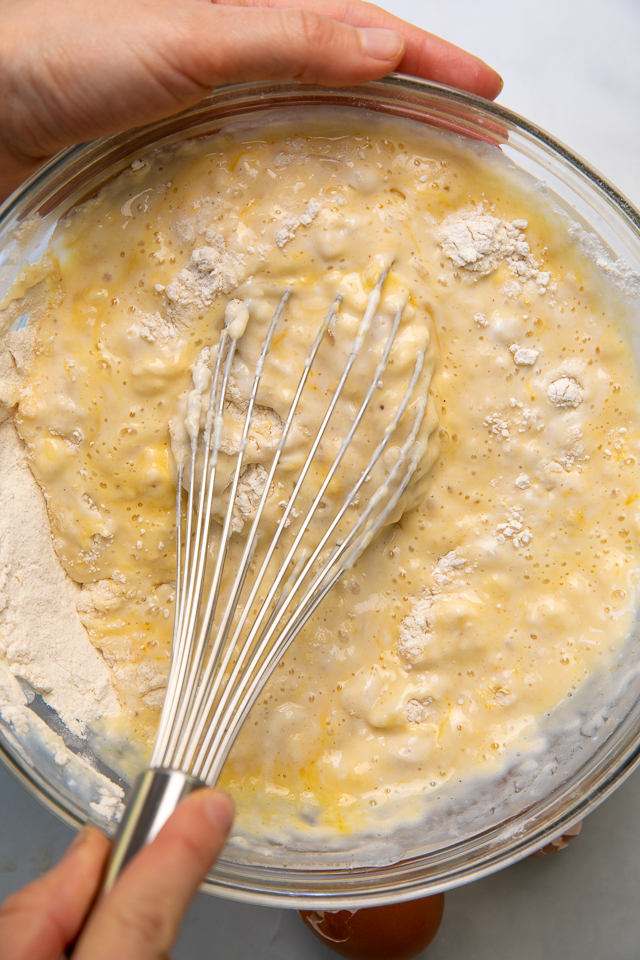 Extra Fluffy Buttermilk Pancakes
To make these pancakes you'll need all-purpose flour, granulated sugar, baking soda, baking powder, salt, nutmeg, eggs, buttermilk, and vanilla extract. You'll also need maple syrup, for serving. The batter comes together in just minutes! It will be on the thicker side. And once it hits the hot griddle, it will puff up and morph into fat, fluffy pancakes. If you do not have nutmeg on hand, you can leave it out, I just love the subtle flavor it adds to these pancakes. Other than that, I do not recommend messing with this recipe.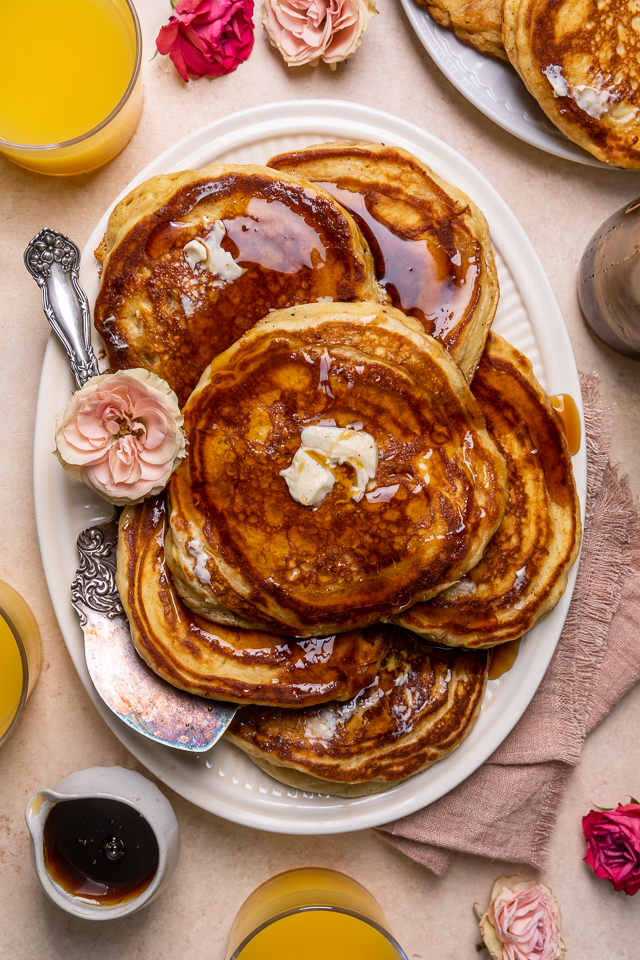 TIP: If you cannot find buttermilk where you live, or you just really want to make these pancakes right NOW and don't have any in the fridge, I've got you! Simply follow the "recipe" below for an easy buttermilk substitute.
To make a buttermilk substitute you'll need 1 scant cup of milk (scant meaning just a little less than a whole cup)  and 1 tablespoon of lemon juice or white vinegar.
You'll measure the 1 scant cup of milk and then stir in the tablespoon of lemon juice or vinegar. Then simply allow the mixture to stand at room temperature for 5.
At this point you're ready to go! The milk should be slightly thickened, with tiny curdled bits floating around. It won't be as thick as regular buttermilk, but it will make a fine substitution for this recipe.
You will need 2 cups of buttermilk for these pancakes, so just double the amount called for above and you'll be good to go!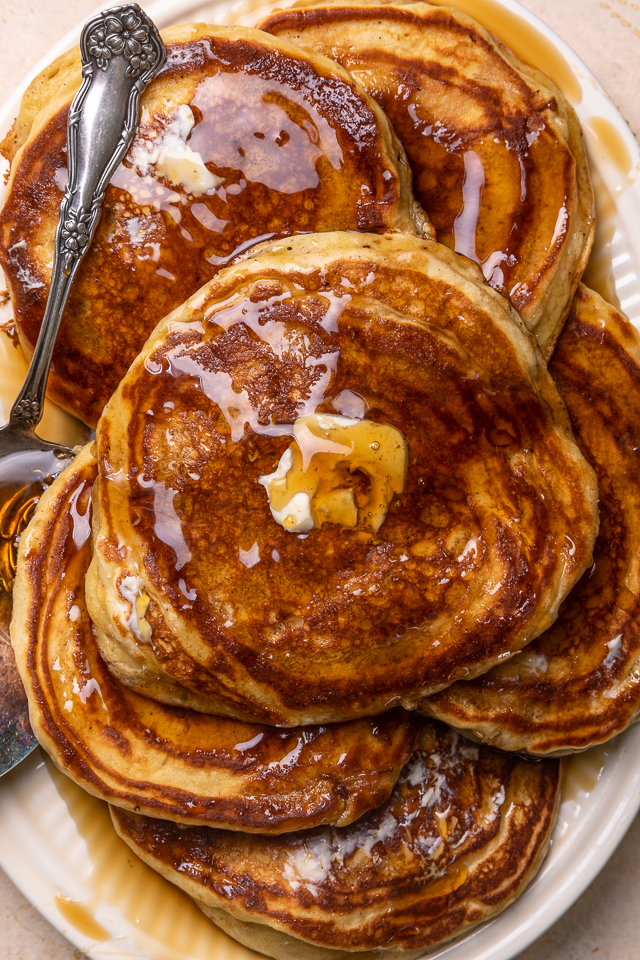 How to freeze: Simply place fully cooled pancakes between layers of waxed paper, then place them in a freezer-safe plastic bag, and pop them in the freezer! They will keep in the freezer for 2 months!
What on earth could be better than waking up to a stack of these?! ↓↓↓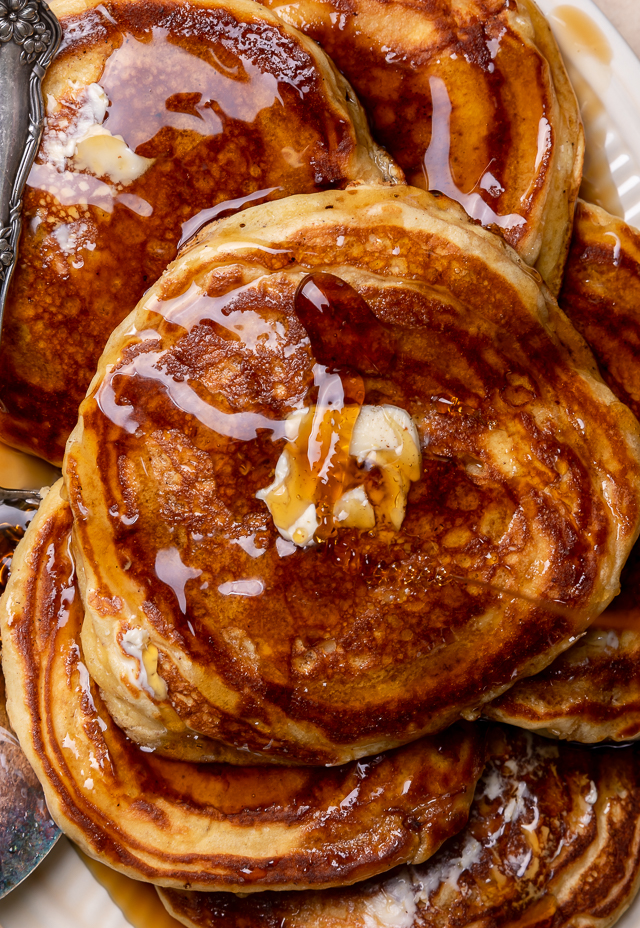 If you try this recipe, let me know what you think! Leave a comment below, and don't forget to snap a pic and tag it #bakerbynature on instagram! Seeing your creations makes my day.
More Pancake Recipes: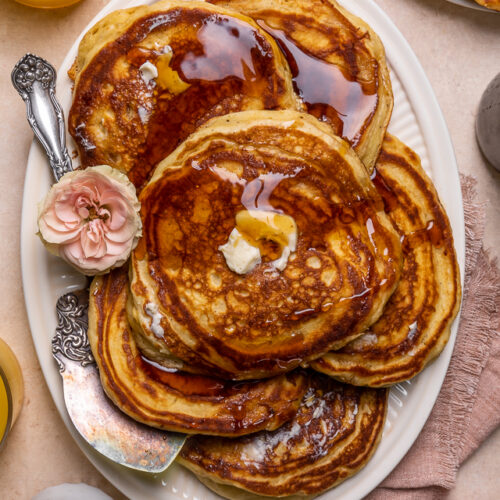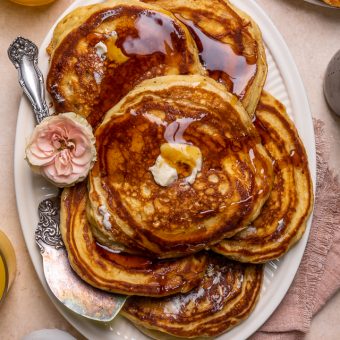 My Favorite Buttermilk Pancakes
My favorite recipe for fluffy homemade buttermilk pancakes!
Ingredients
2 and 1/2 cups all-purpose flour (300 grams)
1/4 cup granulated sugar (50 grams)
1 teaspoon baking soda
2 teaspoons baking powder
1/2 teaspoon salt
1/4 teaspoon ground nutmeg
2 large eggs, at room temperature
2 cups buttermilk (454 grams)
2 teaspoons pure vanilla extract
Maple syrup and butter, for serving
Instructions
In a large bowl add the flour, sugar, baking soda, baking powder, salt, and nutmeg; whisk well to combine.

In a separate bowl add the eggs and lightly beat them with a whisk. Add in the buttermilk and vanilla and beat until well combined. Stir the buttermilk mixture into the dry ingredients, stirring just until everything is combined.

Pour batter by 1/3 cupfuls onto a buttered hot pan or griddle, adding only a few at a time so that they do not blend together.

Cook for about 2 minutes before flipping them over, or until small bubbles form on top. Cook on the second side until golden brown, about 1-2 minutes. Repeat with all pancake batter.

Serve pancakes warm, with syrup. See notes for freezing options.
Notes
To freeze: place cooled pancakes between layers of waxed paper, then place them in a freezer-safe plastic bag, squeezing out any excess air before sealing the bag and placing it in the freezer. Pancakes will keep in the freezer for 2 months. To reheat, heat your oven to 375 degrees (F). Place the pancakes in a single layer on a large baking pan; cover with tinfoil and heat in a preheated oven for 6-8 minutes, or until warm. You may also microwave 3-4 pancakes at a time for about 40 seconds, or until heated through.