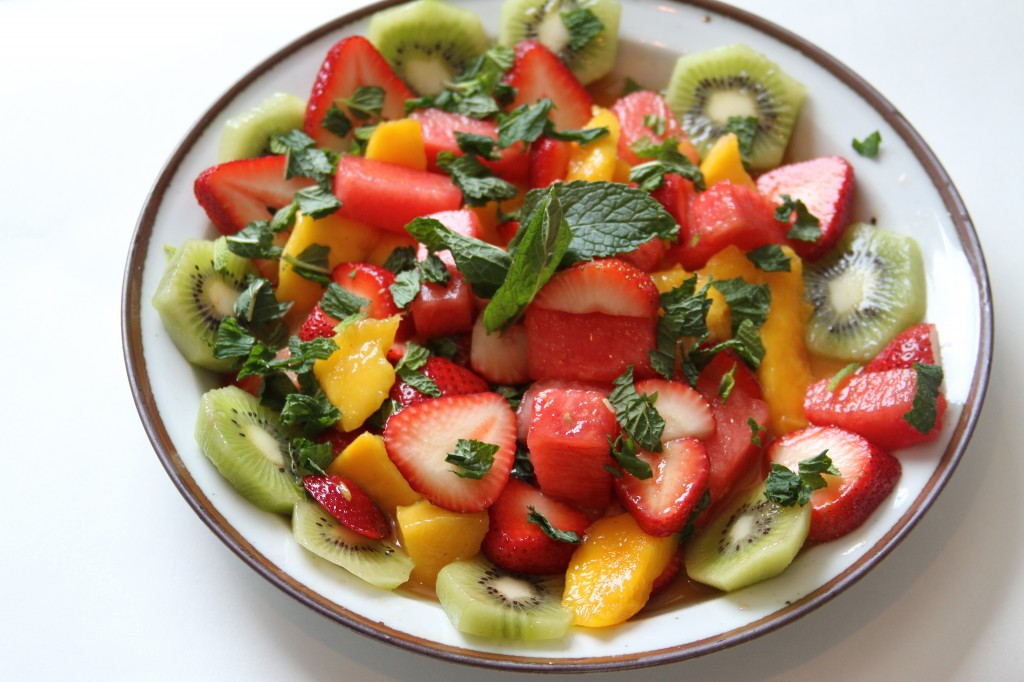 Prediction: An invitation is headed your way. Maybe tonight. Maybe next Friday. Maybe the third Saturday in June.
It might be a rooftop BBQ. Or a birthday garden party. Or a casual living room get-together. Or something SO cool I can't even think of it. If it's the last scenario… make sure to fill me in. I want some Summer coolness.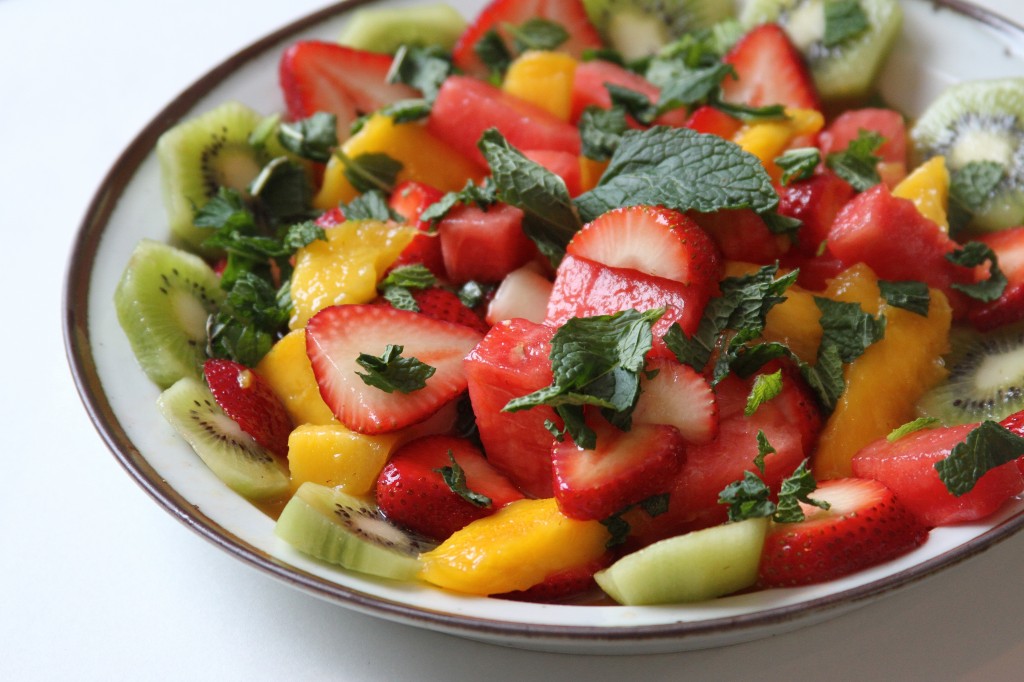 But I digress.
The point is… Summer = gatherings. And gatherings = you needing a go-to dish for said occasions. See where I'm going with this?
I'm going to fruit salad land, of course! Really. Fruit salad has got your back, peeps.
And while I try to remain humble in my fruit salad boasting, I've gotta tell ya – I'm patting myself on the back for this one.
It's classy. It's sassy. It's got bourbon. Need I say more?
Fruit salad is one of those things that's so simple, and yet, so easy to screw up. I can't tell you how many sad, soggy bowls of fruit I've politely nibbled on while thinking "what the heck did they do to this poor fruit?".
In this "grown up" version I kept things simple and juicy with a few great fruits, fresh mint, and super dreamy "dressing" consisting of honey, fresh lime juice, and bourbon. It's all I could have dreamed of and more.
I ate it for lunch yesterday (like… the whole entire bowl) and left the office walking on sunshine. Fruit Salad has magical powers like that… especially when bourbon is involved.
Happy Friday!
  "Grown Up" Fruit Salad with Honey-Lime Bourbon Dressing – Baker by Nature
Yields 4-6 small servings, double as needed
3 kiwi fruits, peeled and sliced
1 large, ripe mango, cut into chunks
1 1/2 cups strawberries, washed and sliced
2 cups watermelon, cut into small(ish) chunks
1/4 cup fresh mint, sliced into thin strips
In a large serving bowl gently toss the fruit together with the dressing. Serve immediately, or chill for a few hours (I found it best to put the dressing on at the very last minute before serving so things don't get soggy). Top salad with sliced mint after it's been dressed.
For the Honey-Lime Bourbon Dressing – 
1 tablespoons bourbon
1 1/2 tablespoons honey
Juice of one lime, about 3 tablespoons
In a large bowl whisk the ingredients together until smooth (making sure the honey has combined with the other ingredients). Pour over salad before serving.