This healthier banana cake is made with whole wheat flour and topped with a creamy Greek yogurt chocolate frosting! Moist, delicious, and perfect for serving large crowds! The perfect banana cake when you want to indulge… but still keep things on the healthier side!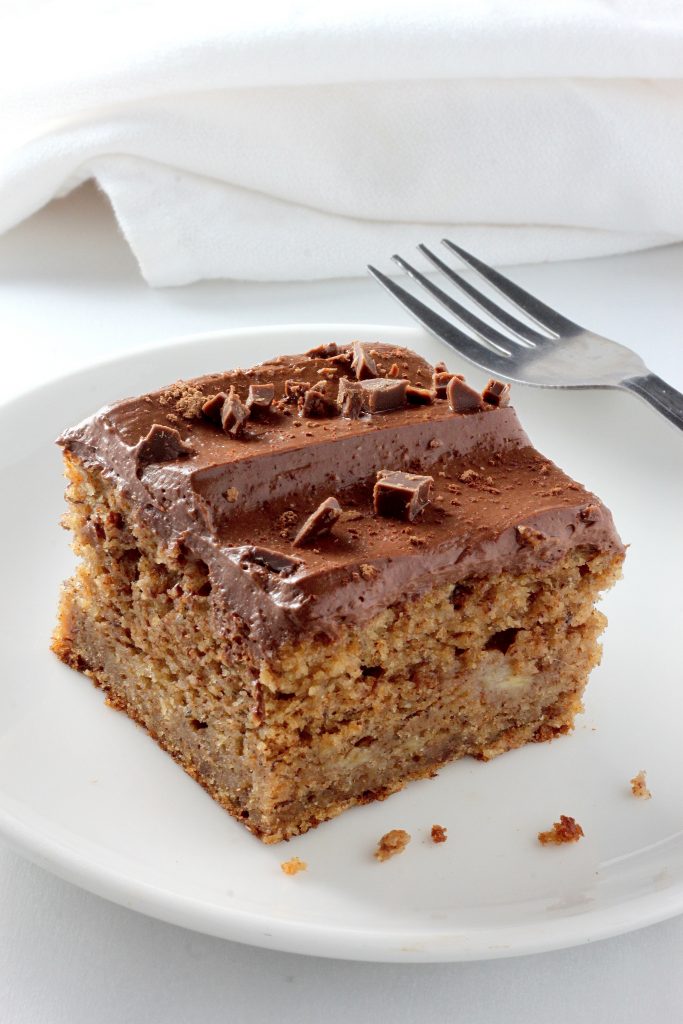 Healthier Whole Wheat Banana Cake 
Last week I found myself bug-eyed and awake at the utterly unholy hour of 4 am. I stared at the ceiling, counted sheep, and tried thinking happy thoughts – only to come to the conclusion that I could-not-fall-back-asleep. Does this ever happen to you? It's kind of the worst. But I'm an eternal optimist and decided to take my lemons and make lemonade. Or, more to the point, get my butt out of bed, take some mushy bananas, and make banana cake. With chocolate frosting, of course. Because anything done before 5 am deserves chocolate. At least that's the law in these parts.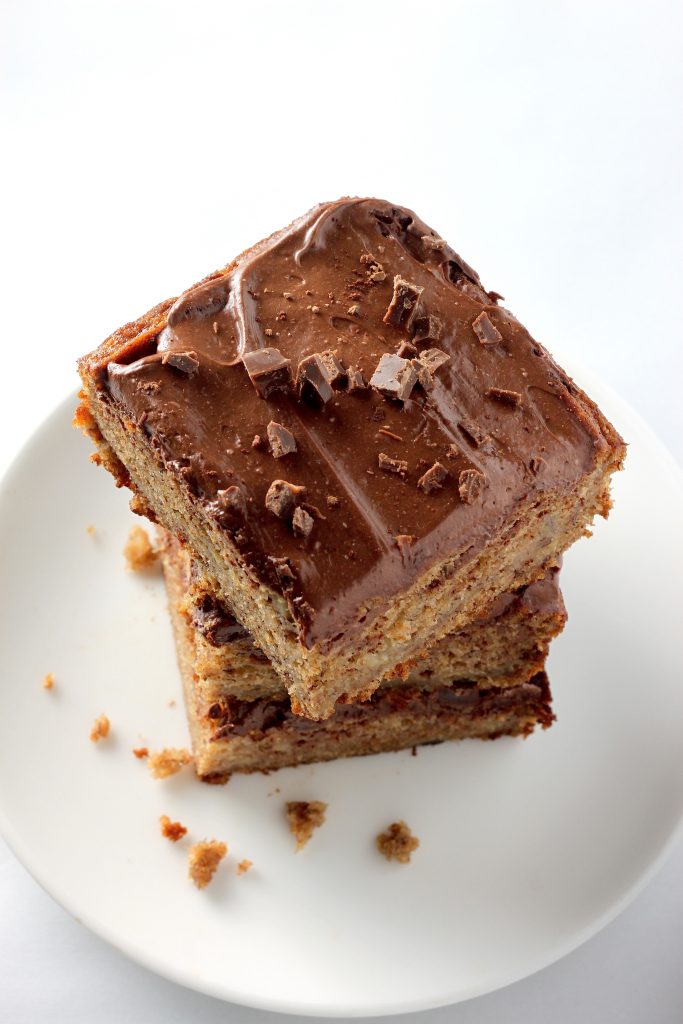 Oh what a banana cake it turned out to be! Silver linings are everywhere, I tell ya!
The banana cake base is dense yet delightfully moist and tender. Pretty amazing considering the fact this cake uses ALL whole wheat flour. Using 100% whole wheat flour can sometimes result in dry and disastrous baked goods, so I breathed a deep sigh of relief when I cut into this cake and peeped so many fluffy crumbs!
The cake gains its lovely texture thanks to 3 VERY ripe bananas, vanilla bean greek yogurt, almond milk, and eggs. I highly recommend allowing your bananas to get as dark, brown, and mushy as you can before using them in this recipe. Ugly bananas = Beautiful bread. You can quote me on that!
As far as substitutions come in this recipe, here's what I know. You can definitely swap the whole wheat flour for all purpose flour – no problem there. You may also use regular cow's milk in place of the almond milk and sour cream in place of the greek yogurt. That said, I don't recommend making these changes if you want the cake to remain on the healthier side. I'm only noting these substitutions in case you can't find the ingredients listed below and still really really want to make a banana cake.
Ok. So let's move on to the frosting!!! Frosting gets three exclamation points because it's:
Creamy
Chocolatey
Spiked with an exciting dash of cinnamon
Not-too-sweet
Made with NO butter
Silky smooth and luxuriously thick thanks to Greek yogurt
Can you tell I'm a fan of this frosting? I've actually been playing around with the idea of Greek yogurt frosting for a few months now. I made a Skinny Banana Cake with Maple Greek Yogurt Frosting back in the Fall and fell in love with the concept. When I was making this cake I decided to test out two frostings: one vanilla bean and one chocolate. Chocolate beat vanilla black and blue.
The great thing about this frosting is I've scaled down on the confectioners' sugar (only 1/2 cup!), completely cut out the butter, and still managed to maintain that sweet, creamy taste and texture we know and love from frosting. I mean, I don't normally toot my own horn, but… toot toot. This frosting is a winner winner.
Things you should know about this frosting:
It has a deep, rich chocolatey taste
It's not too sweet
You can always add a little more confectioners' sugar if you want to increase the sweetness action
I've included a pinch of cinnamon in the recipe; it adds depth and bonds with the banana flavor in a special way
The recipe calls for cream cheese; I highly recommend using full-fat or 2% – not fat-free.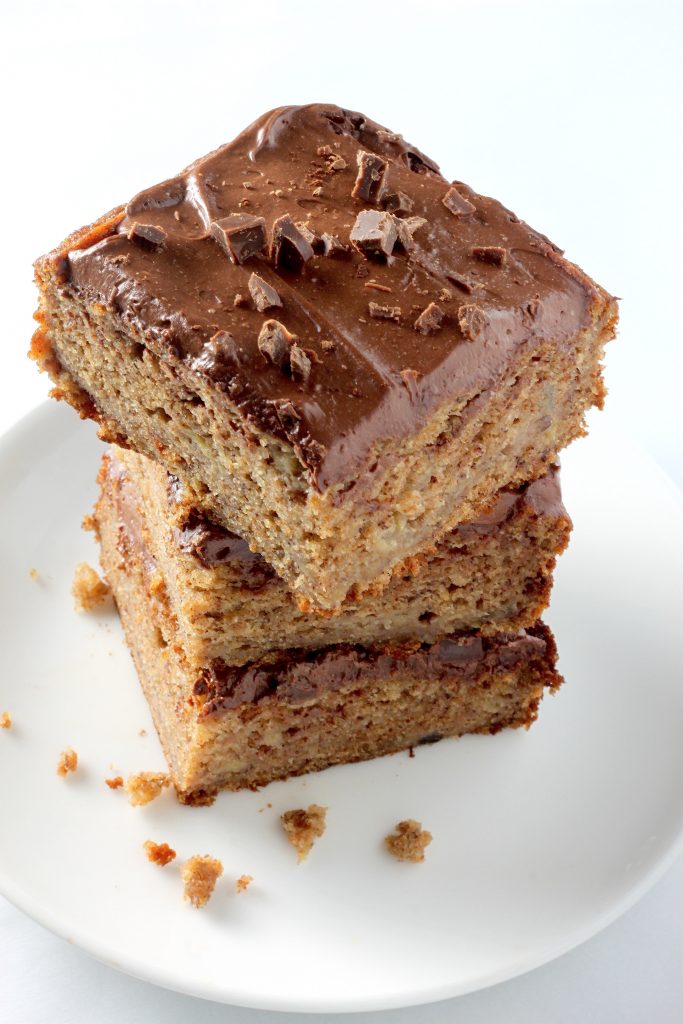 Now, because I know this will arise somewhere in the comments at some point or another, let's address the elephant in the room, shall we? I call this cake healthy… and I'm sticking to it. By healthy I do not mean low-calorie. I do not mean low-carb. Nor do I mean sugar-free, gluten-free, or paleo. What I mean is for cake – which this is (yay!) – it's on the healthier side. It's made with all whole wheat flour, it's completely butter-free, it's lower in sugar than 99.9% of the cake recipes out there, and it's still a delicious and decadent CAKE. <— I write this out because I love you guys, value your opinion, and don't ever want you to feel like I'm pulling one over on ya. I consider this healthy, but if you don't, that's cool too. I just want you to know the facts… and also that cake is delicious.
This banana cake is soft and luscious on the inside, creamy and chocolatey on the outside. Banana + Chocolate = Go on and get baking!
P.S. Keep any leftovers in your fridge! The chocolate frosting is a delicate flower and needs the chill of your fridge to keep it in check. xoxo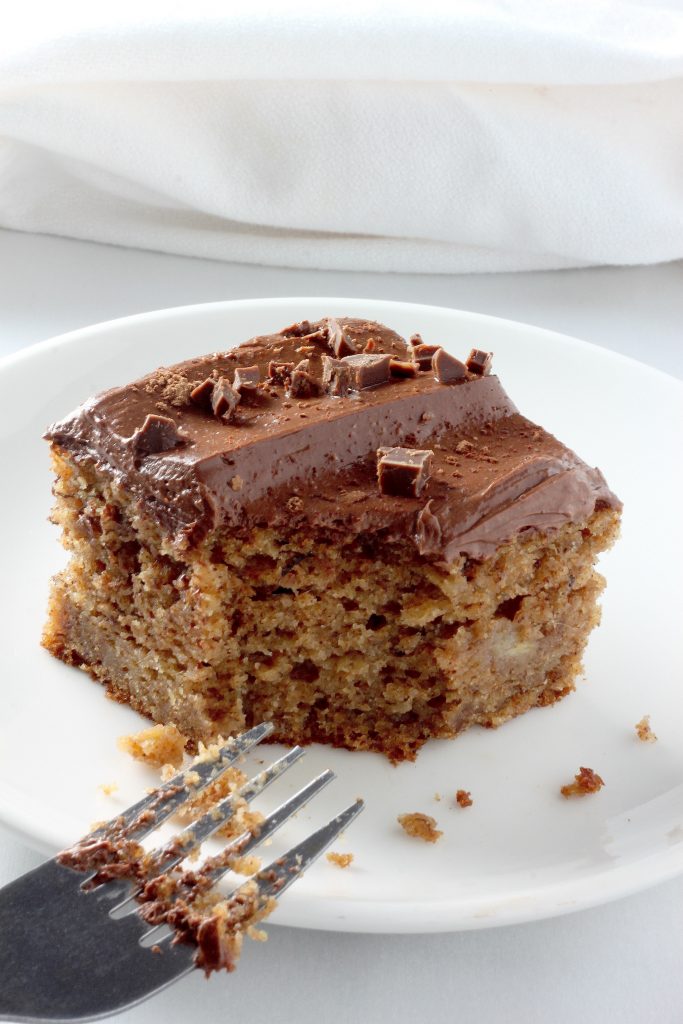 More Banana Cake Recipes:
Healthy Whole Wheat Banana Cake with Creamy Greek Yogurt Chocolate Frosting
A Healthy Whole Whole Wheat Banana Cake is topped with thick and creamy Greek Yogurt Chocolate Frosting! A sinfully decadent treat without any of the guilt!
Ingredients
1/2 cup Coconut oil, melted
1/2 cup + 2 tablespoons packed Dark Brown Sugar
2 large Eggs, at room temperature
2 teaspoons Vanilla Extract
1 1/2 cups Whole-Wheat Flour
1 teaspoon Baking Soda
1/2 teaspoon Cinnamon
1/2 teaspoon Salt
1/2 cup 2% Vanilla Bean Greek yogurt
1/4 cup Unsweetened Almond Milk
3 large VERY RIPE Bananas, smashed
For the Frosting:
1/2 cup 2% Vanilla Bean Greek Yogurt
4 ounces Cream Cheese, very soft
1 teaspoon Vanilla Extract
1/2 cup Confectioners' Sugar, Sifted
1/4 cup + 2 tablespoons Unsweetened Cocoa Powder, Sifted
1/2 teaspoon Cinnamon
Instructions
Preheat oven to 350 degrees (F). Grease an 8x8 inch baking pan; set aside.

In a large bowl whisk together the melted coconut oil and brown sugar. Beat in the eggs and vanilla; mix well.

In a separate bowl combine the flour, baking soda, cinnamon, and salt; stir the dry mixture into the wet mixture just until combined. Gently fold in the greek yogurt, almond milk, and mashed banans. Spread the batter evenly into the prepared pan.

Bake for 30-35 minutes, or until a toothpick inserted into the center of the cake comes out clean. Cool cake in the pan for at least 15 minutes before removing to a wire rack to cool completely.
For the Frosting:
In a large bowl beat together the Greek yogurt, cream cheese, and vanilla extract; beat well, until there is no lumps in the mixture.

Place a fine-mesh strainer over the mixture and sift in the sugar, cocoa powder, and cinnamon. Taste and add more sugar if needed/desired.

Place frosting in the fridge for 20 minutes before frosting the cooled cake. Cut into squares and serve at once, or store in the fridge until needed.

Spread on cupcakes.
Notes
*You may substitute coconut oil with a mild olive oil or canola oil