These Healthy Banana Chocolate Chip Muffins are moist, fluffy, and sweet! Made with honey, whole wheat flour, and protein packed Greek yogurt, these are perfect for breakfast or as an afternoon snack. This is a great recipe you'll want to use over and over again!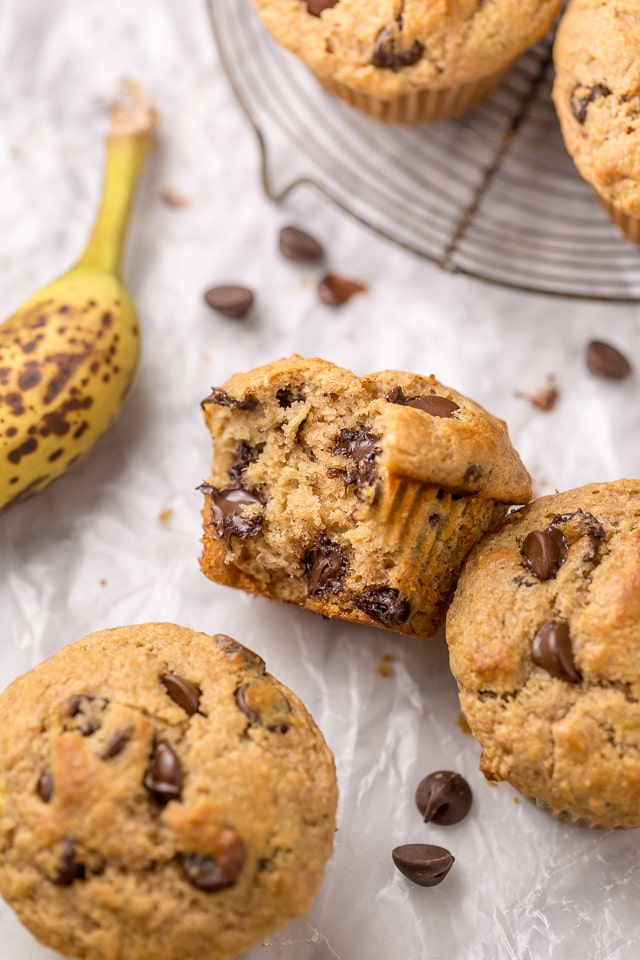 Banana Chocolate Chip Muffins
Last week I asked you what kind of recipes you'd like to see more of in 2019 and while I received a variety of requests, the most common response was for "healthier baking recipes". I actually love baking healthier treats, so I was thrilled to see you wanted more of them. I'll be posting one healthy baking recipe each month! And we're kicking things off with these healthy banana and chocolate chip muffin recipe! They're bakery-style muffins that are moist, sweet, and have perfectly domed lids. I tested the recipe last week and was thrilled they turned out great on my first try! I've made them 6 times since then because they're THAT good.
Healthy Banana Muffins
So what makes these banana muffins healthy? A couple of things! First off, we use 100% whole wheat flour in this recipe. Then we add in protein packed Greek yogurt, heart healthy olive oil, and 1 whole cup of mashed bananas. And finally, we sweeten these delicious muffins with honey and just a kiss of coconut sugar. So while I wouldn't claim these muffins to be health food, they are made with healthier ingredients you can feel good about.
There's also a handful of chocolate chips because chocolate makes everything better… right? RIGHT ↓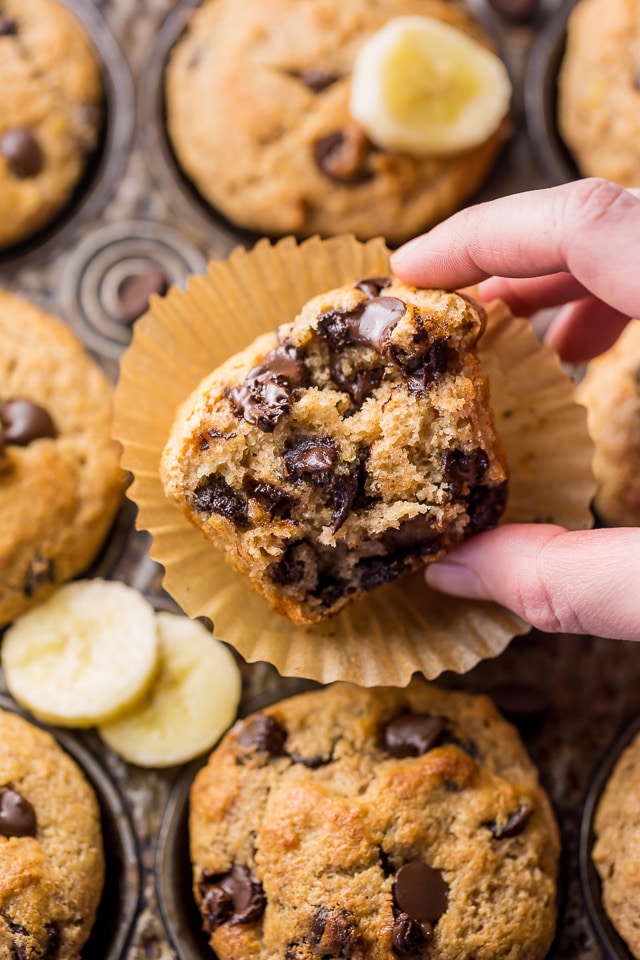 Tips and Tricks for Recipe Success
What Ingredients do I need to make Healthy Banana Chocolate Chip Muffins?
Surprisingly, very simple ones you probably already have in your kitchen! To make this banana muffin recipe you'll need:
ripe bananas (the riper the better!!!)
eggs (I have not tested this recipe without eggs or with flax egg so I cannot recommend a substitute)
coconut oil (or olive oil)
brown sugar (or coconut sugar, however I do not recommend making this sugar free)
whole wheat flour (or all purpose flour, white whole wheat flour, or gluten free cup for cup flour)
honey (I have not tested this recipe with maple syrup… but it could work)
Greek yogurt
baking powder
salt
cinnamon
and chocolate chips.
You'll also need a muffin pan, 2 large bowls, and a spatula. That's pretty much it! You'll combine the wet ingredients in one bowl, the dry ingredients in a separate bowl, then mix everything together. No hand mixer or fancy appliances required!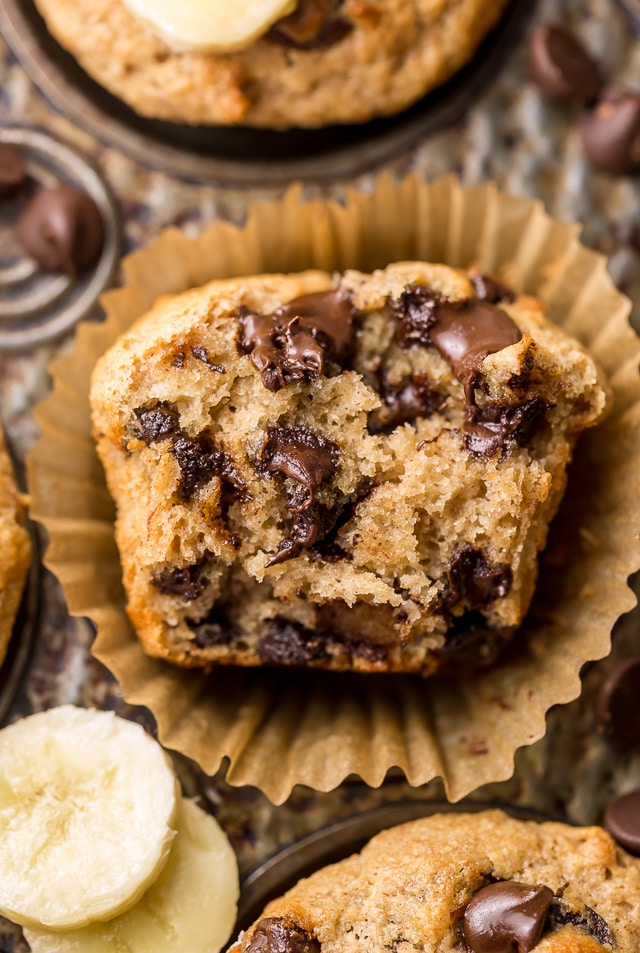 How to bake MOIST banana muffins? EASY!
First, you'll want to preheat your oven to 400 degrees (F). Then you'll line your muffin tin with paper liners and set it aside.
Next you'll make the batter. The first step is whisking together the bananas, eggs, . Then you simply whisk in the remaining ingredients… and that's it. So easy!
Then you'll divide the batter evenly among the prepared muffin cups, filling each one all the way up. Bake for about 15 minutes, or until the tops have domed and a cake tester comes out dry when inserted in the middle of a muffin.
And finally, be sure to only cool the banana muffins in the muffin pan, placed on a wire cooling rack, for 5 minutes before removing.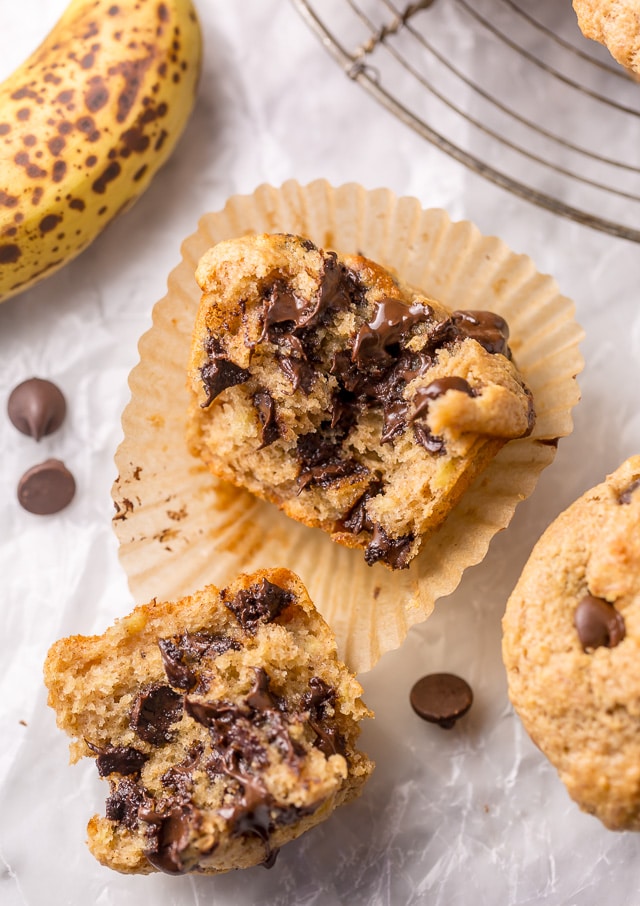 This recipe makes exactly 12 muffins… and they go FAST! So if you're serving a crowd, consider making 2 dozen 😉 Even picky kids love this healthy banana muffins recipe!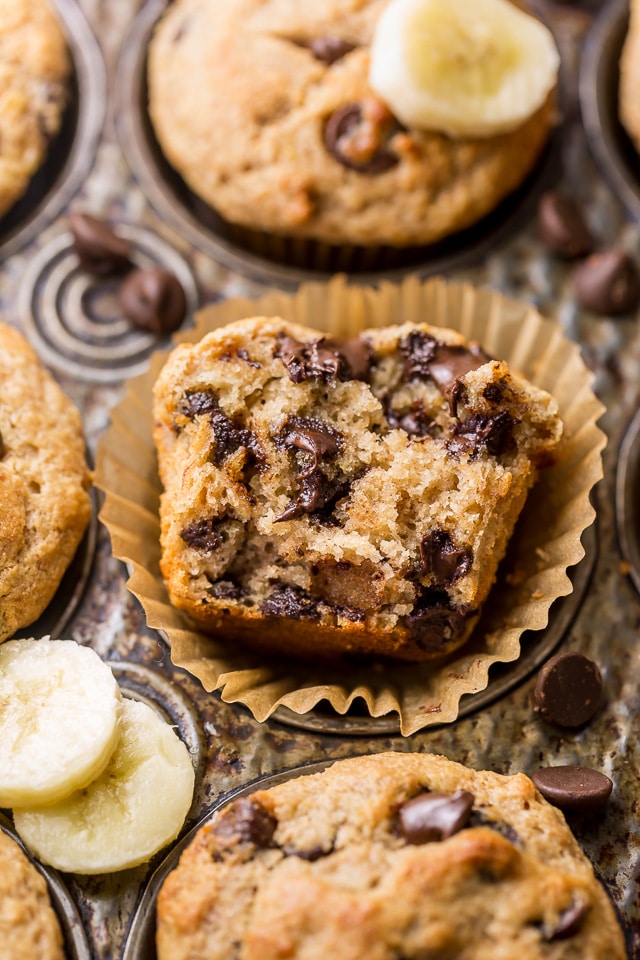 For more Banana Recipes, Check Out:
AND IF YOU TRY THIS RECIPE FOR HEALTHY BANANA CHOCOLATE CHIP MUFFINS, LET ME KNOW! LEAVE A COMMENT BELOW AND DON'T FORGET TO SNAP A PIC AND TAG IT #BAKERBYNATURE  ON INSTAGRAM! SEEING YOUR KITCHEN CREATIONS MAKES OUR DAY.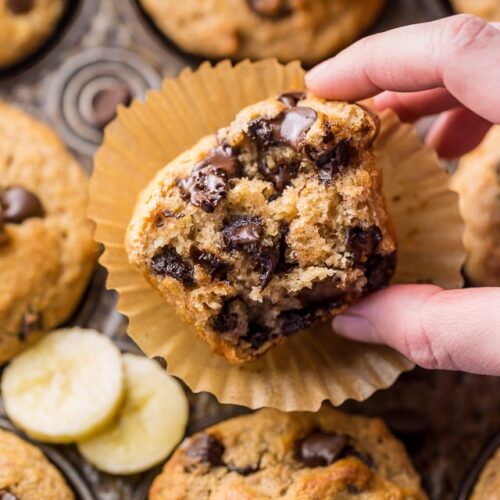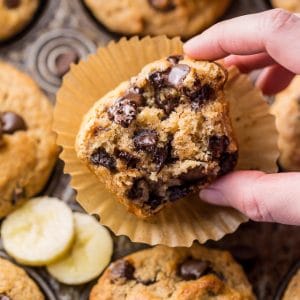 Healthy Banana Chocolate Chip Muffins
These Healthy Banana Chocolate Chip Muffins are so easy and perfect for breakfast! Made with protein packed Greek yogurt and sweetened with honey, they're a healthier way to indulge. 
Ingredients
2 cups whole wheat pastry flour
3 teaspoons baking powder
1/2 teaspoon salt
1/2 teaspoon ground cinnamon
1/3 cup honey
3 Tablespoons coconut sugar (or light brown sugar)
2 large eggs, at room temperature
3/4 cup full-fat plain Greek yogurt
1 cup mashed ripe banana
1/4 cup coconut oil, melted (or mild olive oil)
1 cup chocolate chips
Instructions
Preheat oven to 400 degrees (F). Line a 12 cup muffin tin with paper liners and it set aside.

In a medium bowl, sift together the flour, baking powder, salt, and cinnamon; set aside.

In a separate large bowl, whisk together the honey, sugar, eggs, Greek yogurt, and mashed bananas, mixing until ingredients are fully incorporated.

Add the dry mixture of ingredients to the wet mixture of ingredients and, using a rubber spatula, mix until *just combined. Stop mixing when there's just the faintest trail of dry ingredients left. You don't want to over mix here. 

Fold in the melted coconut oil and mix until it's just combined. 

Finally, fold in the chocolate chips, mixing just until combined.

Divide the batter evenly among prepared muffin tins, filling each tin all the way to the top. 

Bake for 15 to 18 minutes, or until the tops are puffed up and lightly golden brown, and a toothpick inserted in the middle comes out clean, or with a just a few moist crumbs attached. Cool muffins at least 5 minutes in the pan before transferring to a cooling rack.

Enjoy muffins warm, or store in a covered container for up to 2 days.