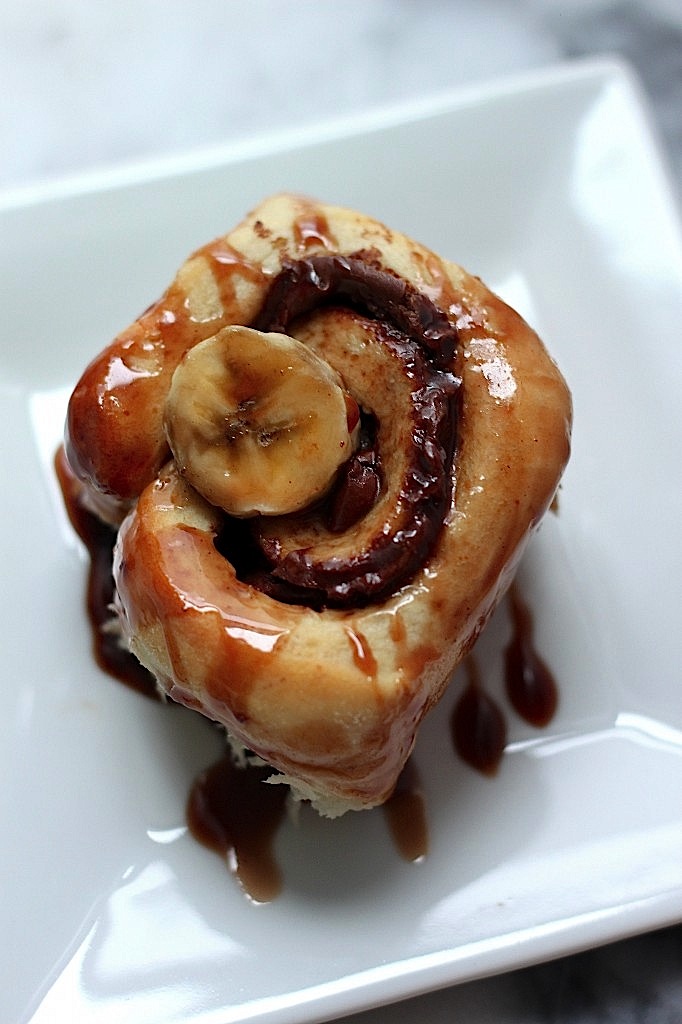 Hi friends! Wanna know how to turn just another manic Monday into a maaaaaaaagic (super-totally-awesome) Monday?
Sticky Buns!!!
Nutella Stuffed Banana Sticky Buns to be exact.
Let's do this!
OH YUMMMAY!!!
Sticky bun talk time!
The dough itself is lightly flavored with ripe, mashed banana, and has the most delightfully fluffy interior thanks to it! The exterior is just a tad tougher, but that's a goooooood thing since it gets soaked in an addicting nutella coffee sticky syrup.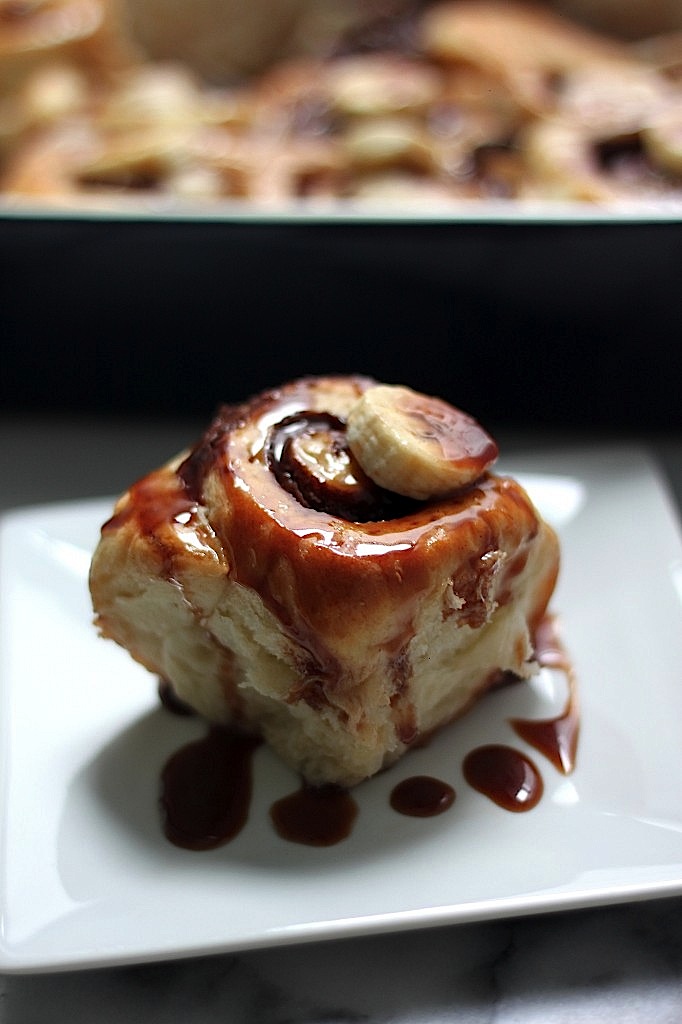 Yeah… I just said nutella coffee sticky syrup. Pretty great, huh?
The buns are also stuffed with a whopping cup of pure, creamy nutella spread that melts into the most amazing gooey chocolate/hazelnut filling a bun could ever ask for! It also makes making these buns a breeze since one step of the journey is already made and waiting to spread.
I topped each bun with a little banana slice to boost banana flavor and cuteness… if you've got bananas to spare I 100% suggest you do the same 😉
Happy Monday, folks! xo
Nutella Stuffed Banana Sticky Buns – Baker by Nature
Makes 12 large buns
Ingredients
For the Banana Sticky Bun dough:
1 cup whole milk
6 tablespoons unsalted butter, very soft
4 cups all-purpose flour, divided
(1) 2.5 oz package rapid rise yeast
1/4 cup light brown sugar
1/2 teaspoon salt
1/4 teaspoon cinnamon
1 large egg, at room temperature
1/4 cup ripe mashed bananas (about 1 medium banana)
1 cup nutella
For the Nutella Coffee Sticky Sauce:
2 tablespoons nutella
1 cup powdered sugar
1/4 cup strong coffee (or 3 tablespoons of water)
Instructions:
For the Banana Sticky Bun dough
In a small saucepan heat the milk over medium-low flame just until small bubbles begin to form around the edge of the pan; remove from heat. Add the softened butter and whisk until it's completely melted; let mixture cool while you prepare your dry ingredients.
In the bowl of your stand mixer fitted with the dough hook attachment combine 3 cups of flour, yeast, sugar and salt; mix well. Add the egg, banana, and the milk/butter mixture; mix well.
Add the remaining flour, 1/4 cup at a time, mixing well after each addition.
Allow your mixer to run on medium-speed for about 6 minutes after all of the flour has been added. The dough should be smooth, slightly shiny, and nicely forming a ball around the dough hook.
Cover the dough with a warm, damp cloth and let rest in a warm space for 20 minutes
*While your dough is rising, you can make your nutella sticky sauce. 
After the 20 minutes, turn dough out onto a large, clean work surface and using a rolling pin roll out into a large 12×15 inch rectangle.
Spread the entire surface of the rectangle with nutella.
Tightly roll up the dough and pinch the seams to seal. Using floss (just slide a piece underneath, lift it over, then pull to make nice, even slices) or a knife, cut the roll into 12 equal size pieces and place, cut side up, in a lightly greased baking dish or pie plate.
Cover again with a warm damp cloth, and let rise for another 30 minutes.
While they're rising, preheat your oven to 375 degrees (F).
Once risen, bake in the preheated oven for 18 – 20 minutes, or until lightly browned on the tops and edges. Drizzle nutella sticky sauce over the top of the buns, and serve warm or at room temperature.
For the Nutella Coffee Sticky Sauce:
In a small saucepan combine all of the ingredients and bring to a boil – whisking constantly – over medium heat. Continue to cook (still whisking) for 2 minutes after the sauce has come to a full boil, then remove from heat.
Pour sauce over buns once they're removed from the oven.