Quick and Easy Turkey Meatballs are stuffed with fresh herbs and asiago cheese, then baked to ensure they're the both perfectly crispy and juicy.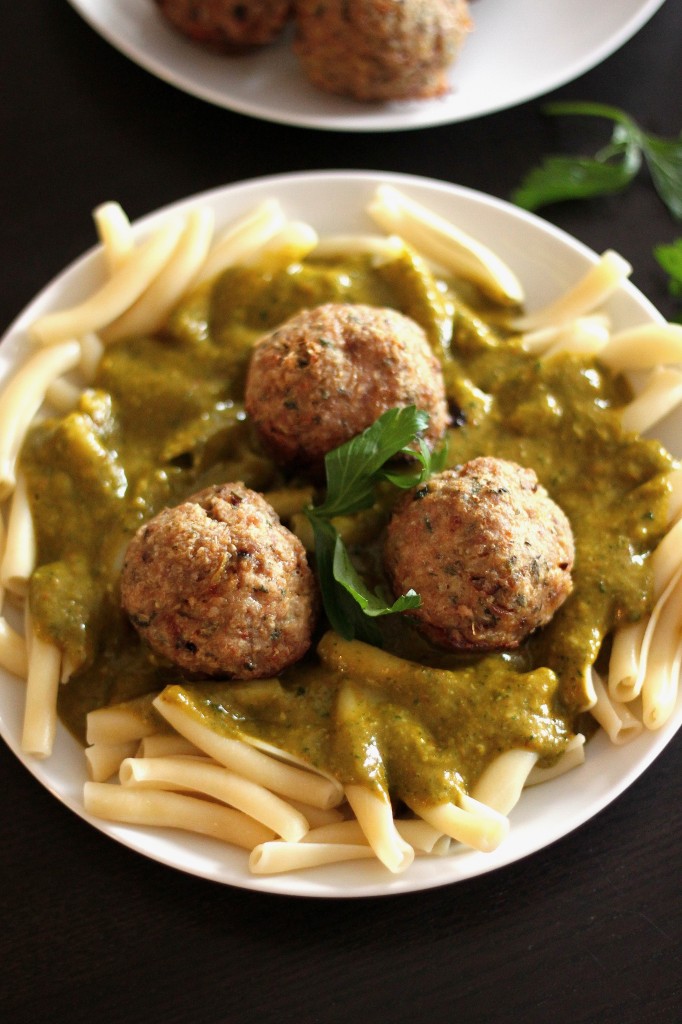 Hi guys!
Today I'm excited to share with your our favorite (turkey) meatball recipe!!! I've actually been working on getting this one right for a whiiiiiile. Turkey meat can be, er, tricky… I think it's a texture thing? Anywho. While it's been a mostly delicious – other times daunting – recipe testing road, I'm glad this one if finally ready to be typed up. Let's talk meatballs!
What makes these so great you (may) ask? Well, let's start at the best part – the asiago cheese and fresh herbs. They're what makes these meatball magic! The fresh herbs can be adjusted to your tastes, but I used sage, thyme, rosemary, and parsley. They're cooked just a little bit before they go into the mix, so don't worry about them being too overpowering. Plus, the asiago cheese helps balance everything out with it's bold but lovely presence. Win!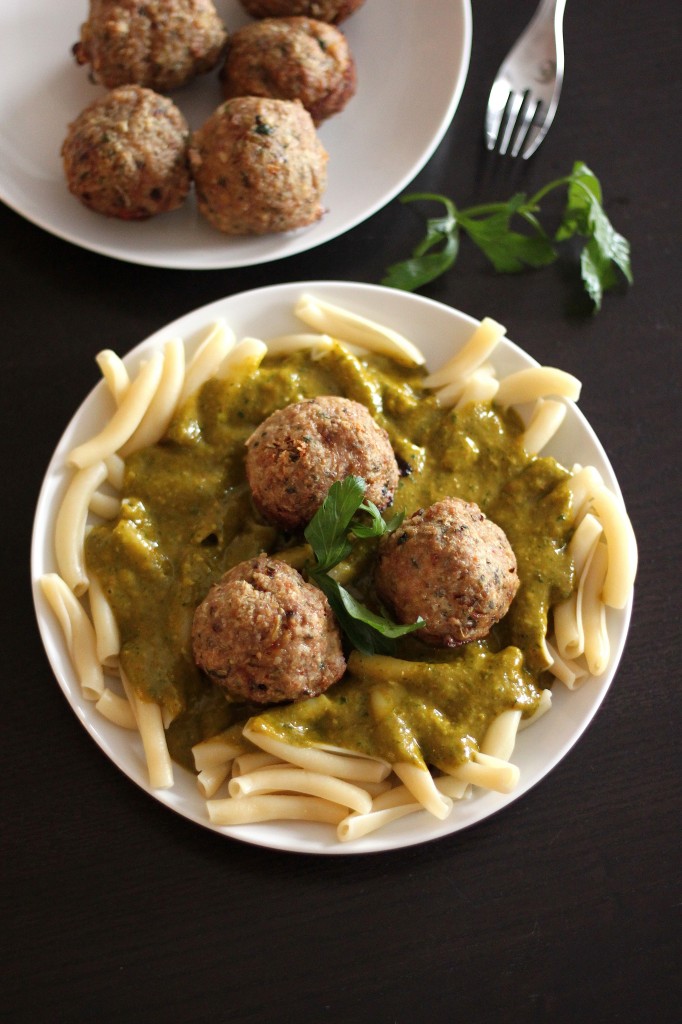 Oh, and these guys are baked (in a mini muffin tin if you happen to have one!), not fried, so there's really no mess/ scary flying oil involved! Woot!
Just plop a few on top of your favorite pasta (or sub/rice/etc), and get ready to be taken over to the turkey side 😉
Happy Tuesday, friends! xo
Quick and Easy Turkey Meatballs with Asiago and Fresh Herbs – Baker by Nature
Makes 8 large meatballs; 16 small ones
Ingredients:
1 tablespoon olive oil
1 pound ground turkey meat
1 large shallot, diced
2 tablespoons fresh parsley, minced
1 teaspoon rosemary, minced
1 teaspoon fresh thyme, minced
1 teaspoon fresh sage, minced
2 cloves garlic, minced
1 teaspoon worcestershire sauce
2/3 cup panko bread crumbs
1 large egg, at room temperature
2/3 cup finely grated asiago cheese
1/2 teaspoon salt
1/2 teaspoon freshly ground black pepper
Instructions: 
Preheat oven to 400 degrees (F). Lightly grease a mini muffin pan (or a large baking sheet if the muffin pan isn't an option); set aside.
In a small skillet over medium heat saute the oil, shallot, and herbs – stirring occasionally – until they've both softened quite a bit; about 3 – 4 minutes. Add garlic and cook for another minute before turning off the flame and removing the pan from heat.
In a large bowl mix together the turkey, worcestershire sauce, panko, egg, cheese, salt, and pepper. This works best if you use your hands! Stir in the slightly cooled shallot/herb mixture.
Scoop a 2 tablespoon – 1/4 cup sized mound of the meat from the mixture, roll it into a firm ball, then place on prepared pan. Repeat for remaining meat mixture.
Bake meatballs for 22 – 24 minutes, or until golden and crisp on the outside.