I call this banana bread sneaky for a very good reason – it is just that.
From the outside, it's a picture of pure and utter indulgence. I mean, that glaze? With the bourbon! And the vanilla beans! Oh, mama. It's ridic. It's what all glazes should aspire to be!
Buuuuuuuuuuuut! That's totally not the sneaky part (although, if you eat enough of that glaze, a little buzz will sneak up on you – no doubt!). The sneaky part is what's hiding on the inside. Because, it's what's inside that counts, right?
Inside this luscious loaf is – go ahead, roll your eyes(!) – olive oil and maple syrup! Yes – I am obsessed. No – I cannot stop. No… I haven't even tried.
P.S. I do have copious amount of butter on the way, too – I pwomise!
One of the most important parts to baking a beautiful loaf is choosing the most butter faced bananas possible. You want them dark, disgusting, and close to death. They should look something like this: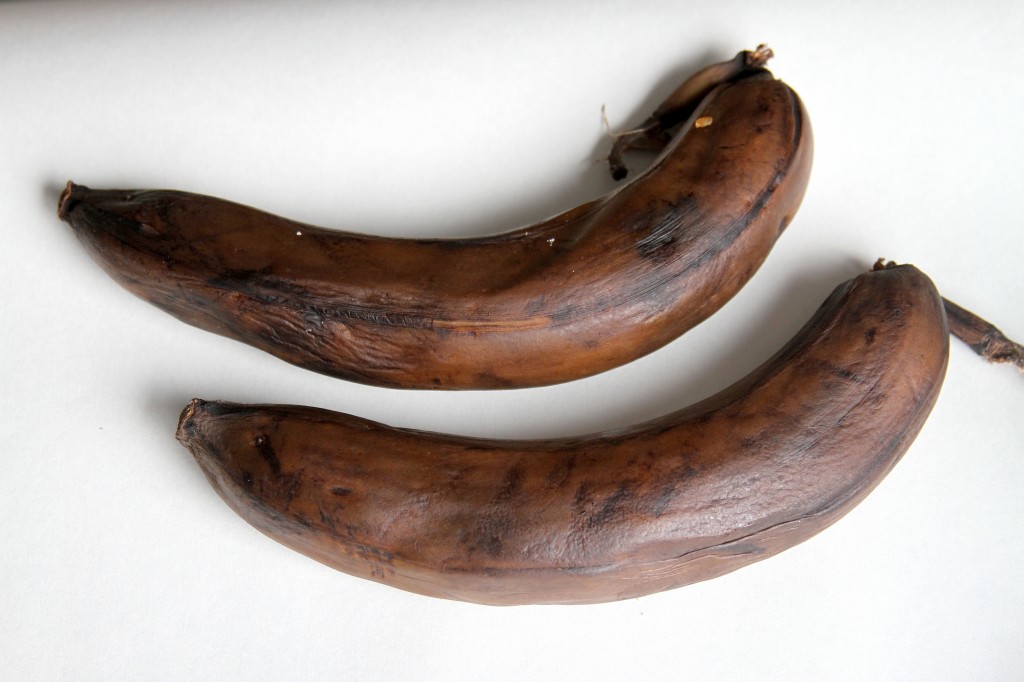 They might not be lookers, but they make a darn good loaf of bread. Sometimes ugly works.
When it comes to choosing your olive oil and maple syrup, I find using quality choices in both categories really makes all the difference in the final product.
Note – when I say quality, I don't mean fancy. Although fancy would be fine, I'm just asking you to explore using a nicer bottle than the Aunt-Ja-you-know-who one that they sell next to the cereal or the olive oil that is mixed with other crappy oils that won't taste as lovely as the pure stuff. A nice bottle of maple and olive oil are key kitchen investments if you use them frequently. I promise you won't regret the upgrade.
Let's move on to the glaze. The glaaaaaze! Dude, I don't even want to tell you how many tablespoons of this boozed up bourbon/maple/vanilla bean concoction were consumed before 9 am… good thing I walk to work.
Overall, this banana bread is a win. It's got bananas, olive oil, maple syrup, AND flippin' bourbon. Let's make a loaf, share the love, and be happy un-hungry people. It's the thing to do!
Sneaky Banana Bread with Vanilla Bean – Bourbon Glaze – Baker by Nature
Yields one large loaf, or three mini loaves
2 cups all-purpose flour
1 teaspoon baking soda
1/2 teaspoon salt
1/2 teaspoon cinnamon
1/4 teaspoon ginger powder
1/2 cup olive oil
2/3 cup maple syrup
2 large eggs, at room temperature
2 large, very ripe bananas, peeled and mashed
1 teaspoon vanilla extract
1/2 cup plain yogurt (greek will work)
Instructions:
In a mixing bowl whisk together flour, baking soda, salt, cinnamon, and ginger. In a separate (large) mixing bowl whisk together the maple syrup, olive oil, eggs, banana, and vanilla, stirring until well combined. Gradually add the dry mixture into the wet one, stirring until most of the flour has disappeared. Fold in yogurt, and then pour batter into prepared pan(s). Bake for 55-60 minutes, or until a cake tester comes out clean.
Cool bread in baking pan for 5-10 minutes before transferring to a baking sheet to cool completely. Once bread is on baking sheet, gently pour on glaze, letting it drip whichever way it pleases. It's a good idea to put a piece of parchment paper underneath the cooling wrack so you can re-glaze it with the drippings, and have an easier clean up.
Vanilla Bean – Bourbon Glaze – Baker by Nature
Yields about 1/2 cup of glaze
1 vanilla bean, sliced and scraped
1 tablespoon bourbon (you can add more if it's not strong enough)
2 tablespoons maple syrup
6 tablespoons powdered sugar
Instructions:
Combine all ingredients in a small bowl and whisk until evenly combined. Pour glaze over baked cake.