Sweet and fruity, this supremely moist banana bread is bursting with tropical flavors. One slice is sure to cure even the fiercest Winter blues.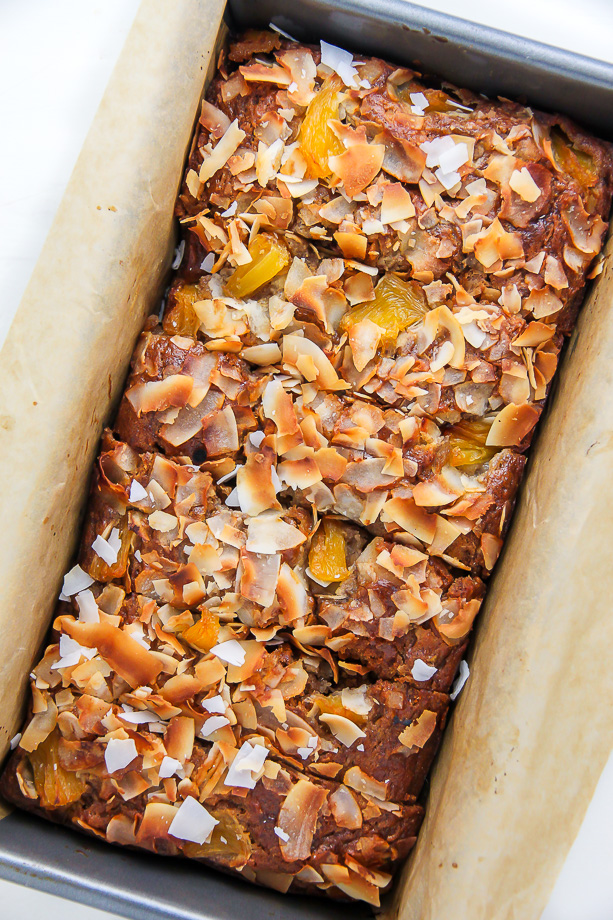 And just like that, it's Wednesday! Where the heck did this week go? My apologies for things being so quiet here the past few days. I'm a little under the weather and it has been FREEZING here. Like, literally. So life has been all about sleeping, dreaming, eating, and more sleeping.
I'm going to make it up to you, though. I'm bringing you a tropical island in the form of banana bread, baby! No passport required.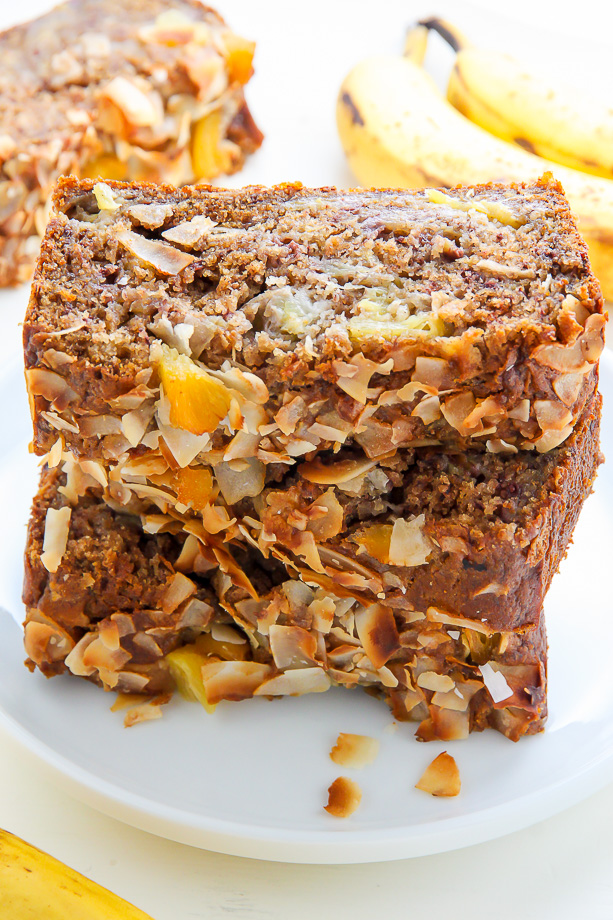 The flavors of coconut, pineapple, and banana are so lovely together. And the smell? Intoxicating! Seriously. While this bakes up in your oven, do me a favor… close your eyes, breath deep, and imagine yourself relaxing on an island, sipping a piña colada and soaking up some sun. You'll thank me later.
But I digress. Back to the banana bread! I've been eager to try my hand at a tropical version for months now because anything fresh and fruity makes me happy happy.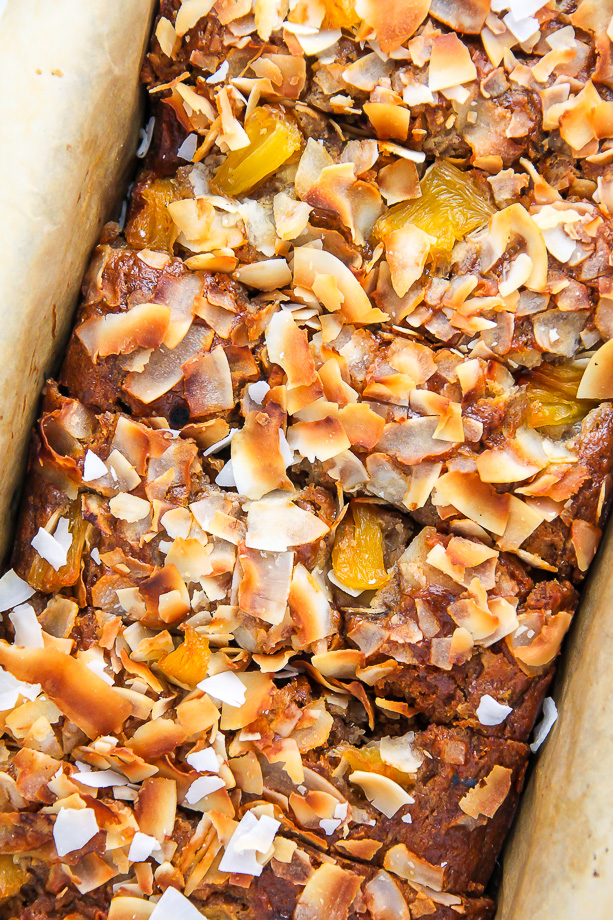 Initially I wanted to make this with brown butter (because um, doesn't brown butter make everything SO delicious?) but when I tried it, I found the tropical flavor a little… lacking. So the second time I baked this I used coconut oil and holy heaven. It was so right.
Did I mention this banana bread is vegan? But don't worry! It's effortlessly vegan. No crazy, funky, hard to find ingredients here. To prove it, here's what you need: flour, brown sugar, coconut oil, spices, vanilla, baking soda, applesauce, pineapple, ripe bananas, and shredded coconut.
That. is. it!!!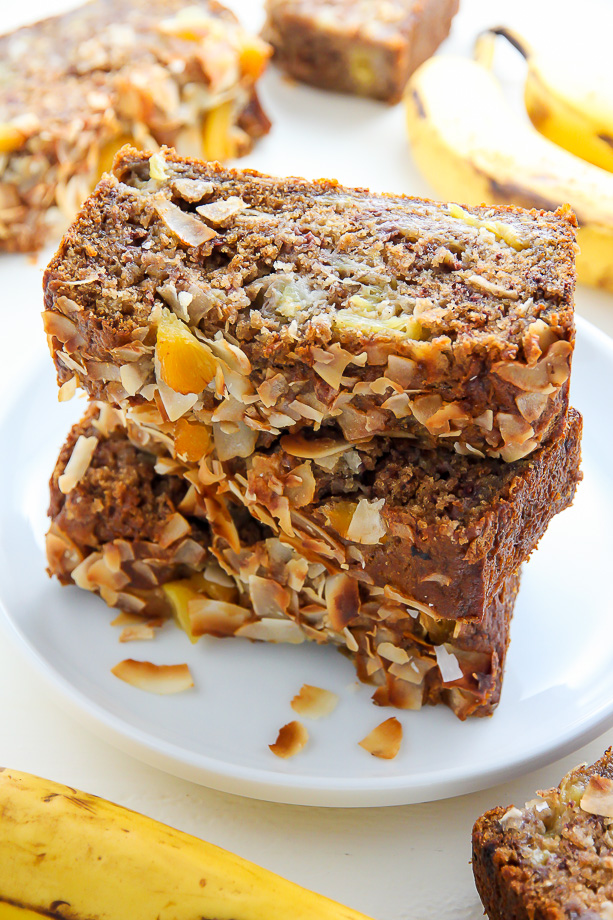 P.S. No one can resist this banana bread – so be prepared to share. I served this for brunch last weekend and it was gobbled up in minutes.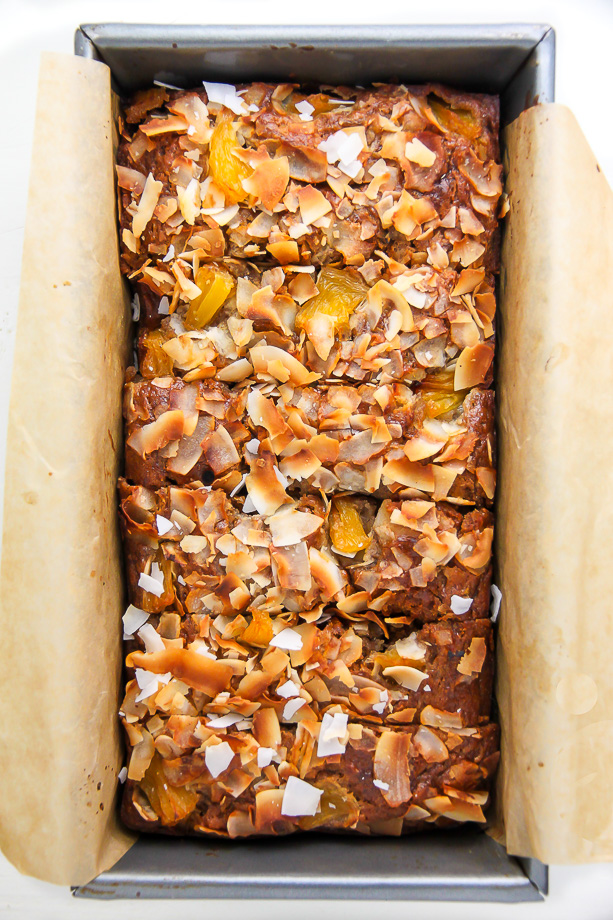 If you try this recipe, let me know! Leave a comment below and don't forget to snap a pic and tag it #bakerbynature on instagram! Seeing your kitchen creations makes my day. ♥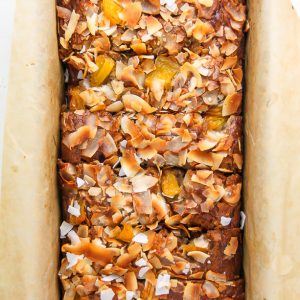 Tropical Banana Bread
Sweet and fruity, this supremely moist banana bread is bursting with tropical flavors.
Ingredients
1/2 cup coconut oil, liquified
1 cup light brown sugar, packed
1/2 cup unsweetened applesauce
2 teaspoons vanilla extract
1 and 1/2 cups all-purpose flour
1 teaspoon baking soda
1/2 teaspoon salt
1/2 teaspoon ground ginger
1/4 teaspoon nutmeg
1/2 teaspoon cinnamon
1/2 cup crushed pineapple
1/4 cup pineapple juice
1/2 cup flaked coconut
3 ripe bananas, mashed
Instructions
Preheat oven to 350 degrees (F). Grease a 9x5 inch loaf pan and set aside.

In a large bowl, whisk together the coconut oil and brown sugar, beat well to combine. Add the applesauce and vanilla, beat well and set aside. In a separate bowl combine the flour, baking soda, salt, ginger, nutmeg, and cinnamon, whisk well to combine. Add the dry mixture into the coconut oil mixture, whisking just until smooth. Finally, fold in the crushed pineapple, pineapple juice, coconut, and bananas. Pour batter into prepared pan, smoothing the top with a spatula.

Bake for 50-60 minutes, or until a toothpick inserted into the center of the loaf comes out clean. Cool loaf in the pan for 10 minutes before removing to a wire rack to cool completely.