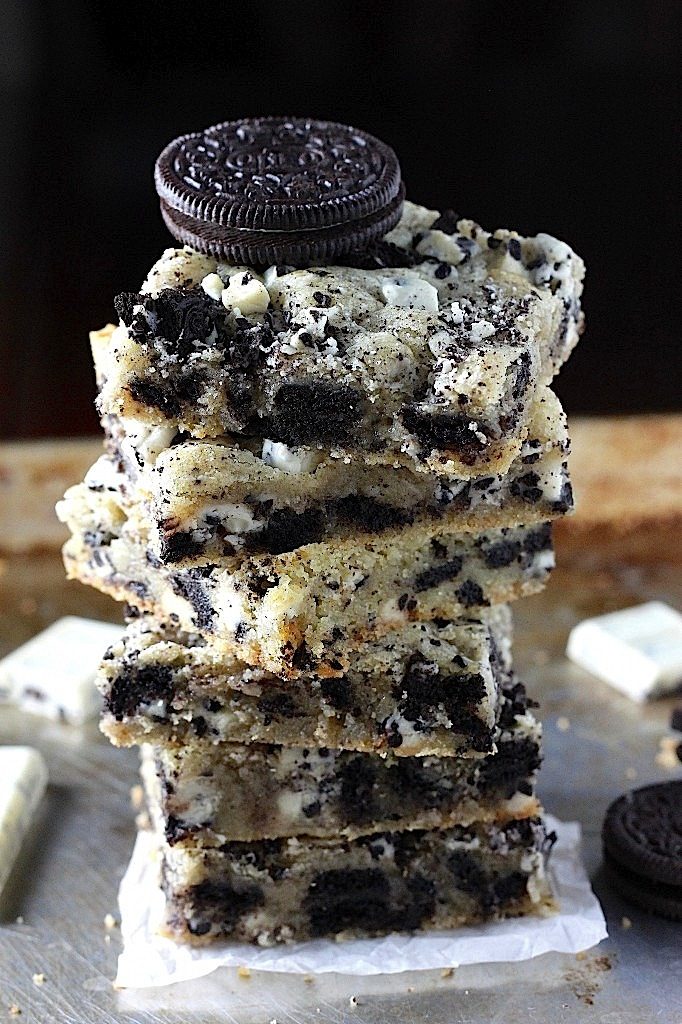 The only thing better than leftover Halloween candy? Mega on SALE Halloween candy! I found myself at CVS yesterday afternoon heading to the counter with 8 bags of fun-sized candy bars (and 3 bottles of nail polish) all marked 75% off. SCORE! I seriously cannot resist a good deal! And why should I? You can never have too much candy…
If I ran the world I'd shower you all in tiny candy bars and Oreo cookies. I'm a treat yo' self and others kind of lady 😉
One of the bags I purchased contained miniature cookies and cream candy bars… and I knew just what to make! Ultimate cookies and cream blondies! I love – no LOVE – blondies, and every time I make a batch I say to myself "damn girl, you gotta make these more often!" They are just the best! Thick, chewy, loaded with crunchy Oreos and gooey cookies and cream candy pieces. Le sigh… I'm pretty sure I ate three before I took one single photo. For recipe testing purposes, of course 😉
One heaping cup of cookies and cream candy + one heaping cup of chopped Oreo cookies iiiiiiin the batter! Hello, heaven.
P.S. how funny is this frown face spatula? I use it whenever I want a good chuckle. Wait… is it weird that a mad face makes me smile? #issues.
Ultimate Cookies and Cream Blondies are the perfect thing to make when you want something that's no fuss, no hassle, no fancy/expensive ingredients needed BUT is totally tasty, seductive, and delicious! The batter takes about 5 minutes to throw together and you won't need to bust out the stand mixer – or even handheld mixer for this recipe. Just a few bowls and a spatula and you're set!
The bars will bake in the oven at a low temperature of 325 degrees for about 30 minutes, give or take a few minutes depending on your oven. Mine are always ready at exactly 24 minutes, but I swear my oven runs HOT (even though we have an internal thermometer that says otherwise…). I've found that baking these bars for a little longer than usual at a lower temperature allows them to bake up niiiiiice and soft inside while keeping that crunchy exterior we all love.
We loved these bars straight out of the oven, but wanna know a little secret? I thought they tasted even better the next morning with my coffee. Maybe it was just the coffee (I sure do love coffee + treats), but I have a feeling these blondies will stay chewy and wonderful for days to come! xoxo
Ultimate Cookies and Cream Blondies
Ingredients
2 1/8 cups all purpose flour
3/4 teaspoon salt
1/2 teaspoon baking soda
1 and 1/2 sticks (6 ounces) unsalted butter, melted
1 cup granulated sugar
1/2 cup packed light brown sugar
2 large eggs, at room temperature
1 teaspoon vanilla extract
1 cup chopped cookies and cream chocolate candy bars (I used Hershey's brand)
1 cup Oreo (or similar) cookies, chopped
Instructions
Preheat oven to 325 degrees (F). Spray a 9x13-inch baking pan with nonstick cooking spray; set aside.

In a medium-sized bowl mix the flour, salt, and baking soda together until well combined; set aside. In a separate larger bowl whisk the melted butter and sugars together until well combined. Add the eggs and vanilla and mix well. Using a rubber spatula, fold the dry ingredients into the wet mixture, stirring until just combined; do not over mix.

Fold in the chopped cookies and candy pieces. Scrape the batter into the prepared pan, smoothing the top with the spatula.

Bake until the edges of the bars is light golden brown and the center is almost completely set, about 25 minutes (although it may take up to 30 minutes depending on your oven and how it runs).

Cool bars in the pan for at least 10 minutes before transferring them to a cooling rack. When ready to serve, Cut into small squares and serve. These are really good with milk and or coffee 🙂