These thick and chewy Brown Butter M&M Blondies are irresistible! An easy cookie bar that's loaded with chocolate chips and M&M candies. Loved by kids and adults, this blondie recipe is always a crowd pleaser!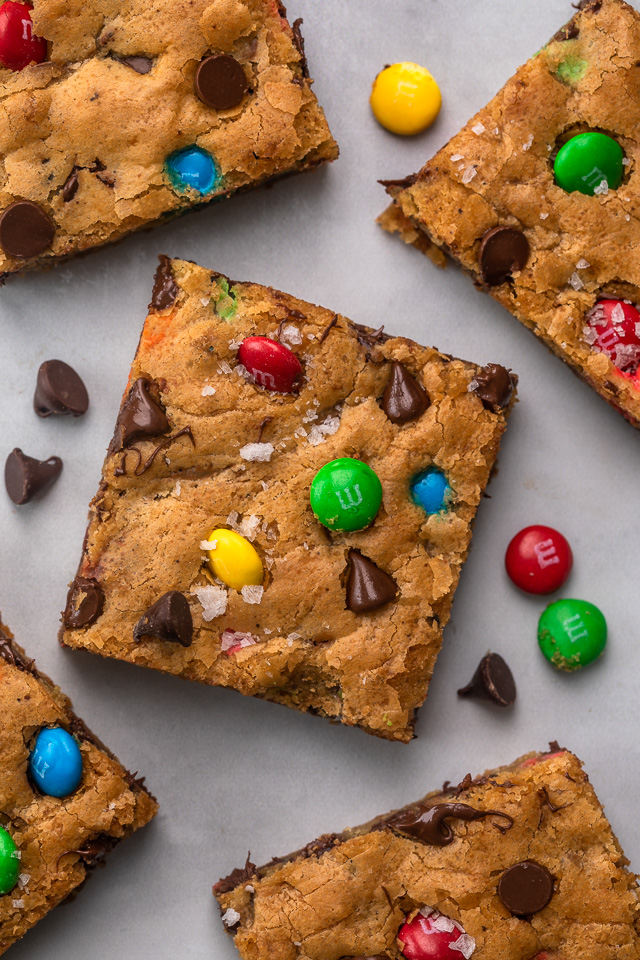 M&M Blondies Recipe
Happy Monday! How was your weekend? How was your Easter? We indulged in an extra lazy few days that included carrot cake for breakfast, an epic parks and rec marathon, and way too many mimosas! I'm definitely in need of a green juice/green toast detox day… but first, just one more bite of these brown butter M&M blondies 😉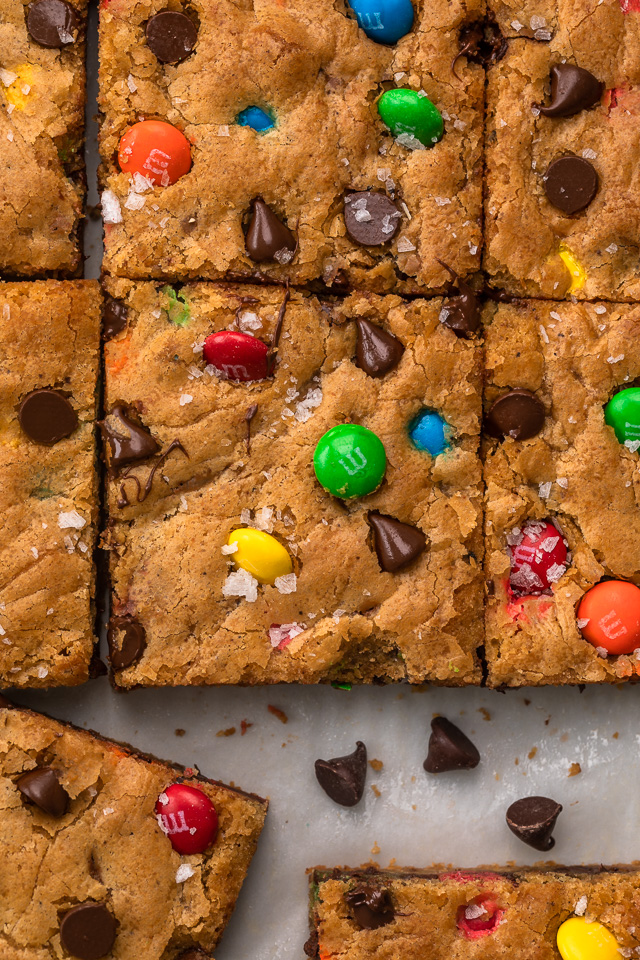 These blondies are wildly delicious and super simple! To make them you will need butter, sugar, eggs and egg yolks, flour, salt,  and M&M's. M&M baking bits or M&M's will work just fine! And I like to throw in some chocolate chips, too! But this is totally optional! The most complicated ingredient is probably the brown butter… but don't skip it! Because it gives these blondies epic flavor! And I've got all of the details on how to make brown butter below!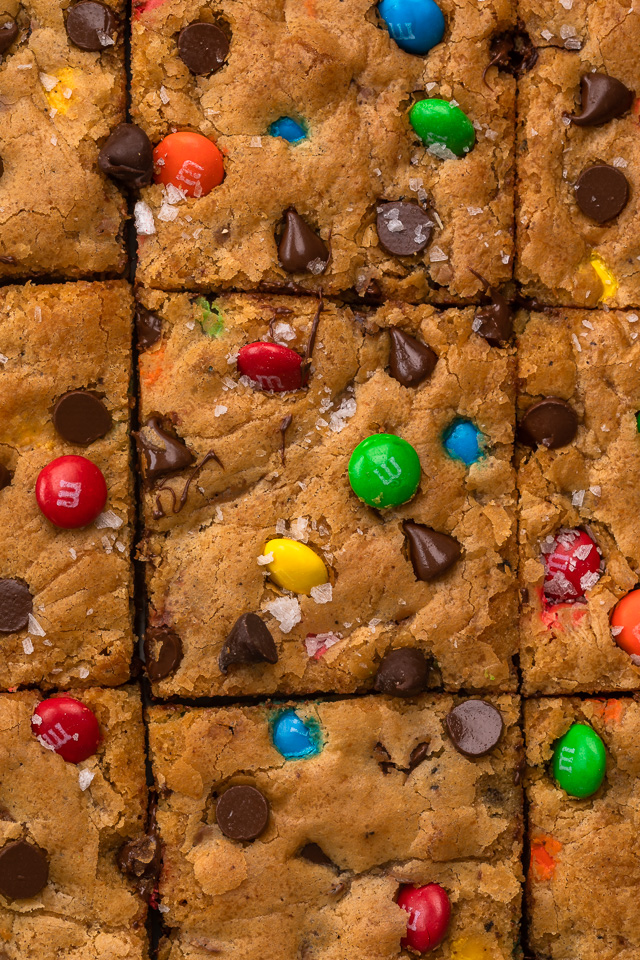 How to Brown Butter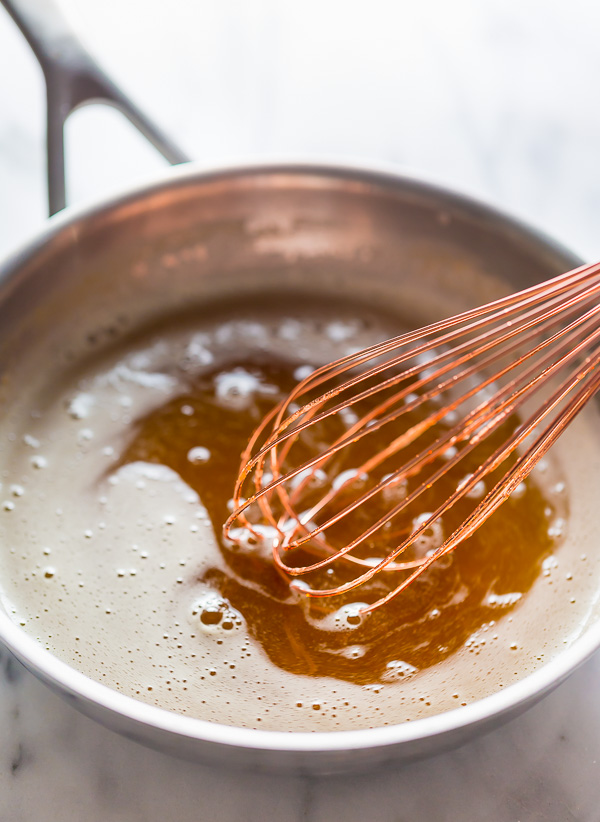 Brown butter is so delicious and easily made right on your stove top. All you need is a stick of butter, a pan, and some patience. The transformation from melted butter to browned butter is made by toasting the milk solids in butter so that the liquid turns a deep, rich, nutty brown. It adds a delicate, nutty taste to the blondie batter that really elevates the flavor in these blondies to a whole new level of delicious.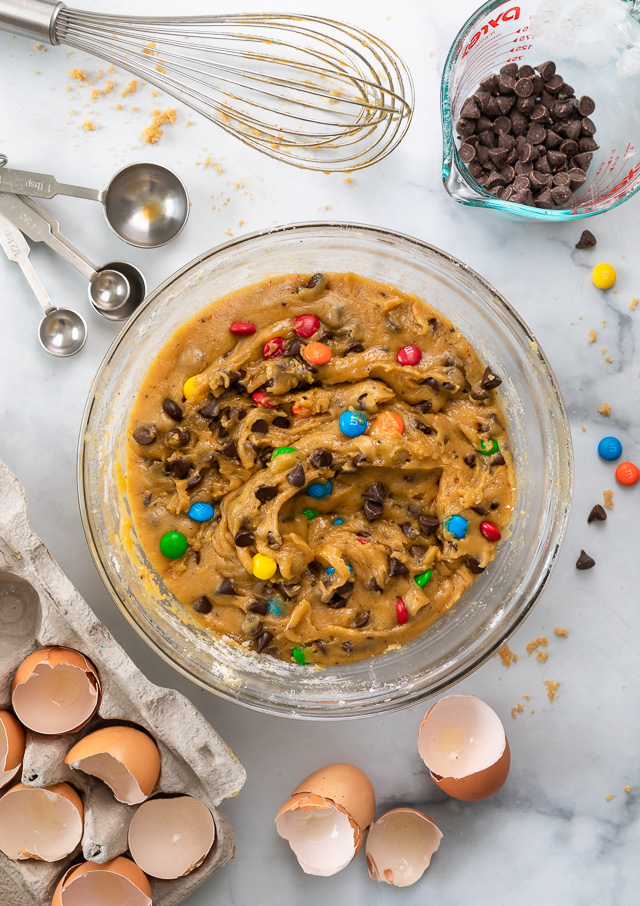 To make the brown butter you'll simply take a stick of unsalted butter and place it into a cold saucepan. You'll melt the butter over medium-heat, stirring it periodically to make sure that the butter does not burn. The simmering butter will begin to foam slightly, and eventually it will begin to turn a nutty brown color. When it has browned evenly, simply remove it from heat. Be sure to stay especially attentive at the end of the browning process to avoid burning the butter.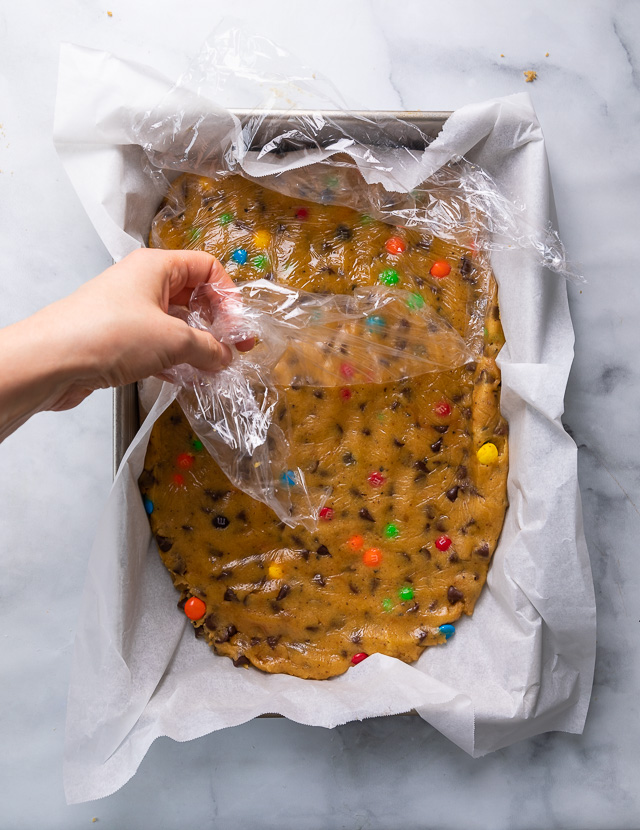 Time to Bake
Once your batter is assembled, you'll want to scrape it into a 9×13-inch baking pan and press it evenly into the pan. The batter is very thick, so the easiest way to do this is place a piece of Saran Wrap on top of the blondie batter and press it with your hands. Then pop it into the oven for about 30 minutes! I usually pull mine out at 24 minutes… but a lot of people like theirs more "well done", so if that's you, bake a few extra minutes. But remember, the blondies will continue to cook and firm up even after you take them out of the oven!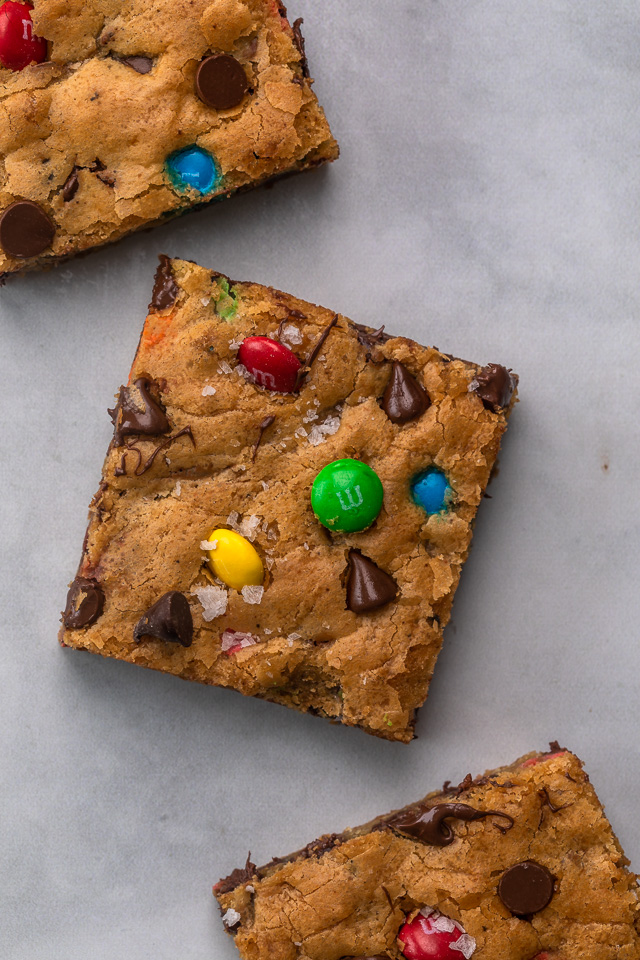 Thick and chewy M&M blondies are so easy and delicious! No wonder they're always a crowd-pleaser. This is a great recipe for birthday parties, picnics, and potlucks! Enjoy!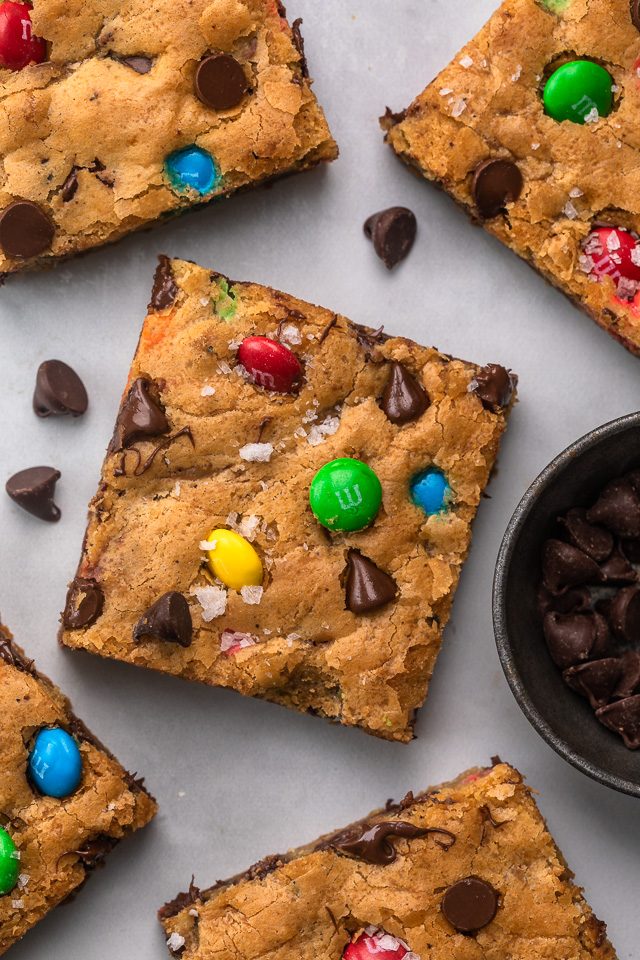 If you try this recipe, let me know! Leave a comment below and don't forget to snap a pic and tag it #bakerbynature on Instagram! ♥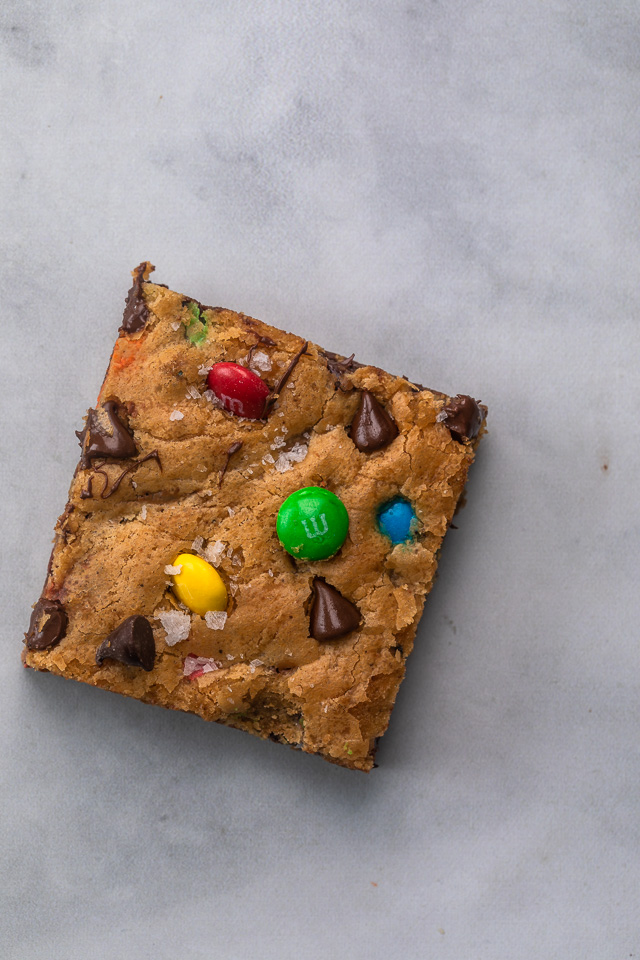 More M&M Recipes: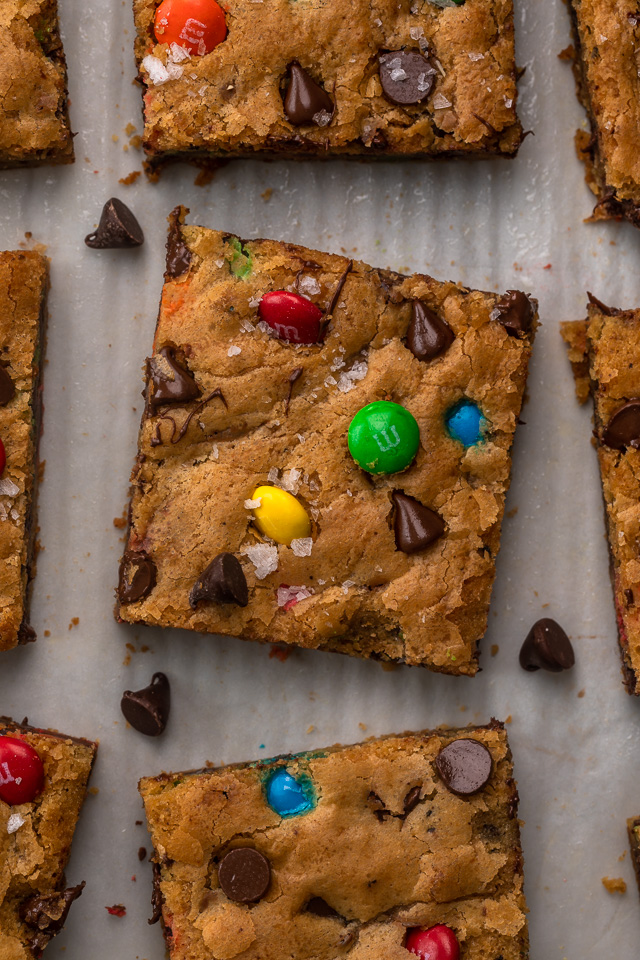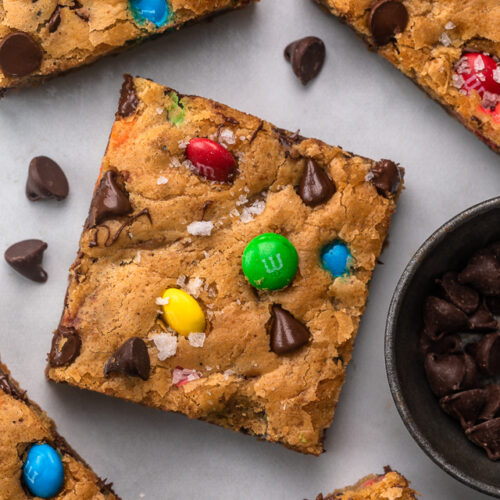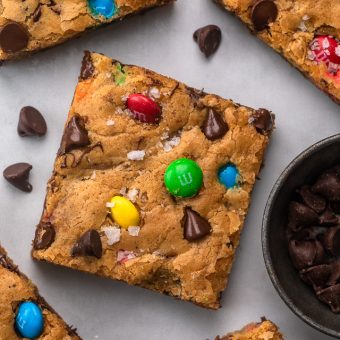 Chewy Brown Butter M&M Blondies
Thick and chewy Brown Butter M&M Blondies. Everyone loves these!
Ingredients
1 cup (227 grams) unsalted butter, melted until browned
1 and 1/2 cups (319 grams) light brown sugar, firmly packed
1/4 cup (50 grams) granulated sugar
1 Tablespoon vanilla extract
2 large egg plus 2 egg yolks, at room temperature
2 cups (245 grams) all-purpose flour
1/4 teaspoon salt
1 and 1/4 cups (210 grams) M&M candies
1/2 cup (85 grams) semi-sweet chocolate chips
Flaky sea salt, for sprinkling, optional
Instructions
Preheat oven to 350 degrees (F). Line an 9x13-inch baking pan with parchment paper. Set aside. 

In a saucepan over medium heat, melt butter. Continue cooking, swirling the pan occasionally, until browned. 

Remove from heat and cool for a few minutes, then scrape the butter into a large heat proof mixing bowl.

Whisk in both sugars and mix until well combined. Stir in the vanilla. Then add in the eggs and egg yolks, beating until combined. 

Using a rubber spatula, fold in the flour and salt, mixing until just combined. Finally, fold in the M&Ms and chocolate chips. Scrape the batter into the prepared pan. 

Bake for 26 to 30 minutes, or until the edges are firm and golden and the center is just slightly wobbly.

Cool in pan for at least 1 hour before cutting. Sprinkle with flaky sea salt before serving, if desired. 

 
Notes
Recipe & Photos updated 2/1/2021.