This 20 Minute Lemon, Garlic, and Herb Baked Cod is fresh, flavorful, and fast! Perfect healthy dinner option for any night of the week.
Lemon Garlic Cod
We cook a lot of fish at our house. It's not just an occasional thing; it's a couple of times a week… at least. I especially love cooking cod often because it's one of those ingredients you can go as basic or as flavor crazy with as you please.
For this recipe I've teamed up with Alaska Seafood to bring you a quick, flavorful, and super easy 20 Minute Lemon, Garlic, and Herb Baked Cod. This recipe is so easy to throw together – even on those nights when you really don't feel like cooking (!!!) – and just bursts with healthy, fresh flavor. We like to pair it with brown rice and salad for a light yet hearty supper. I think couscous or quinoa would also pair wonderfully with this flavorful fish.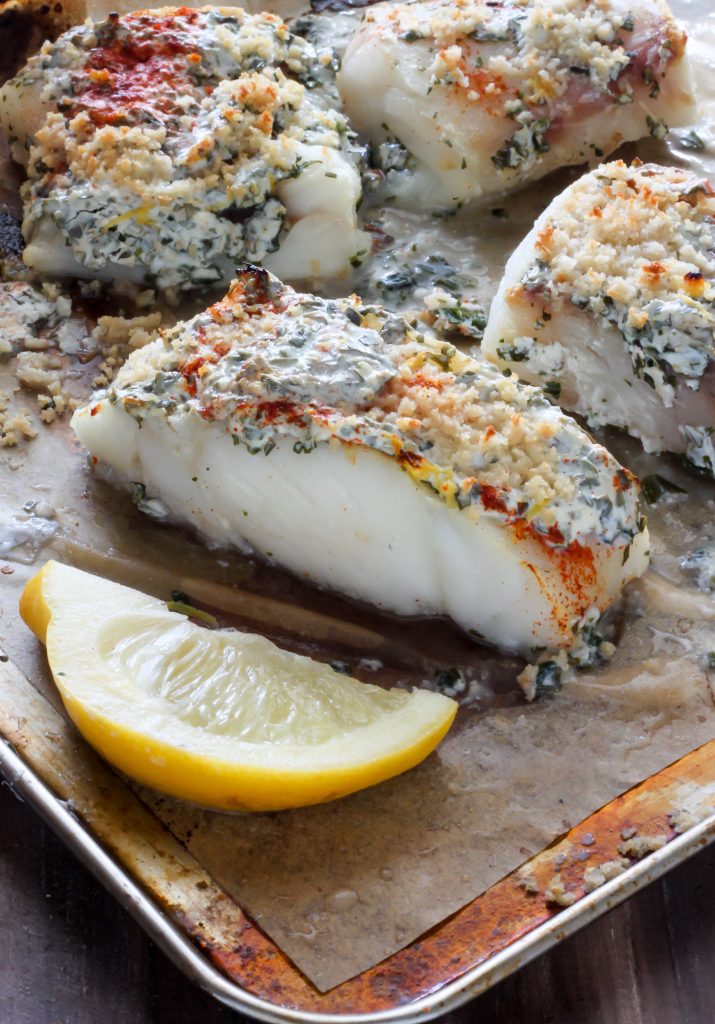 Alright so let's talk about what makes this fish the flavorful powerhouse it is. Our ingredient list includes olive oil, whole wheat panko breadcrumbs, Greek yogurt, Parmesan cheese, fresh parsley, fresh basil, garlic, lemon, salt, pepper, and paprika. If you're a little freaked out by the idea of fish and dairy (the cheese and yogurt) – don't be! I promise it melts into the fish beautifully and tastes incredible.
Whoops! Forgot one very important ingredient in the list above: THE COD. I used Alaska frozen cod for this recipe which I easily swiped up at our local grocery store. I love fresh fish, but frozen fish can be seriously convenient! I also loved that the cod was already cut into fillets, making my job even easier.
Are you familiar with Alaska Seafood? It's the best. Alaska produces seafood with a delightfully firm texture and superior flavor that is full of high quality protein, vitamins, minerals and oils essential to good health. With five species of salmon, several varieties of whitefish, and numerous shellfish species, Alaska offers mouthwatering seafood options for every taste and cooking method and is available fresh, frozen and canned year round. Alaska seafood is high in protein, low in saturated fat, low in sodium and one of the best sources of heart-healthy omega-3 fatty acids. In a nutshell, Alaska Seafood is all of the things you want in a fish company.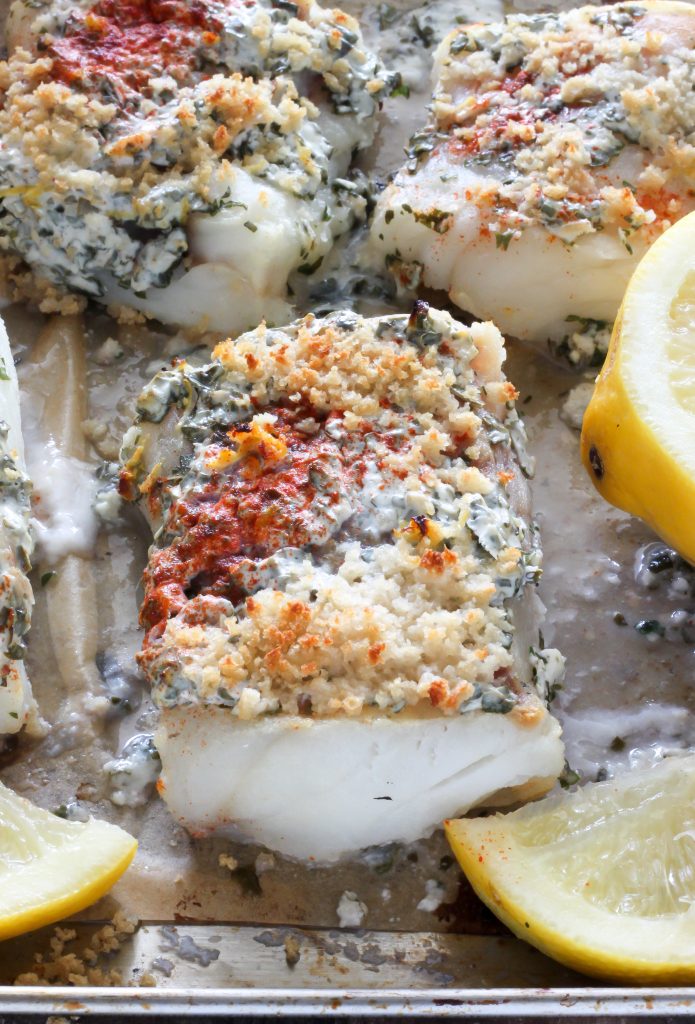 I hope you'll give this easy, flavorful cod recipe a try next time you get a seafood craving; I promise it won't let you down! xoxo
More Cod Recipes: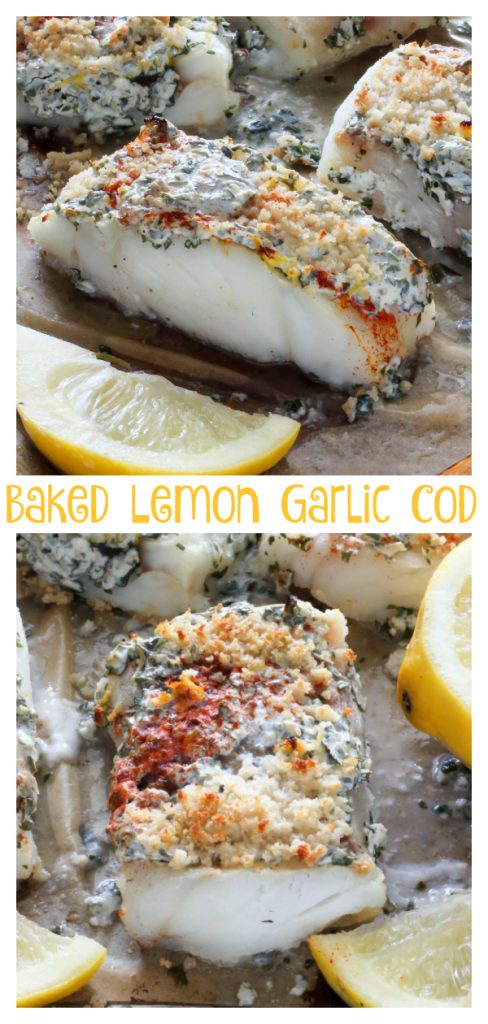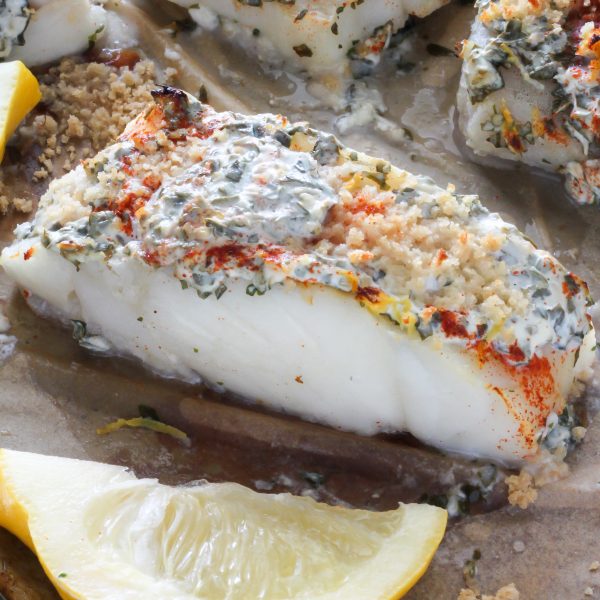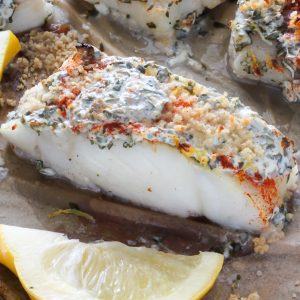 20 Minute Lemon, Garlic, and Herb Baked Cod
Baked Cod loaded with lemon, garlic, and herbs! This healthy meal is so moist and flavorful. Ready in just 20 minutes!
Ingredients
1 tablespoons olive oil
1 cup whole wheat panko breadcrumbs (regular panko or plain breadcrumbs will work in a pinch)
1/3 cup full-fat Greek yogurt
3 tablespoons Parmesan cheese, grated
1 ⁄4 cup fresh parsley, chopped
1/4 cup fresh basil, chopped
2 -3 garlic cloves, grated or finely minced
1 large lemon, juice and zest, divided
3 ⁄4 teaspoon fine sea salt, more if needed (adjust according to taste)
1/2 teaspoon paprika
1/4 teaspoon black pepper
4 (8 ounce) Alaskan Cod fillets
Instructions
Preheat the oven to 400 degrees (F). Line a large baking pan with parchment paper; set aside.

In a small bowl combine the olive oil and breadcrumbs, toss well to coat them evenly in the oil; set aside.

In a medium-sized bowl combine the Greek yogurt, Parmesan, parsley, basil, garlic, lemon zest, salt. paprika, and pepper. Spoon the yogurt mixture on the tops of each fillet and spread it around with the back of the spoon, then press the panko crumb mixture on top of each fillet.

Place fillets on prepared baking dish, crust-side up.

Bake until firm, about 12-15 minutes, depending on the thickness of the fish. Serve with reserved lemon juice.