Juicy large shrimp are cooked in garlic butter, white wine, and lemon juice creating the most delicious shrimp scampi ever! Sprinkled with fresh parsley and serve pasta (we love linguini or angel hair) and crusty bread.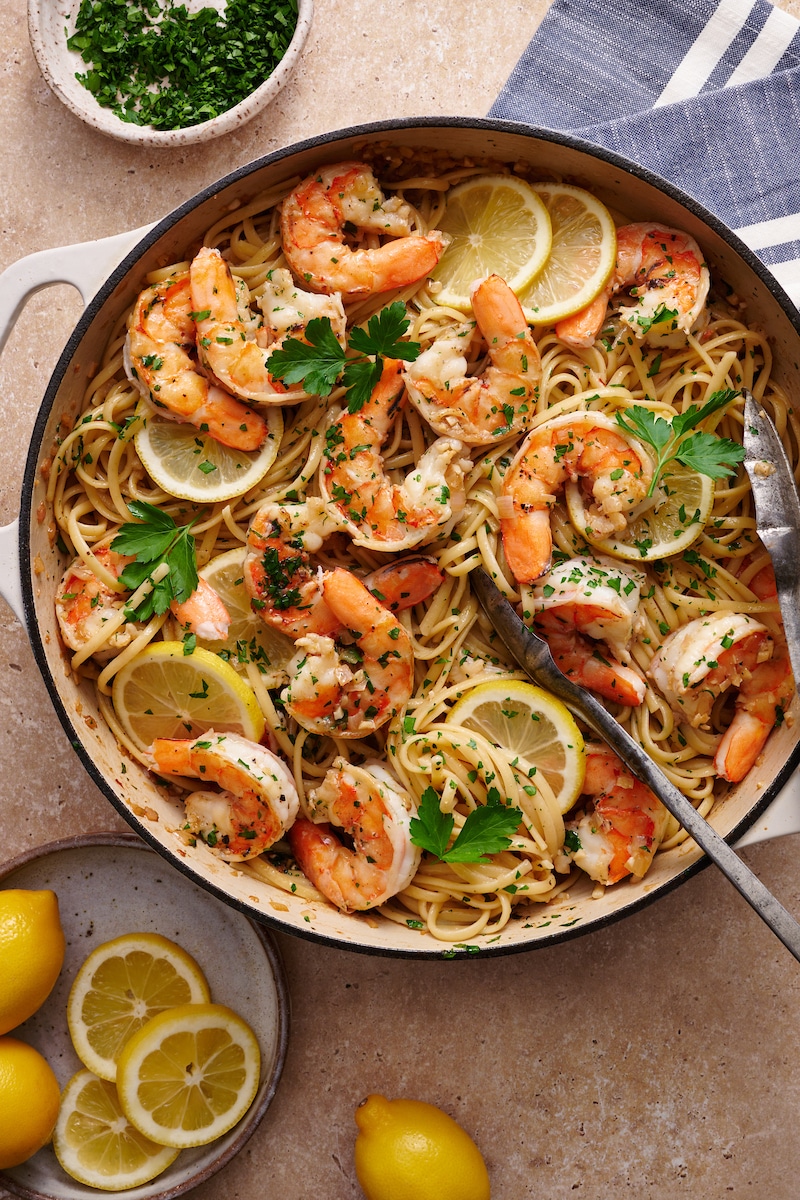 Classic Shrimp Scampi
I don't know about you… but Italian food is definitely my love language. Which probably makes a lot of sense since I grew up in a very Italian family. And then went ahead and married into a Sicilian one! Olive oil, garlic, and red pepper flakes runs though my veins.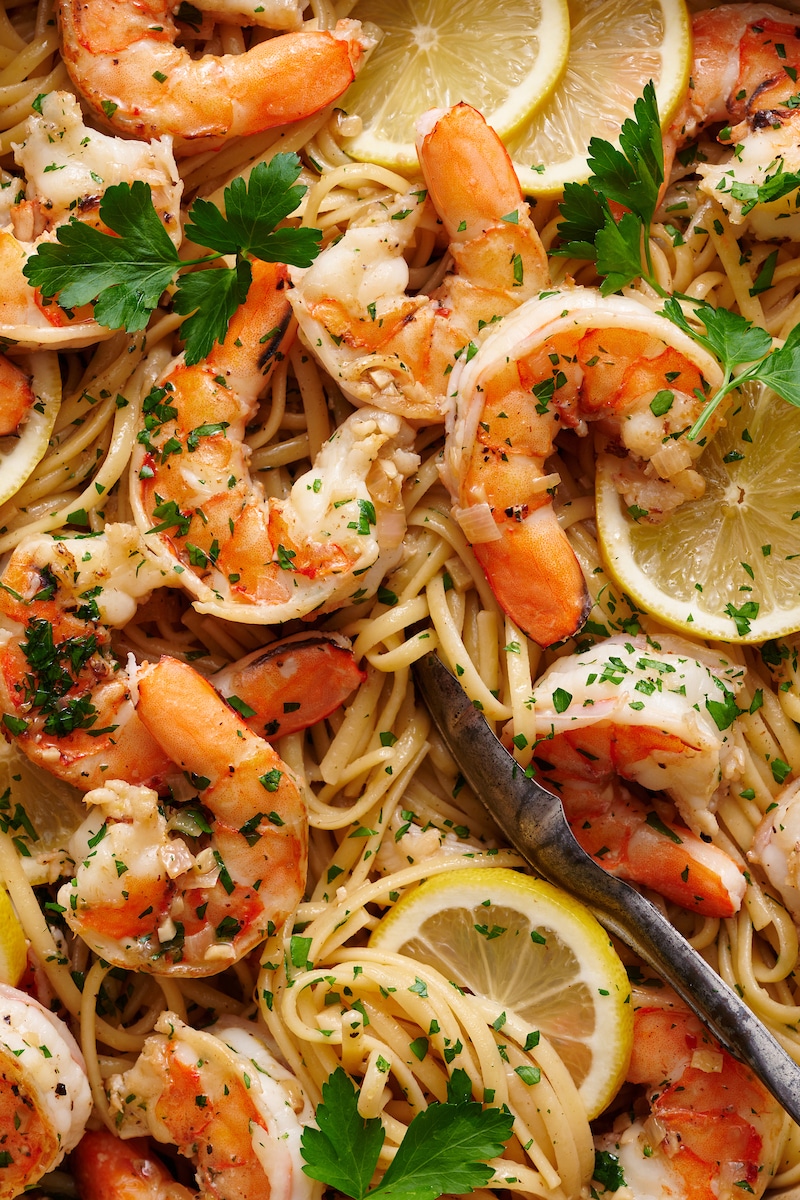 And although shrimp scampi is technically an American-Italian invention… I must confess I absolutely love it. And cook it almost once a week! It's so easy, so flavorful, and serves a crowd. No crowd to serve? Luck you: you'll have the most delicious leftovers!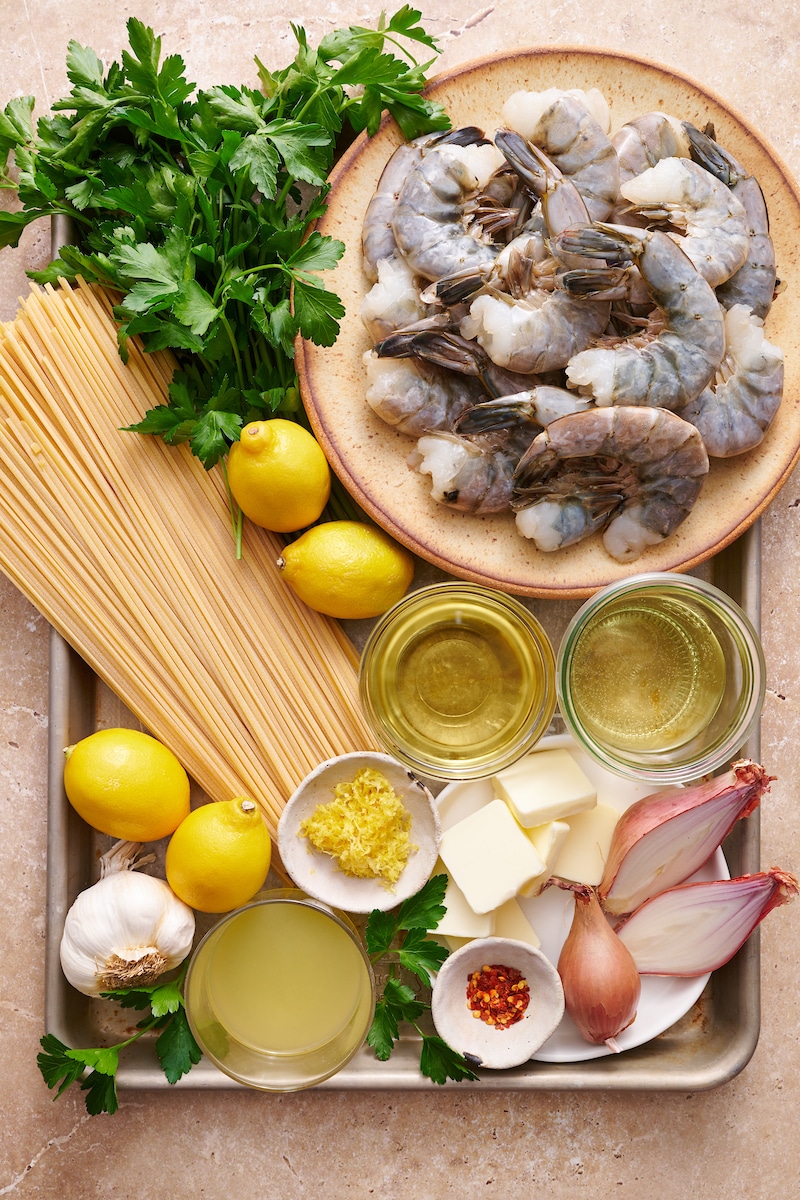 What you'll need to make Shrimp Scampi (and substitute advice):
Pasta: While you don't technically need to serve this with pasta, it's how I like to make it. I suggest using linguine or angel hair, but in a pinch any pasta will work. You could also serve this with a salad and crusty bread… or even with rice or mashed potatoes. Just be sure you have something to sop up all that delicious sauce!
Shrimp: Use wild caught shrimp if you can find them! For easy eating, I like to use remove the tails before cooking so my guests don't feel forced to touch their food, but this up to you. Frozen shrimp will work, but be sure to thaw and thoroughly dry before use.
Salt and Black Pepper: Our super star staple seasonings; you know what they do!
Butter: I suggest using unsalted butter, but salted will work if it's all you have. Scale back on the suggested salt amount, then taste and add as needed.
Olive Oil: A nice extra virgin olive oil brings great flavor to this dish. But any olive oil will technically work. I don't recommend using another variety of oil such as canola or vegetable; save those for baking.
Red Pepper Flakes: Just a touch wakes up the other flavors in the dish and adds subtle heat. Kick up the amount if you want more heat… or reduce for a mild spice.
Shallots: Add sweetness and richness to the sauce! In a pinch, sweet yellow onion makes a fine replacement.
Garlic: Do not sub garlic powder here! Fresh garlic is an absolutely must! However if you're not the biggest garlic fan you may reduce the amount to 6 cloves.
White Wine: Use something dry, like Pinot Grigio or Sauvignon Blanc. In a pinch, chicken broth makes a fine substitute.
Lemons: Do not use bottled lemon juice! Fresh lemon juice is a must for shrimp scampi; it adds so much freshness and brightness to the dish. You'll need fresh lemons anyway, as this recipe calls for lemon zest. I also suggest buying an extra lemon to garnish with, but that's optional!
Parsley: This fresh herb adds a pop of fresh flavor and color! Do not use dried parsley.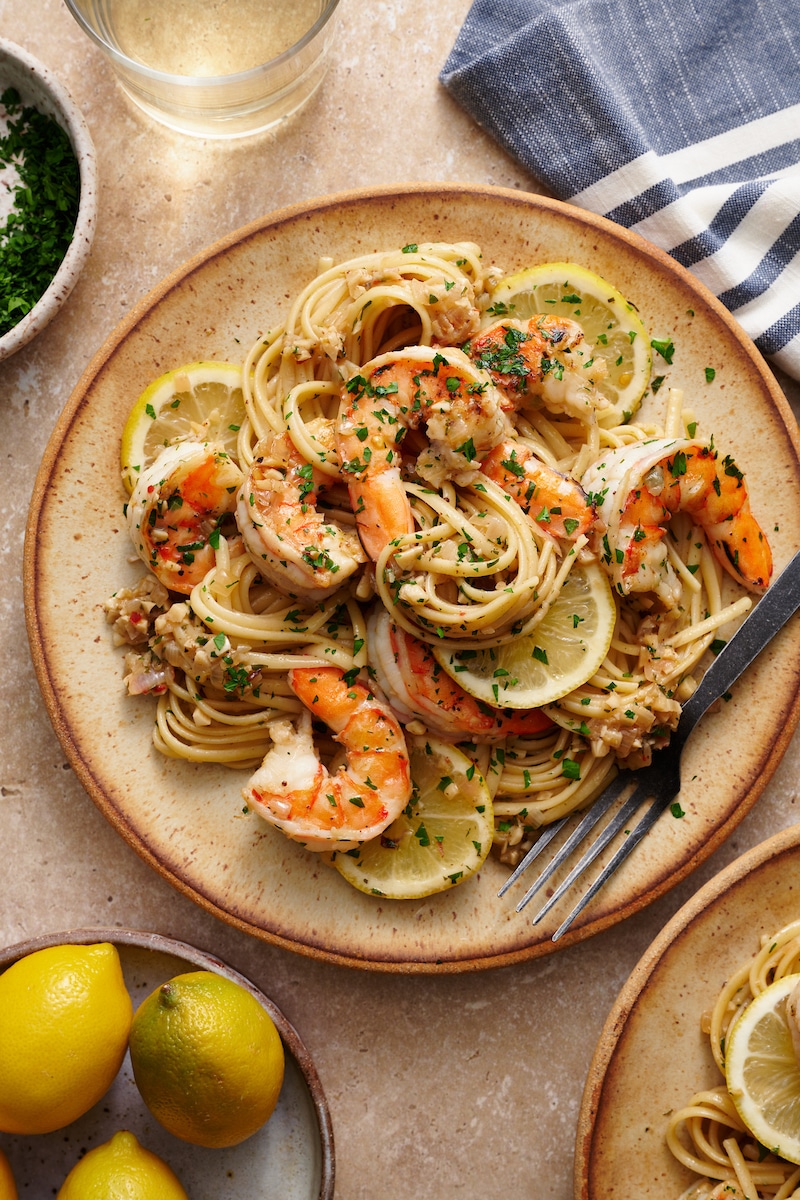 Let's make the Best Shrimp Scampi Ever!
Ready your Pasta Water: Bring a large pot of water to a boil so it's ready for the pasta! Better to have this ready to go than have to fiddle with it as you're cooking the shrimp or sauce.
Prep the Shrimp: Whether you're using fresh shrimp or frozen, you'll want to get them as dry as possible before cooking. To remove excess moisture, you'll pat them completely dry using a paper towels.
Cook the Shrimp: It's important not to overcook! You'll add the shrimp to a hot large skillet and let them cook for 2 minutes on each side, or until they turn pink and look firm. Then you'll remove them from the pan so they don't overcook.
Make the Sauce: You'll use the same skillet, but reduce the temperature to medium heat. Be sure to give the shallots enough time to cook, you want them soft and almost translucent, which takes time.
Boil the Pasta: While the sauce simmers, you'll want to make the pasta. Add salt to the boiling water, then toss in the pasta and cook until al dente. The time will vary depending on what variety of pasta you use, so be sure to consult the pasta package and test a minute before their "suggested" timeline.
Bring it All together: A minute before you plan on adding the pasta to the sauce, toss the shrimp back into the skillet and let them warm up. Then toss in the pasta and parsley. Add some reserved pasta water and toss well.
Garnish & Serve: Drizzle the finished dish with a little more olive oil, sprinkle with parsley, and serve warm! To make the presentation extra pretty, you can garnish with whole parsley leaves and lemon slices. Serving with cheese is not something I do, but if you like parmesan with your scampi, I say go for it!
Make it a special occasion meal by adding a salad, crusty bread, and a nice bottle of white wine! And enjoy!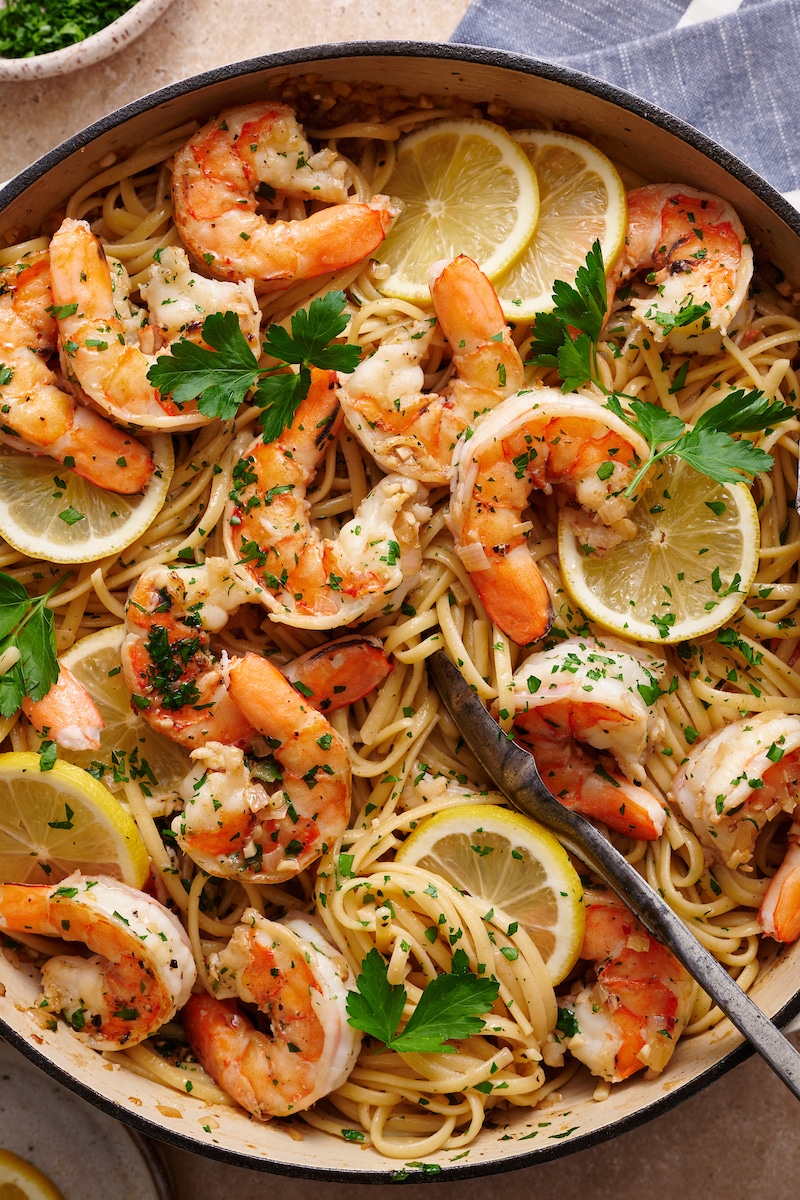 Tools you'll Need: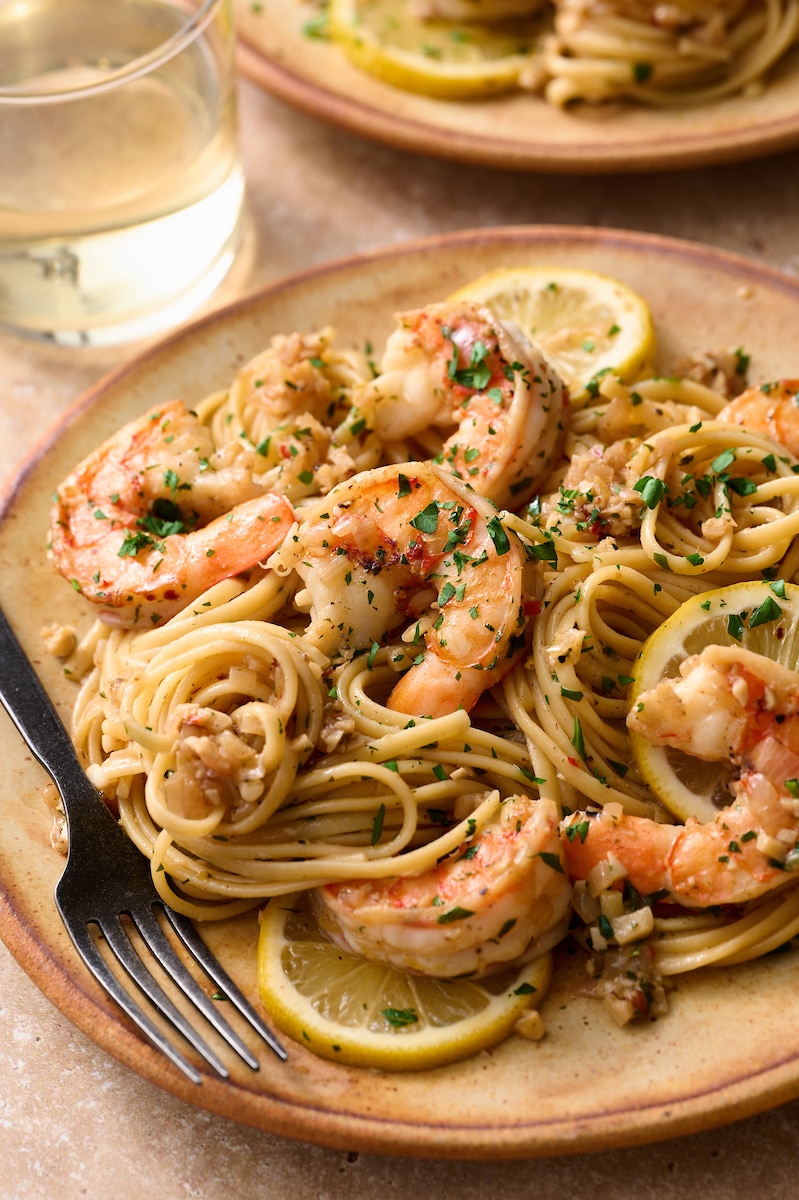 More Shrimp Recipes: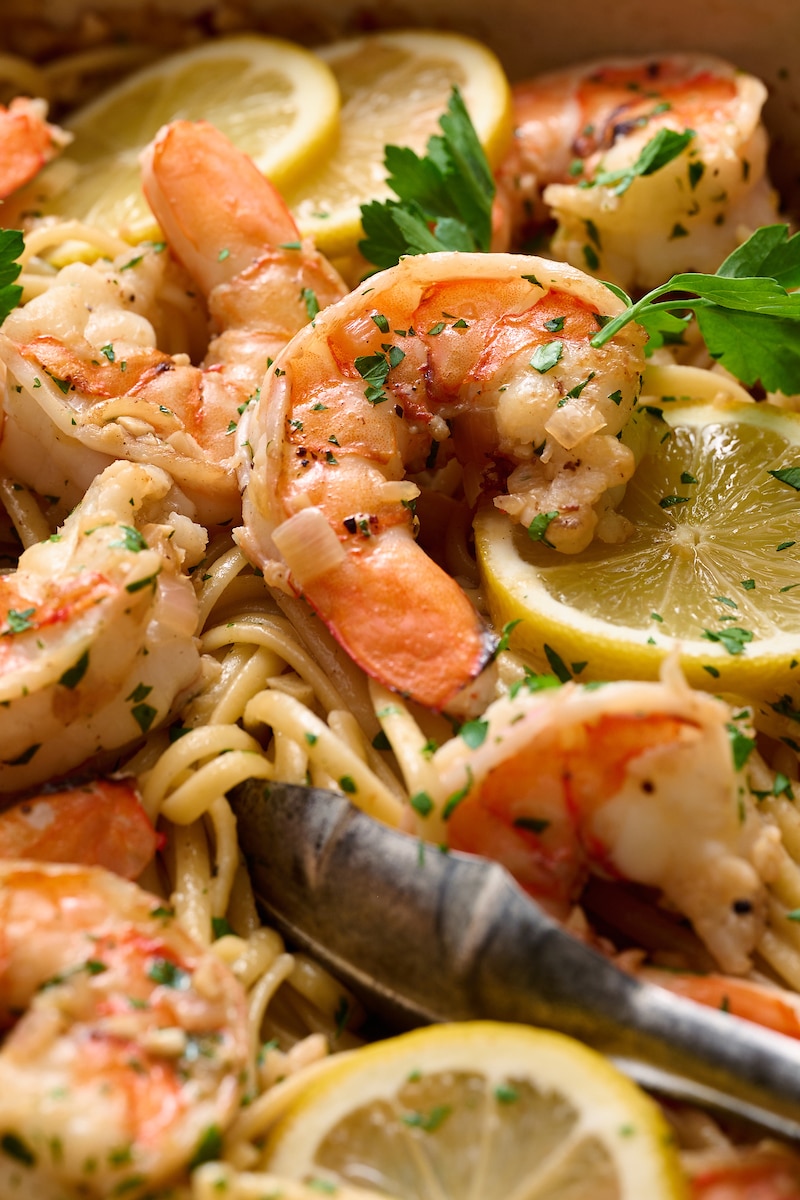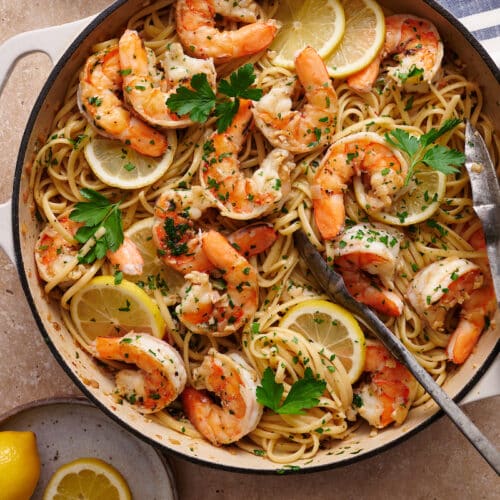 Shrimp Scampi
Juicy large shrimp are cooked in garlic butter, white wine, and lemon juice creating the most delicious shrimp scampi ever! Sprinkled with fresh parsley and serve pasta (we love linguini or angel hair) and crusty bread.
Ingredients
3/4 pound (340g) dried pasta linguini or angel hair, recommended
1 and 1/2 pounds (681g) jumbo fresh shrimp peeled, deveined, and tails removed
Salt and Pepper as needed
6 Tablespoons (85g) unsalted butter divided
6 Tablespoons (85ml) olive oil plus more for drizzling
1/4 teaspoon crushed red pepper flakes
2 small shallots finely diced
8 cloves garlic minced
3/4 cup (171ml) white wine
1/4 cup (57ml) lemon juice freshly squeezed
1 teaspoon lemon zest finely grated
2 Tablespoons (18g) fresh parsley finely chopped
lemon slices garnish, optional
Instructions
Bring a large pot of water to a boil so it's ready for the pasta.  

Place the shrimp on a large plate and pat them completely dry using a paper towel. Set aside.

Heat a large skillet over medium heat. Season the shrimp with salt and pepper. Add 2 Tablespoons (28g) of butter to the skillet and melt. 

Increase the heat to high and add the shrimp to the pan. Cook the shrimp, without moving them, for 2 minutes. Turn the shrimp over and cook for 2 minutes more. Remove the shrimp from the pan and set aside. 

Keep the same skillet on the burner. Reduce the heat to medium, then add 2 tablespoons of the butter (28g) and cook until melted. Add the olive oil, crushed red pepper flakes, and shallots and cook until the shallots have softened and are translucent, 8 to 10 minutes. 

Add in the garlic and cook for 1 more minute, or until fragrant.

Pour in the wine and bring to a simmer. Cook for 5 minutes, stirring occasionally. Add in the remaining 2 Tablespoons (28g) butter, lemon juice, and lemon zest. Reduce heat to low. 

Add a teaspoon of salt into the boiling water, then add the pasta. Cook until just al dente, about 6 to 8 minutes. Drain well, reserving 1 and 1/2 cups of the pasta water.

Add the shrimp back to the skillet and cook for 1 minute, just to warm. Remove the skillet from the heat. Taste sauce and add salt and pepper as needed.

Toss in the pasta and parsley and stir well to coat. Add 1/4 cup of the pasta water and toss well. Continue adding the pasta water, a splash at a time, until you've reached your desired sauce consistency.

Drizzle with more olive oil, sprinkle with parsley, and serve immediately. Garnish with parsley and lemon slices.