Supremely moist and flavorful banana bread donuts topped with luscious cream cheese frosting! Add a sprinkle of chopped walnuts for a lovely little crunch.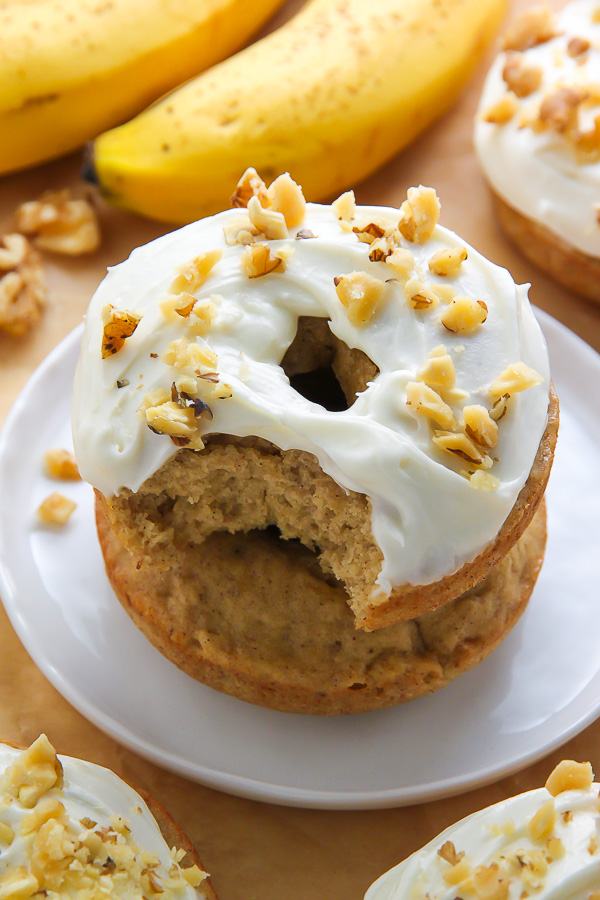 Happy Sunday. Have you been enjoying your weekend? How many of you are snowed in right now? We miraculously missed the storm completely, but that didn't stop me from hiding out in my kitchen and testing a ridiculous amount of new goodies for you. In sweat pants, with boozy hot chocolate, of course. ← My love for Winter weekends is no joke. ♥♥♥
Today's post is dedicated to all you banana bread lovers out there.
Banana bread < banana bread donuts. You know?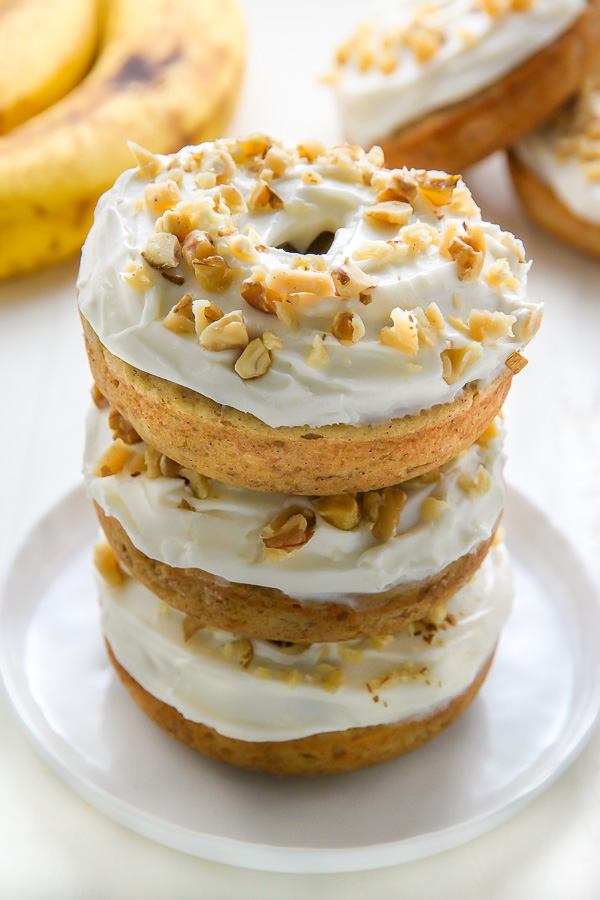 Making these homemade banana bread donuts couldn't be easier. They're baked, not fried, and ready – start to finish – in about 20 minutes. Do you own a donut pan? You'll need one for this recipe. Click here
to check out the donut pan I've been using for years.
The banana bread donut base is made with simple, everyday ingredients you probably already have in your pantry. You will need: butter, flour, brown sugar, baking powder, salt, cinnamon, nutmeg, an egg, and a few very ripe bananas.
For the frosting you'll need a block of cream cheese that's very soft, confectioners' sugar, a pinch of salt and cinnamon, and chopped walnuts. If you're allergic to nuts, or just not a fan, you can skip them. I just love the crunch they add!
There is nothing difficult about baking these donuts! Not a thing! The hard part…? The hard part is not eating them all in one sitting. It takes serious willpower.
20 minutes. Freshly baked donuts. On your table. Ready to be devoured!
↑ Treat yourself today.
If you try this recipe, let me know! Leave a comment below and don't forget to snap a pic and tag it #bakerbynature on Instagram! Seeing your kitchen creations makes my day. ♥
Banana Bread Donuts with Cream Cheese Frosting
Moist and flavorful banana bread donuts topped with cream cheese frosting.
Ingredients
For the banana bread donuts:
1 cup + 2 tablespoons all-purpose baking flour
1/2 cup dark brown sugar
1/2 teaspoon salt
1/2 teaspoon cinnamon
1/4 teaspoon ground nutmeg
1 teaspoon baking powder
1/2 cup very ripe bananas, mashed
2 1/2 tablespoons unsalted butter, melted
1 large egg, at room temperature
For the cream cheese frosting:
3 ounces cream cheese, VERY soft
3 tablespoons unsalted butter, VERY soft
1 teaspoon pure vanilla extract
1 and 1/2 cups confectioners' sugar, sifted
1-2 tablespoons milk
1/2 cup walnuts, chopped, for decorating
Instructions
For the banana bread donuts:
Preheat oven to 350 degrees (F). Lightly grease a doughnut pan; set aside.

In a large bowl whisk together the dry ingredients. In a separate bowl whisk together the mashed bananas, melted butter, and egg. Gently fold the wet mixture into the dry mixture - don't over mix!

Spoon mixture into prepared doughnut pan and bake for 10-11 minutes, or until the doughnuts spring back when lightly pressed. Allow doughnuts to cool a few minutes in the pan before transferring to a wire wrack to cool completely.
For the cream cheese frosting:
In the bowl of a stand-mixer fitted with the paddle attachment, or in a large bowl using an electric handheld mixer, beat the cream cheese, butter, and vanilla extract on medium-high speed until completely smooth; about 2 minutes. Reduce the speed to low and gradually add the sifted confectioners' sugar. Add in the milk. Once the milk is combined beat frosting on high-speed for 1-2 minutes.

Spread frosting on cooled donuts and sprinkle with chopped walnuts.