Soft and fluffy Brown Butter Cinnamon Sugar Donuts bake up in just 10 minutes! Perfect for a special morning at home and so good with a cup of coffee! These baked donuts are delicious for breakfast or as an afternoon snack.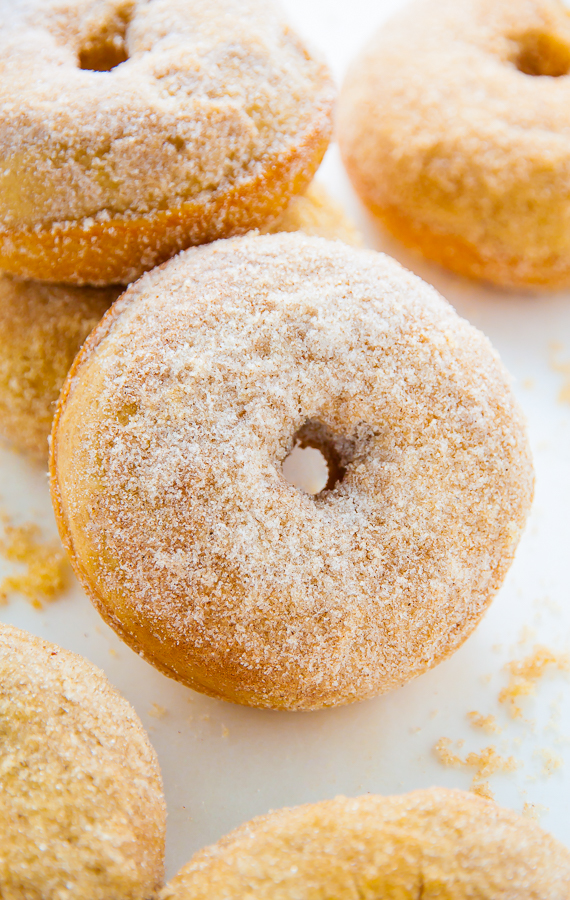 Baked Cinnamon Sugar Donuts
Happy Saturday! Tell me, how's your weekend so far?
After an amazing 6 days in California, soaking up some sun, eating and drinking my heart out, and reconnecting with two of my very best friends, I'm finally home sweet home. Feeling rested, rejuvenated, and ready to work. In fact, I have a pie in the oven and cookie dough chilling in the fridge as I type. My house smells like caramelized peaches (the pie) and toasted marshmallows (the cookies) and I'm so excited to see how each recipe turns out! Finger crossed. Also, can I just say how grateful I am to have a job I actually missed on vacation?!? Like, missed SO much. What a feeling! Thank you for that. You totally make this crazy dream job of mine possible. Lots of thank you cookies and cakes and pies coming SOON.
But first: Donuts!!! I made these Brown Butter Cinnamon Sugar Donuts a few weeks ago and have been dyyyyying to share them with you. Why? Well, let's see…
These donuts are MEGA simple, made with brown butter, coated in cinnamon sugar, super fluffy, and ready in 20 minutes! What's not to love?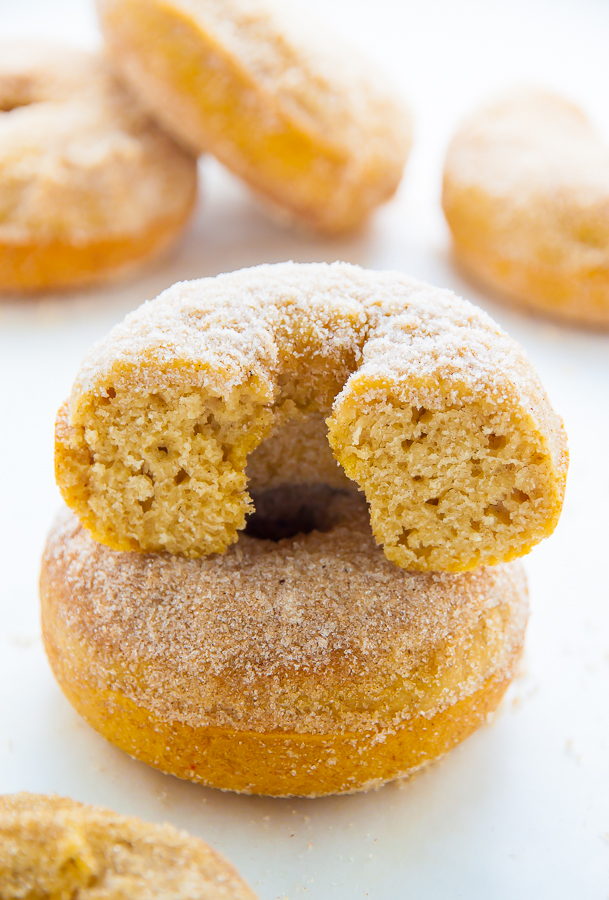 Tips and Tricks for Recipe Success
A donut pan is required for this recipe. If you don't own one, you can click here to check out the amazing and affordable one I've been using for the past 5 years!
Be sure to generously grease your donut pan with non-stick spray. I suggest using one that is made specifically for baking, since they typically have flour in them, which helps the donuts come out of the mold effortlessly. If you can't find non-stick spray, you can butter and flour the mold the old-fashioned way, just be sure to get every little nook and cranny.
Don't over bake you donuts! I see this happen all the time and it makes me so sad because over baked donuts come out of the oven tough and dense… not moist and fluffy as they should be. Just be sure to set a timer for 10 minutes and keep an eye on them. Once they've risen and slightly spring back when touched, they're done!
If you're unfamiliar with brown butter, don't fret! Brown butter is simply butter that's been cooked just long enough to toast the milk solids. It's an easy step that really AMPS up the flavor of the butter and can be used in many sweet or savory dishes.
If you'd like your donuts to be on the lighter side (like mine in the photos), use a smaller amount of cinnamon. The more cinnamon you use, the darker the donuts coating will be.
These donuts are best eaten the day they are made. While they will keep for 2 days, covered tightly in saran wrap, I find the texture and taste decrease significantly after 24 hours.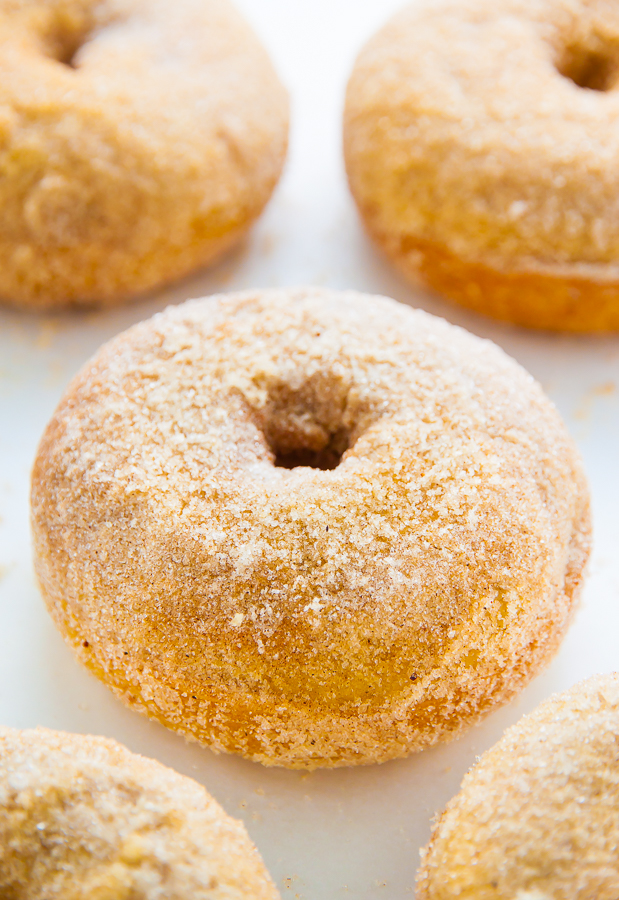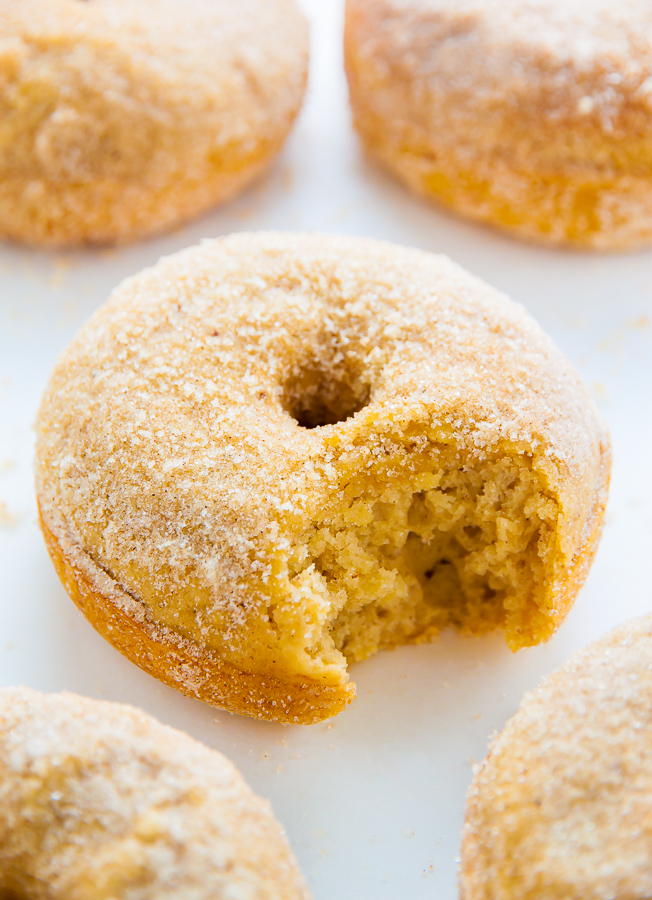 I should also note the batter is quite thick, so it can be spooned into the pan, or you can pour it into a ziplock baggie, snip of the end, and pipe it into the molds. Up to you! I find piping it a lot easier and do it that way 99.9% of the time.
If you try this recipe, let me know what you think! Leave a comment below, and don't forget to snap a pic and tag it #bakerbynature on instagram! Seeing your creations makes my day ♥
Brown Butter Cinnamon Sugar Donuts
Baked, not fried, these Brown Butter Cinnamon Sugar Donuts are ready in 20 minutes! Full of flavor and perfect with a cup of coffee.
Ingredients
For the Brown Butter Donuts:
2 and 1/2 tablespoons unsalted butter, browned
1 and 1/4 cups all-purpose flour
1/2 teaspoon salt
1 teaspoon baking powder
1/4 teaspoon ground nutmeg
1/2 cup light brown sugar, packed
1 large egg, at room temperature
1/2 teaspoon vanilla extract
1/2 cup milk (I used whole milk but reduced-fat varieties should work fine)
For the Cinnamon Sugar Coating:
4 tablespoons unsalted butter, melted
1 cup granulated sugar
1 and 1/2 teaspoons ground cinnamon
Instructions
For the Brown Butter Donuts:
Preheat oven to 350 degrees (F). Generously spray a 6 mold donut pan with non-stick spray; set aside.

Place the butter in a small saucepan over medium-heat. Cook butter, stirring frequently, until it's turned golden brown and smells slightly nutty. Remove from heat and set aside.

In a medium-sized bowl combine the flour, salt, baking powder, and nutmeg; set aside. In a separate medium-sized bowl combine the browned butter and sugar; beat well. Whisk in the egg and vanilla. Stir in the milk.

Using a rubber spatula, gently fold the dry ingredients into the wet mixture, being sure not to over mix.

Spoon or pipe the donut batter into the prepared pan and bake for 10 to 11 minutes, or until the doughnuts spring back when lightly pressed. Allow the donuts to cool in the pan for 5 minutes before gently unmolding them and transferring them to a cooling rack.

In the meantime, make the cinnamon sugar coating.
For the Cinnamon Sugar Coating:
Melt the butter in a small pan over medium-heat. You can also melt it in the microwave, if desired.

Once melted, transfer the butter into a wide, shallow bowl and set aside. In a separate bowl combine the sugar and cinnamon; set aside.
Assembly:
When the donuts are cool enough to handle, dip them in the melted butter, being sure to coat both sides and the edges, then roll the donut in the cinnamon sugar mixture.
Notes
Donuts are best eaten the day they're made.