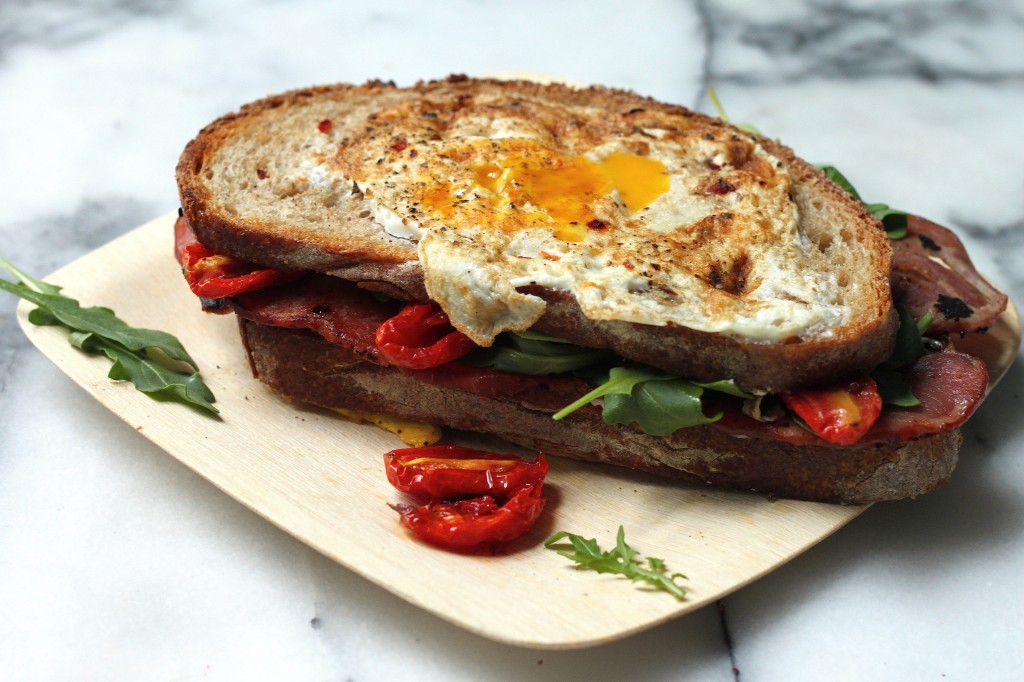 It's no secret I  <3 breakfast inspired food anytime of the day (or night!), but now that it's really starting to get chilly around here (brrr!) there's just something so comforting about making a warm morning meal in the morning. It makes getting out of bed just a little easier 😉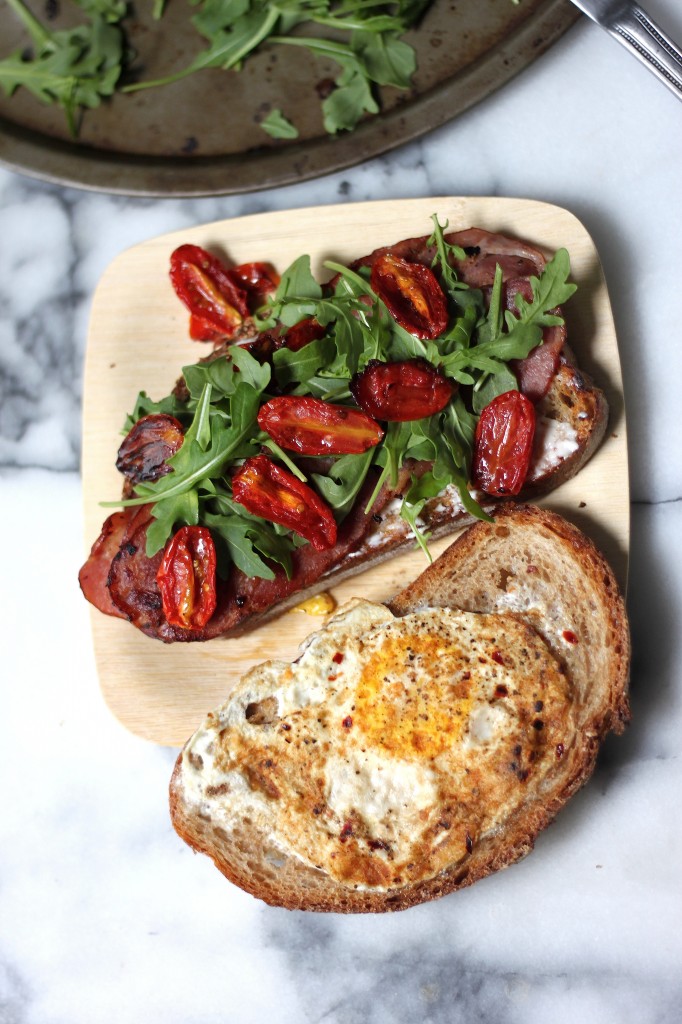 This breakfast sandwich is inspired by two of my all-time favorite meals; the bird's nest (take a piece of bread, cut a small hole in the center, add egg, and fry; it's amazing!); and the BLT. It's such a simple combination, and comes together in under 10 minutes. Win!
If you're into warm, savory breakfast sandwiches – and aren't afraid to get your hands a little messy – you'll love this "bird's nest" breakfast blt! Just be sure to keep napkins close by; the eggs stay gorgeously drippy!
"Bird's Nest" Breakfast BLT – Baker by Nature
Serves 2
Ingredients:
3-4 tablespoons unsalted butter
4 slices of bread, a small hole cut out in each center
4 large eggs
2 tablespoons mayo or veganaise
6 slices bacon (feel free to sub in turkey bacon or the veggie variety), fried crisp
4 slices of tomato (I used roasted tomatoes)
1 cup arugula (you can use a milder lettuce if you like, but I like the spice from this leafy green)
Salt & pepper to taste
Instructions: 
Melt 1 tablespoon of the butter in a medium-sized non-stick skillet over a medium-low flame. Once the butter is completely melted, add the bread to the pan, then crack the egg straight into the middle hole. Sprinkle the egg with salt and pepper, and let it cook for about 45 seconds before carefully flipping it. Cook on the opposite side for another minute or so – the toast should be golden brown and the egg firm but still slightly wobbly in the yolk – then remove from pan. Repeat for all 4 slices of bread, adding the additional butter as needed.
Once your bread is cooked, assemble your sandwiches!
Carefully place two slices of bread, egg side down, on a serving plate. Spread about 1/2 tablespoon of mayo (if using) on each piece, then layer one side with 3 slices of bacon, 2 slices of tomato, and 1/2 cup arugula. Place the second piece of bread on top, egg side up, and BOOM! You're ready to eat. Repeat the same process for the second sandwich.